Home
---
Hungary
---
Cardinal József Mindszenty
---

1956 Hungarian Revolution (My Story)
(My Eyewitness story of our Freedomfight
and Resistance against the Soviet Invasion)

---
50th Anniversary of our Freedomfight
---
My Travel and Photos Pages
Africa
America - North
America - Central
America - South
Asia
Australia
Oceania
---
Beijing or Peking
Beijing Buses
Beijing - Forbidden City
Beijing - Prince Gong Palace
Beijing - Summer Palace
Great Wall of China
Guangzhou or Canton
Guangzhou Buses
Guangzhou trains
Hong Kong
Hong Kong Airport
Hong Kong Buses
Hong Kong - Lantau Island
Kashgar or Kashi
Kashgar Buses
Kashgar Sunday Market
Macau
Ming Dynasty Tombs
Peking Man's Caves/Zhoukoudian
Shanghai
Shanghai Buses
Shanghai Maglev / Transrapid
Shanghai Metro
Shenzhen
Shenzhen Buses
Tibet
Tibet - Lhasa
Tibet - Lhasa Monasteries
Tibet - Lhasa - Potala
Turpan or Tulufan
Turpan - Amin Mosque
Turpan - Astana Graves
Turpan - Bezeklik Caves
Turpan - Crescent Moon Lake
Turpan - Dunhuang Caves
Turpan - Echoing-Sand Mountain
Turpan - Ediqut Ruins
Turpan - Emin Minaret
Turpan - Flaming Mountains
Turpan - Gaochang Ruins
Turpan - Grape Valley
Turpan - Green Mosque
Turpan - Jesus Sutras
Turpan - Jiaohe Ruins
Turpan - Karez System
Turpan - Maza Village
Turpan - Mogao Caves
Urumchi or Urumuchi
Xian
Xian Buses
Xian - Hua Qing Pool
Xian - Silk Factory
Xian - Silk Road Monuments
Xian - Terracotta Factory
Xian - Terracotta Army Museum
Yanan
Yanan Buses
Yanan Cave Dwellings





China facts & history in brief

My China pages directory
Map of China


Lantau Island
Excerpted from Wikipedia, the free encyclopedia


Lantau Island, also Lantao, based on the old local name of Lantau Peak, is the largest island in Hong Kong, located at the mouth of the Pearl River.
Administratively, it is part of the Islands District, but a small part in the northeast of the island belongs to Tsuen Wan District.
It has an area of 146.38 km².
Originally the site of sleepy fishing villages, the island has in recent years been transformed with the development of several major infrastructure projects, including Hong Kong's new international airport and Hong Kong Disneyland.



For a more information about Lantau Island see Wikipedia, the free encyclopedia

This page was retrieved and condensed from (http://en.wikipedia.org/wiki/Lantau_Island) see Wikipedia, the free encyclopedia, November 2007.
All text is available under the terms of the GNU Free Documentation License (see Copyrights for details).
About Wikipedia
Disclaimers


This information was correct in November 2007. E. & O.E.

We, Hui Chin, Endre, my son and I visited Lantau Island in 1997 and it was a hive of activity as they were busy building the new airport, hotels and the extensions to the Hong Kong MTR to Lantau Island and the airport.

You can click on these photos for an enlargement.

1997
| | | |
| --- | --- | --- |
| | | |
| Lantau Island | Lantau Island | Lantau Island |
| | | |
| Lantau Island | Lantau Island | Lantau Island |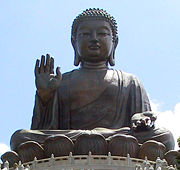 The Tian Tan Buddha (or "Giant Buddha"),
an 85-foot-high bronze Buddha statue, on Ngong Ping Plateau.
(Courtesy Wikipedia, the free encyclopedia - Tian Tan Buddha)