Home





Hungary





Cardinal József Mindszenty





1956 Hungarian Revolution (My Story)
(My Eyewitness story of our Freedomfight
and Resistance against the Soviet Invasion)





50th Anniversary of our Freedomfight






My Travel Pages




Africa




America




Asia




Europe




Hungary




Oceania
---


Russia
Russia History & Facts in brief

Moscow




Moscow




Catholic Cathedral




Christ the Saviour Cathedral




Kazan Cathedral




Kremlin




Kremlin Cathedrals




Moscow Airport




Moscow Buses




Moscow Metros




Novodevichy Convent




Red Square




Virgin on the Moat Cathedral

- - - - -

Saint Petersburg




Saint Petersburg




Artillery Museum




Hermitage




Kronstadt




Peterhof




Oranienbaum




Peter and Paul Fortress




Saint Petersburg Airport




Saint Petersburg Buses




Saint Petersburg Metros




Saint Petersburg Trams




Vyborg

- - - - -

Vladivostok




Vladivostok




Vladivostok Buses




Vladivostok Trains




Vladivostok Trams

- - - - -

Volgograd




Volgograd




Tractor Factory - Museum




Volgograd Airport




Volgograd Buses




Volgograd Trams




Volgograd Trolleybuses




Russia facts & history in brief

My Russia pages directory
Map of Russia


Peterhof
Excerpted from Wikipedia, the free encyclopedia

Peterhof (Russian: Petergof, originally named Peterhof: "Peter's Court"), is a series of palaces and gardens, laid out on the orders of Peter the Great, and sometimes called the "Russian Versailles".
It is located about twenty kilometres west and six kilometres south of St. Petersburg, overlooking the Gulf of Finland, an arm of the Baltic Sea.
"Peterhof" may also refer to the adjacent town of 82,000 people.
The palace-ensemble along with the city center is a UNESCO World Heritage Site.

The dominant natural feature of Peterhof is a sixteen-metre-high bluff lying less than a hundred metres from the shore.
The so-called Lower Gardens (Nizhny Sad), at 1.02 sq km comprising the better part of Peterhof's land area, are confined between this bluff and the shore, stretching east and west for roughly 200 metres.
The majority of Peterhof's fountains are contained here, as are several small palaces and outbuildings.
East of the Lower Gardens lies the Alexandria Park with 19th-century Gothic Revival structures such as the Kapella.

Atop the bluff, near the middle of the Lower Gardens, stands the Grand Palace (Bolshoi Dvorets).
Behind (south) of it are the comparatively small Upper Gardens (Verhnyy Sad). Upon the bluff's face below the Palace is the Grand Cascade (Bolshoi Kaskad).
This and the Grand Palace are the centrepiece of the entire complex.
At its foot begins the Sea Channel (Morskoi Kanal), one of the most extensive waterworks of the Baroque period, which bisects the Lower Gardens.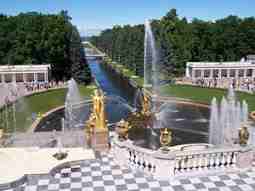 Peterhof and Sea Channel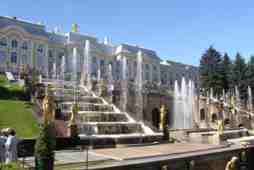 Grand Peterhof Palace and the Grand Cascade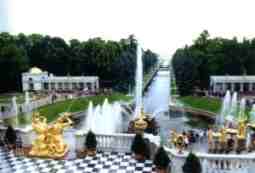 Peterhof: the Samson Fountain and Sea Channel



A portion of the Grand Cascade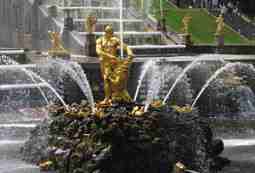 Samson and the Lion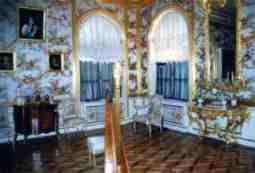 French style interior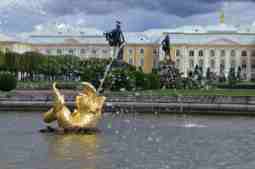 The Upper Gardens of Peterhof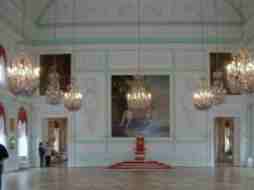 The Grand Throne Room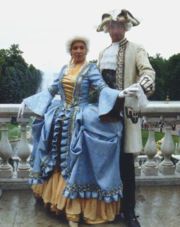 18th-century court dress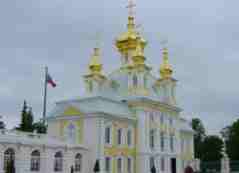 The East Chapel, one of a pair flanking the central buildings

For a more information about Peterhof see Wikipedia, the free encyclopedia



This page was retrieved and condensed from (http://en.wikipedia.org/wiki/Peterhof) see Wikipedia, the free encyclopedia, November 2007.
All text is available under the terms of the GNU Free Documentation License (see Copyrights for details).
About Wikipedia
Disclaimers


This information was correct in November 2007. E. & O.E.




Peterhof Fountain 8/13/06 (YouTube.com)




Peterhof 4 (YouTube.com)




Russia-St Petersburg- Great Peterhof Palace-Summer Palace (YouTube.com)