Bamako, Mali, Africa
Hotel La Chaumiere, Bamako, Mali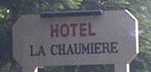 La Chaumiere
Hotel - Bar - Restaurant
Quinzambougou Route de Sotuba Porte 2029
BP E 3735 Bamako - République du Mali
Tél. (223) 221 76 60/00/36 - Fax (223) 221 76 37
E-mail: lachaumiere@cefib.com
The travel agent I have referred to on some of the other pages asked us if we wanted to go to a hotel over €35, or under.
(Our budget always very sensitive to expensive hotel rates.
Strictly speaking Hui Chin and I are a "nut's doodle" away from the hard-core 'backpackers'.)
Anyway, - we jumped at the under €35 price, but the the room rates started at €45 at the place he taken us to, because the rooms were air-conditioned, not just using ceiling fans.
We felt disappointed and started complaining to him, that he said ....... wasting our time......etc.
Meanwhile, the hotel clerk drawn Dany, the owner's attention, - who was passing near us, - to our problem, who agreed instantly to €35.
Great sighs of relief all around.
The room was air-conditioned, well presented, cleaned just before we walked in and incense burning, for our welcome and probably to keep the mosquitoes at bay.
Early next day we were leaving on our 'safari' to Tombouctou, and Dany, the hotel owner told us we can have the same room at the same price on our return.
But all his previous 'generosities' were superseded on our return.
We got a different room, but that is besides the point.
Our plane was scheduled to depart around 3 am. and we were quite worried being charged for another day, even though there wouldn't be much time for sleeping, but the air-conditioned room and toilet facilities would be indispensable from 12 pm. (Usual checkout time) to the time we have to leave for the airport, around 12.30 am.
After checking in on our return, Dany, after asking us for our departure time, without any prompting from us, offered, that we can stay in our room until, someone comes and need it and after that we can stay in the air-conditioned lobby with our baggage until we leave for the airport.

Hui Chin and I thought, Dany treated us very generously, hence I dedicate this page to him and would like to recommend his establishment to everybody reading this pages.

The hotel also have a restaurant and bar on the premises, serving excellent European food and beverages at very reasonable prices.

List of photo pages in my Mali series.


Bamako Hotel La Chaumiere Mali Art Mali Desert Mali People Mali Trains Mopti


Timbuctu or Tombouctou

Some of my photos of the Hotel La Chaumiere, Bamako, Mali (Click for an enlargement)
| | | |
| --- | --- | --- |
| | | |
| Hotel La Chaumiere, Bamako, Mali. | Hotel La Chaumiere, Bamako, Mali. | Hotel La Chaumiere, Bamako, Mali. |
Site Index Back to Top Photos Index
Thanks for coming, I hope you have enjoyed it, will recommend it to your friends, and will come back later to see my site developing and expanding.

I'm trying to make my pages enjoyable and trouble free for everyone, please let me know of any mistakes or trouble with links, so I can fix any problem as soon as possible.

These pages are best viewed with monitor resolution set at 640x480 and kept simple on purpose so everyone can enjoy them across all media and platforms.

Thank you.

Webmaster