Antarctica flag(unofficial)



The Graham Bartram design.


Antarctica History and Facts in Brief
Antarctica
Excerpted from Wikipedia, the free encyclopedia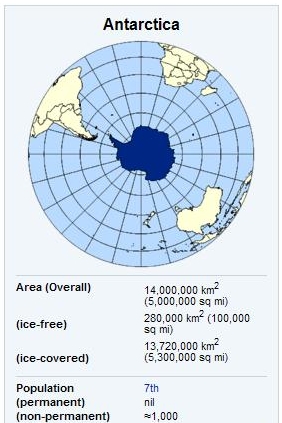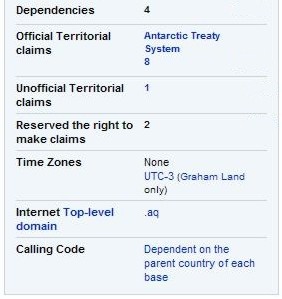 Antarctica is Earth's southernmost continent, overlying the South Pole.
It is situated in the Antarctica region of the southern hemisphere, almost entirely south of the Antarctic Circle, and is surrounded by the Southern Ocean.
At 14.0 million km² (5.4 million sq mi), it is the fifth-largest continent in area after Asia, Africa, North America, and South America.
About 98% of Antarctica is covered by ice, which averages at least 1.6 kilometres (1.0 mi) in thickness.
On average, Antarctica is the coldest, driest and windiest continent, and has the highest average elevation of all the continents.
Antarctica is considered a desert, with annual precipitation of only 200 mm (8 inches) along the coast and far less inland.
There are no permanent human residents, but anywhere from 1,000 to 5,000 people reside at the various research stations scattered across the continent throughout the year.
Only cold-adapted plants and animals survive there, including penguins, seals, mosses, lichen, and many types of algae.

The name Antarctica is the romanized version of the Greek compound word antarktiké, meaning "opposite to the north".
Although myths and speculation about a Terra Australis ("Southern Land") date back to antiquity, the first confirmed sighting of the continent is commonly accepted to have occurred in 1820 by the Russian expedition of Mikhail Lazarev and Fabian Gottlieb von Bellingshausen.
However, the continent remained largely neglected for the rest of the 19th century because of its hostile environment, lack of resources, and isolation.
The first formal use of the name "Antarctica" as a continental name in the 1890s is attributed to the Scottish cartographer John George Bartholomew.



For more information about Antarctica see Wikipedia, the free encyclopedia

This page was retrieved and condensed from (http://en.wikipedia.org/wiki/Antarctica) see Wikipedia, the free encyclopedia, April 2009.
All text is available under the terms of the GNU Free Documentation License (see Copyrights for details).
About Wikipedia
Disclaimers


This information was correct in April 2009. E. & O.E.


Earlier this year (2009), Hui Chin & I were privileged enough to have an awesome experience to sail to Antarctica and few other very interesting places and to meet some very interesting, kind hearted, helpful, caring and understanding people, as the 'expedition team', crew and passengers of the M.V. Polar Star, (Ice breaker).
A very big (A huge) thanks to you all good people.
More of this and my unspoken end of the voyage thank you - later on this page.

Well, well, as we all very well know, Antarctica is only a "hop, skip and a jump" away from the Moon, oh, oh or is it the other way around. Well it is well beyond the average holiday destination, aspirations or budgets.

Hui Chin and I are seasoned travelers and we like to go to places where we have never been before and I can swear to you, neither of us have ever been to Antarctica before.

We were planning to sign up for one of those few 'seasonal' excursions, that a few ships make annually, but put it in the "hard basket" year after year, until towards the end of last year (2007), when it became obvious, that due to my "pre existing medical condition" (A term travel insurance firms use in the last few years, well I have only noticed it in the last few years, anyway. I will elaborate on this on one of these Antarctica pages.)

After days and weeks of research, we came up with one, Quark Expeditions, that was going, where we wanted to go and doing what we wanted to do, set foot on a few hard to visit places.

These 'seasonal' trips or 'expeditions' as they call them, only operate from November to late February and there are only a very few opportunities really.

We missed the November sailings due to my "pre existing medical condition" check up.

We did make a 'test the water' booking for the late February sailing and we did get our 'booking' approved, the price and the conditions, like the strict conditions for "pre existing medical condition" and a $US 100,000.00 emergency evacuation coverage.
More of this on our page of 'Antartica - Sub Antarctica - Our Personal Experience'

(Reservations and Payment
A deposit of $2,000 per person is required to confirm a reservation on Kapitan Khlebnikov. To confirm reservations on Clipper Adventurer, Lyubov Orlova, Akademik Shokalskiy, Ocean Nova, Akademik Ioffe, and Akademik Sergey Vavilov, a deposit of $1,000 per person is required for all 11 to 15-day expeditions, and a deposit of $1,500 per person is required for 20-day expeditions. The deposit may be paid by bank wire transfer, check, money order or major credit card. Final payment is due 90 days prior to departure. Final payment may be paid by bank wire transfer or check. We do not accept credit cards for final payments. All prices and payments are in US dollars and no other currencies can be accepted.

Mandatory Travel Insurance
Passengers traveling with Quark Expeditions are required to be covered by a travel insurance policy that includes emergency evacuation coverage. We travel to remote regions of the world and we recommend that the policy's emergency evacuation benefit be higher than minimum. Due to my "pre existing medical condition" I would had to take out a minimum $US 100,000, emergency evacuation coverage

Cancellations and Refunds
All requests for cancellations must be received in writing. Cancellations received up to 150 days prior to departure are refunded less an administrative fee of $500 per person. If cancellation is received between 149 and 90 days prior to departure, the deposit is forfeited. Please note that for cancellations received within 89 days prior to departure, all deposits and tariffs are forfeited. If cancellation occurs within the 89 -day period and full payment has not yet been received, the full penalty will still apply and unpaid monies are due immediately. For these and other reasons mentioned below, you are strongly encouraged to obtain trip cancellation insurance. Prices quoted are based on group participation and no refunds will be made for any part of the program in which you choose not to participate, including any helicopter flying time (if applicable and which, at the discretion of the Captain and Expedition Leader, may or may not be utilized).

It is understood that refunds cannot be made to passengers who do not complete the tour for any reason whatsoever.

Itinerary
The itinerary described is subject to change at the discretion of the ship's master and Quark Expeditions' Expedition Leader. This is an expedition to a remote part of the world, and we reserve the right to change the itinerary due to weather conditions, availability of anchorages, political conditions and other factors beyond our control without consulting the passengers. It is understood that such decisions will be made in the best interests of all passengers aboard and with regard to the safety of the vessel. Passengers have no right to any refund or other considerations in the event of these inevitable itinerary changes. Nothing in this brochure is meant to signify the use of any specific design or model of helicopter. The images featured in this brochure are inspirational in character and do not necessarily depict the exact people, animals, and places encountered by passengers.

Passengers traveling with Quark Expeditions are required to be covered by a travel insurance policy that includes emergency evacuation coverage. We travel to remote regions of the world and we recommend that the policy's emergency evacuation b enefit be higher than minimum.

We missed the December sailings due to Hui Chin's work commitments.

We missed the January sailings, because we couldn't get back in time to my February "pre existing medical condition" check up.

That left us with only the last sailings of the 'season' at the 22nd of February.

During early January, Hui Chin and I got a bit restless, whether we can catch that last boat, but soon as we left our Travel Agent, we regretted our hasty action, before we received the signals, from my 'specialists' about my "pre existing medical condition". Early next day I rang our Travel Agent and explained to him fully my reason to do so and I told him, that due to the price of our tickets $US 44,000 for the 2 of us, the general economic conditions and the big decline in travel bookings I told him I felt quiet confident that our previous bookings still will be there, regardless their usual booking conditions, like three month ahead etc. etc., and I told him, that on the way home from my specialist on the 17th of February, we will visit him to book the boat trip and another four weeks of South American trip to mop up some 'unfinished business' we have missed on our 2002 trip of the Americas.

As we promised our travel agent we went and booked our flights, etc. on the 17th of February, when I found a lot of problems with our Quark bookings, although as we expected they would still except our bookings if we paid up fully immediately, with no money refunds, no certainty of getting on board, due to my "pre existing medical condition" and no insurance would approve or cover my "pre existing medical condition".
I and Hui Chin practically in unison told him to cancel the Quark bookings, but leave all the rest as is, including our flights to Ushuaia and back to Buenos Aires.
Our thinking was, that there may be other vessels doing similar trips, but we couldn't find any link to Ushuaia or those other shipping firms from Auckland.
In a worth case scenario we thought of hiring a fishing boat or helicopter for that $US44,000 to take us to our destinations.

The next day I received the following email from our agent:

From: Xxxxxx Xxxxx (xxxxxx.xxxxx.nz@xxxxxxxxxxxx.co.nz)
Sent: Wednesday, 18 February 2009 2:16:27 a.m.
To: xxxxxxxxxxxxxx@hotmail.com

Hi Xxx,

RE: XXXXX XXXXXXXXX

Quark have told me that they will keep a register of these passengers names and notes that one of them has a pre-existing medical condition. If the clients try to book on the ship once they get to Ushuaia, Quark will still require all the necessary forms to be completed and for them to show proof of travel insurance. Once the clients have completed the paperwork Quark will still need to get clearance for the pre-existing medical condition before they accept the booking. The trouble will be that once the clients are in Ushuaia there may not be enough time to get the medical clearance which is handled by Quark's medical advisor at their head office in the US.

On the other hand if the clients complete the forms now and give us all the info we will be able to pass that to Quark now and we will know by tomorrow if they have accepted him or not. Quark have said that if they do ok the booking, which more than likely they will, they are more than happy to put something in writing to the client confirming that they accept him and his medical condition on their cruise and that he will not be denied boarding.

Basically he starts the process now there is a very good chance they will get on the Quark cruise, but if they don't there is very little chance they will get on.

The other spanner in the works is that one of Quark's other ships, the Ocean Nova has run aground off the Antarctic coast. All passengers and crew are still aboard and the boat is fine at the moment. They are attempting to re-float the ship and once it is afloat they will be able to inspect for possible damage. The ship may well be fine, but if there is any damage to that boat, Quark will cancel the coming departures of the cruise and shift all existing bookings onto the Clipper and various other Antarctic vessels. If that happens any space that was available for Antarctic cruise departures over the next week could disappear overnight. This is a very real possibility. We should know within the next 24 hours if Ocean Nova is ok or not.

Please make sure the client is aware of all these factors and that the best chance he has of getting on a cruise is to pre-organise it. If he still says no then at least I know we've given him all the advice available.

Cheers,

Ellen Walker

Team Leader
Africa and South America Sales
_________________________________

Adventure World New Zealand
101 Great South Road, PO Box 74-008
Auckland 1543, New Zealand
Ph: +649 524 5118
Fx: +649 520 6629
DX: CX10177
http://www.adventureworld.co.nz/TravelAgents.asp

Reading this email I found it very insulting and threatening, so I rang our agent and expressed my disgust reading this email, and told him I will not deal with Quark in any form or condition at all anymore.




The day we arrived to Ushuaia, we met a nice man from Austria, who was working as a chef on another boat doing a similar trip and was able to promise us a free ride for helping in the kitchen.




Next day we called at a travel agent, who had tickets available on the Polar Star, doing exactly the same trip we were trying to get on for slightly more than half the cost of Quark (Just over $NZ 22,000 as against $NZ 44,000.) The travel agent took us to the ship's agent, who taken our bookings and told us to come back at midday on Monday for the confirmation and to finalising our bookings.



With many apologies the lady explained, she didn't have an answer yet for us as they were waiting for the on-board doctor's answer, and asked us to come back half-a-hour later for the confirmation.
(She was a Kiwi, with her cup half full.
We met 'Doctor Suzy' later in Cusco with her husband, when all of our journeys to Lake Titikaka were interrupted by a strike.
I hope you good folks managed to get there in the end.
Sorry I was a little 'down in the dumps that time'.
Hope you read this and be lucky enough to meet again.
Thanks a million again.)

We did get our booking confirmed, we paid our fare and sailed the next day.

On Tuesday a Taxi picked us up from our hotel and we were taken to the Polar Star.
Polar Star was the last of about 6 boats tied up at the wharf.
With great shock we noticed, that the first boat we passed entering the wharf was the 'Ocean Nova', the Quark boat we and many others should have sailed 2 days ago.
27 of the 'Ocean Nova's passengers in fact sailed with us.

Hui Chin and I did get our trip (A dream trip in fact) to Antarctica and we would like to thank God, Polar Star Booking Agents, the 'Expedition Team, Staff, Crew and passengers - they all showed a 'real' understanding to our problems and helped us every way to enjoy ourselves and had a terrific trip.
By the way the amount and variety of food onboard was beyond compare.

A brief of my end of the voyage speech draft.
Good evening Ladies and Gentlemen.
"My name is Erwin Bernhardt and I was born in Budapest, Hungary in 1937. just a few days after my 19th birthday we had a Revolution in 1956, and though we win the first round against our Soviet oppressors and after taking for granted their promises, their came back to brutally crush our few days of freedom. Because of my involvement I had to escape to Austria, than to New Zealand, where I lived now for more than fifty years.
I love New Zealand.
Before we came on this trip, the yachting boys got fedup with the America Cup races and racers were tied up in legal battles in New York, mainly by people with bottomless pockets and they were running a Regatta in Auckland by Louis Vuitton Cup organisers.
One of the organisers was interviewed on Radio and asked why they chose New Zealand as a venue, there are many other teams.
The man's answer was: I visited New Zealand many times before and I found, that In New Zealand the glass is always half full.

I would like to thank the Polar Star Management, Booking Agents, Expedition Team, and the ship's staff and crew to help us to have trip of our life time, they were all aware of my 'Pre Existing Medical Condition', they understood my problem and helped me every way they could.

Thank you very, very much.

I also like to thank all the passengers for their understanding and tolerance, my 'Pre Existing Medical Condition' and the medications I have to take, don't make me always the happiest and friendliest person, I'm sorry and thanks for your understanding and tolerance.

Now, I would like to explain my 'Pre Existing Medical Condition' and at the same time I would like ask a very big favour from everyone here.
I have P.C.M2, which is Prostate Cancer, Metastasised 2.
I haven't seen M3, I suppose that is when your, or my bones in my case start to break in minor accidents, when they usually don't break, or just start to break spontaneously, because of the osteoporosis caused by mainly the medication I have to take.

My 'Pre-existing Medical Condition', but I suspect more the medication I have to use made me from a happy go lucky, chatty little fellow into what sometimes I can only describe as a moron, because their effect and the nearly constant pain I have to endure.
For my sometimes - antisocial attitude or behaviour I would like to apologies to everyone on the Polar Star on this trip.

Please Ladies and Gentlemen, get your men and yourselves to a G.P. and get a simple blood test, which is not perfect, but will help to make some decisions whether other test should be done.

Ladies, don't just get your men for a check up, get yourselves too.
Most of the medication I'm taking, also used by women with breast cancer, which also moves to the bones as well.

I don't want anyone suffer as I have to suffer.
I was 70 years old when I was accidentally diagnosed and I have had no symptoms at all.
I know people who lived with Prostate Cancer for over 20 years, because they had diagnosed early.
Please get checked."
Thank you all very, very much.
From the 'Leper Colony'.

N.B. Now as I write this lines with tears in my eyes - I'm overwhelmed with the memories of this trip, which can never ever be repeated again.
I had tears in my eyes when I left the boat at Ushuaia and again when I have seen most of my new friends depart at Ushuaia Airport.
Good bye, God Bless you and many thanks, all you good people. Erwin.




My especially heartfelt thanks go to Hannah our Team Leader, our onboard doctor, Doctor Suzy, Our Captain, Our Hotel Manager and the very friendly and charming Ali, who all understood my problem and helped me every little bit they could.
Many thanks fellas. Erwin
P.S. This trip was not only a great experience, excitement, but also a discovery of human nature under stress and people's willingness to befriend and help the dispriviledged, animal lovers super charge of Antarctic and Sub Antarctic bird and animal life.

Site Index Back to Top Photos Index
Thanks for coming, I hope you have enjoyed it, will recommend it to your friends, and will come back later to see my site developing and expanding.

I'm trying to make my pages enjoyable and trouble free for everyone, please let me know of any mistakes or trouble with links, so I can fix any problem as soon as possible.

These pages are best viewed with monitor resolution set at 800x600 and kept simple on purpose so everyone can enjoy them across all media and platforms.

Thank you.

Webmaster