South Pacific


Other pages in my Tongan series

Airport to Town Service - Teta Tours Tonga Tonga History and Facts in Brief

Ha´amonga ´a Maui (trilithon) Mapu a Vaea (blowholes) Nuku´alofa

Teta Tours Tonga Tongatapu A Tongatapu B

Tongatapu - Buses Tongatapu - Catholic Churches Tongatapu - Churches







Tonga
Excerpted from Wikipedia, the free encyclopedia


Kingdom of Tonga (Tongan for "south") is an archipelago in the south Pacific Ocean comprising 169 islands, 96 of them inhabited, stretching over a distance of about 800 kilometres (500 miles) in a north-south line.
The islands lie south of Samoa and are about a third of the way between New Zealand and Hawaii.

Tonga is the only surviving monarchy among the island nations of the Pacific Ocean, as well as being the only island nation never to have been formally colonised.

The islands are also known as the Friendly Islands because of the friendly reception accorded to Captain Cook on his first visit in 1773.
He happened to arrive at the time of the ´inasi festival, the yearly donation of the first fruits to the Tu´i Tonga, the islands' paramount chief, and was invited to the festivities.
According to the writer William Mariner, in reality the chiefs had wanted to kill Cook during the gathering, but had been unable to agree on a plan.

Pule´anga ´o Tonga
Kingdom of Tonga




Coat of arms of Tonga

Motto: "Ko e ´Otua mo Tonga ko hoku tofi´a"
"God and Tonga are my Inheritance"
Anthem: Ko e fasi ´o e tu´i ´o e ´Otu Tonga

Capital (and largest city) Nuku´alofa
Official languages Tongan, English
Demonym Tongan
Government Monarchy
Independence
- from British protectorate 4 June 1970
Area - Total 748 kmē (186th) 289 sq mi
Population
- July 2005 estimate 112,000 (194th)
- Density 153/km² 396/sq mi (67th)
GDP (PPP) 2005 estimate
- Total $817 million (167th)
- Per capita $7,984 (76th)
Currency Pa´anga (TOP)
Time zone (UTC+13) - Summer (DST) (UTC+13)
Internet TLD .to
Calling code +676

History
Archaeological evidence shows that the first settlers in Tonga sailed from the Santa Cruz Islands, as part of the original Austronesian-speakers' (Lapita) migration which originated out of S.E. Asia some 6,000 years ago.
Archaeological dating places Tonga as the oldest known site in Polynesia for the distinctive Lapita ceramic ware, at 2,800-2,750 years ago.
The "Lapita" people lived and sailed, traded, warred, and intermarried in the islands now known as Tonga, Samoa, and Fiji for 1,000 years, before more explorers set off towards the east to discover the Marquesas, Tahiti, and eventually the rest of the islands of the Pacific Ocean.
For this reason, Tonga, Samoa and Fiji are described by anthropologists as the cradle of Polynesian culture and civilization.

By the 12th century, Tongans, and the Tongan paramount chief, the Tu´i Tonga, were known across the Pacific, from Niue to Tikopia, sparking some historians to refer to a 'Tongan Empire'.
In the 15th century and again in the 17th, civil war erupted.
It was in this context that the first Europeans arrived, beginning with Dutch explorers Willem Schouten and Jacob Le Maire in 1616, who called on the northern island of Niuatoputapu, and Abel Tasman, who visited Tongatapu and Ha´apai in 1643.
Later noteworthy European visits were by Captain Cook in 1773, 1774, and 1777, Alessandro Malaspina in 1793, the first London missionaries in 1797, and the Wesleyan Methodist Walter Lawry Buller in 1822.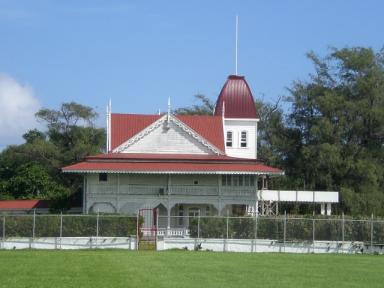 Royal Palace (1)

Tonga was united into a Polynesian kingdom in 1845 by the ambitious young warrior, strategist, and orator Taufa´ahau.
He held the chiefly title of Tu´i Kanokupolu, but was baptised with the name King George.
In 1875, with the help of missionary Shirley Baker, he declared Tonga a constitutional monarchy, formally adopted the western royal style, emancipated the 'serfs', enshrined a code of law, land tenure, and freedom of the press, and limited the power of the chiefs.

Tonga became a British protected state under a Treaty of Friendship on 18 May 1900, when European settlers and rival Tongan chiefs tried to oust the second king.
Within the British Empire, which posted no higher permanent representative on Tonga than a British Consul (1901-1970), it was part of the British Western Pacific Territories (under a colonial High Commissioner, then residing on Fiji) from 1901 until 1952.

The Treaty of Friendship and Tonga's protectorate status ended in 1970 under arrangements established prior to her death by Queen Salote Tupou III.
Tonga joined the Commonwealth of Nations in 1970 (atypically as an autochthonous monarchy, that is one with its own hereditary monarch rather than Elizabeth II), and the United Nations in September 1999.
While exposed to colonial forces, Tonga has never lost indigenous governance, a fact that makes Tonga unique in the Pacific and gives Tongans much pride, as well as confidence in their monarchical system.
As part of cost cutting measures across the British Foreign Service, the British Government closed the British High Commission in Nuku´alofa in March 2006, transferring representation of British interests in Tonga to the UK High Commissioner in Fiji.
The last resident British High Commissioner was Paul Nessling.

Geography
Tonga is divided into five divisions: Eua, Ha'apai, Niuas, Tongatapu and Vava'u.
The divisions are further divided into 23 districts.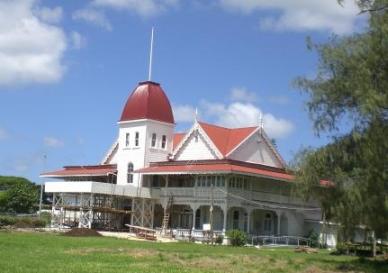 Royal Palace (2)

Politics
Tonga is a constitutional monarchy.
The reverence for the monarch is likened to that held in earlier centuries for the sacred paramount chief, the Tu´i Tonga.
Criticism of the monarch is held to be contrary to Tongan culture and etiquette.
A direct descendant of the first monarch, King George Tupou V, his family, some powerful nobles, and a growing non-royal elite caste live in much wealth, with the rest of the country living in relative poverty.
The effects of this disparity are mitigated by three factors: education, medicine, and land tenure.

Tonga's education system is free and mandatory for all children up to the age of fourteen, with only nominal fees for secondary education, and foreign-funded scholarships for post-secondary education.
Tongans are well-educated, with a 98% literacy rate, and higher education up to and including medical and graduate degrees.

Tongans also have universal access to a socialised medicine system.
Tongan land is constitutionally protected and cannot be sold to foreigners (although it may be leased).
While there is a land shortage on the urbanized main island of Tongatapu (where 70% of the population resides), there is farm land available in the outlying islands.
The majority of the population engages in some form of subsistence production of food, with approximately half producing almost all of their basic food needs through farming, sea harvesting, and animal husbandry.
Women and men have equal access to education and health care, and are fairly equal in employment, but women are discriminated against in land holding, electoral politics, and government ministries.
However, in Tongan tradition women enjoy a higher social status than men, a cultural trait that is unique among the insular societies of the Pacific.



For more information about Tonga see Wikipedia, the free encyclopedia

This page was retrieved and condensed from (http://en.wikipedia.org/wiki/Tonga) see Wikipedia, the free encyclopedia, April 2008.
All text is available under the terms of the GNU Free Documentation License (see Copyrights for details).
About Wikipedia
Disclaimers


This information was correct in April 2008. E. & O.E.

Other pages in my Tongan series


Airport to Town Service - Teta Tours Tonga Tonga History and Facts in Brief

Ha´amonga ´a Maui (trilithon) Mapu a Vaea (blowholes) Nuku´alofa

Teta Tours Tonga Tongatapu A Tongatapu B

Tongatapu - Buses Tongatapu - Catholic Churches Tongatapu - Churches



Site Index Back to Top Photos Index
Thanks for coming, I hope you have enjoyed it, will recommend it to your friends, and will come back later to see my site developing and expanding.

I'm trying to make my pages enjoyable and trouble free for everyone, please let me know of any mistakes or trouble with links, so I can fix any problem as soon as possible.

These pages are best viewed with monitor resolution set at 800x600 and kept simple on purpose so everyone can enjoy them across all media and platforms.

Thank you.

Webmaster