Col. Michael de Kováts (1724 - 1779)
US Military Hero!- Founding Father o f the US Cavalry!

"Golden Freedom Cannot be Purchased with Yellow Gold." Letter to Benjamin Franklin, 1777

A Nobleman born in Karcag and officer in Hungarian Cavalry under Maria Theresa. Captain in the famous Prussian Cavalry under Frederick the Great. After hearing of American uprising, he offered his sword to Ben Franklin, then Ambassasor to France. US Congress made him Colonel-Commander of the legendary Pulaski Legion. He recruited, trained, organized, and led into battle the first American Cavalry. He died a hero's death at Charleston, SC, 5/11/1779 and is the first Hungarian to give his life for American freedom and independence.

A total of 141 Hungarians fought under the American flag - this does not include those enlisted in the French military. In the Civil War, over 4000 Hungarians served the Union.

See Hungarian Soldiers in Foreign Armies, The Hungarian Art of War
---
Major Charles Zágonyi - (Szatmár, Hungary, 1826 [annexed by Rumania in 1920])
US Military Hero! "The Union Forever!" Led the famous Civil War "Zágonyi Death Ride"

Raised into the military, he became a Huszar officer with Polish General Bem and Kossuth in Hungary's fight for democracy in 1848. He was wounded in battle and spent two years as an Austrian POW. After the war, he came to the US and joined the Union. Under General John Fremont, Major Zágonyi, the former Huszár officer, was commissioned to organize his first cavalry guard which came to be known as "Fremont's Body Guard." He trained his men as Huszárs and they all soon looked the part.

The Death Ride:

Despite being outnumbered 2000 to 300, Zagonyi convinced the hestitating Gen. Fremont to attack. Zágonyi went on to rout confederate forces at Springfield, Missouri in October, 1861. Fremont compared Zágonyi's feat to that of the famed, "Charge of the Light Brigade." His surprise attack, a complete success, left over 300 enemy casualties. The monument commemorating this event in Springfield, Missouri describes it as one of the "most daring and brilliant cavalry charges of the Civil War." The famous "death ride" was celebrated in poems, paintings and articles.

TRIVIA! Wild Bill Hickock rode with Zagonyi, the "dashing Hungarian"

- See Hungarian Soldiers in Foreign Armies, The Hungarian Art of War
- Read some of his letters from the Civil War battles
- See Notable Hungarians in the Civil War
- See Military.com for more details
---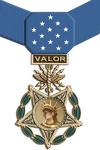 Major-General Julius H. Stahel Számwald (b. 11/5/1825, Szeged, Hungary d. 12/4/1912, New York City)
US Military Hero! Congressional Medal of Honor
At the outbreak of the War of Liberation with Louis Kossuth against the ruling Hapsburg dynasty in the spring of 1848, Stahel immediately joined various patriotic organizations and also enlisted in the revolutionary army. In the battle of Branyiszkó, February 5, 1849, Stahel sustained serious wounds and was decorated for bravery.
By May 1849 the Hungarian insurgents inflicted a series of decisive defeats upon the Hapsburg Imperial Army and the Croat, Serb, Slovak and Rumanian irregulars supporting the House of Hapsburg. A small Russian army, which made an informal incursion into eastern Hungary to help the hard-pressed Hapsburg troops there, was routed and expelled. Czar Nicholas I, the autocrat of Europe, was more than willing to extend a hand in stamping out liberalism and soon a Russian army of some 300,000 poured into Hungary. The revolutionaries felt confident that the Russian invasion would mobilize Western support on their side, but their hopes were cruelly dashed. Governor Lajos Kossuth and thousands of others, Stahel among them, fled abroad after the defeat.
He moved to New York and worked, like Pulitzer, as a Journalist. At the outbreak of the Civil War, Stahel and Ludwig Blenker, a flamboyant German expatriate, organized the 8th New York Volunteer Infantry, the first German-American regiment in the Union army. Stahel became the regiment's lieutenant-colonel. At the First Battle of Bull Run, July 20, 1861, with his 8th New York Infantry, on his own initiative took command of the rear guard and made possible the withdrawal of the main forces, thus preventing Confederate forces from advancing on Washington. President Lincoln personally expressed his appreciation for this action. For their valiant conduct on the battlefield, Stahel was promoted to Colonel of the 8th New York. Shortly afterwards, on November 12, Stahel received his star as a brigadier-general. A few days after John Singleton Mosby's daring raid behind the Federal lines at Fairfax Court House during the night of March 8, Lincoln summoned Stahel to the White House and ordered him personally to take charge of the cavalry at Fairfax. He told Stahel in no uncertain terms that the raids upon the lines around Washington must stop. The three brigades of cavalry in the Department of Washington were organized as a division, which together with the outposts were placed under Stahel's command. On March 14, he was raised to the rank of major-general.
Stahel received the US Congressional Medal of Honor for his bravery at the Battle of Piedmont in Virginia. While wounded, the General led a cavalry charge which led to a Union victory. After the War, he was appointed U.S. Consul to Japan. In 1912 his remains were placed in Arlington National Cemetery.
Early in 1866 Stahel was appointed by President Andrew Johnson consul at Yokohama, Japan. There he succeeded in opening additional ports to American trade. Afterwards, he served as consul to Osaka and Hiogo. He remained in Japan until 1884, when he was made consul in Shanghai, China.
Trivia:
When President Lincoln delivered his famous Gettysburg Address on November 19 at the dedication of the military cemetery established for those who had fallen at the battle of Gettysburg, Stahel commanded the guard of honor.
- See more at ArlingtonCemetery.com (Special thanks to Steve Beszedits for biographical data)
- See Hungarian Soldiers in Foreign Armies, The Hungarian Art of War
- See Stephen Beszedits's detailed work
- See Notable Hungarians in the Civil War
---

Huba Wass de Czege (b.Kolozsvár (now Cluj after Rumanian annexation), Transylvania, in 1941)
Brigadier General, US Army Founding Director of the US Army's School of Advanced Military Studies and Architect of AirLand Battle Doctrine

As one of the "Jedi Knights," helped the planning of Operation Desert Storm. First in Class, West Point 1964. Chief of Arms Control Branch, Office of the Supreme Allied Commander, SHAPE, Belgium. Author of the 1982 and 1986 versions of Field Manual 100-5, "Operations," the Army's main warfighting doctrine publication.

"Knowing why, when and how to change is key to maintaining an Army's effectiveness."

"The will to fight is at the nub of all defeat mechanisms....One should always look for a way to break the enemy's will and capacity to resist."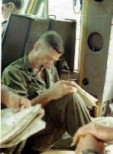 Read Palmer McGrew's experience in Vietnam with "A" Company Commander, de Czege. Here is an excerpt:
"Huba was a wonderful company commander, and he had excellent credentials. He was a West Point graduate and had been a high-ranking cadet. This was his second tour in Viet Nam, so he knew his way around. He was the bravest and smartest man in his company and personally manned an ambush position every night. His company headquarters, which amounted to him, his radio operators, his first sergeant and his forward observer, had killed and wounded more enemy than the entire rest of the battalion. Now Huba had decided that I showed promise."
He and his brothers, in remembrance of their father, Count Albert Wass de Czege, the noted Transylvanian-Hungarian novelist (see Documented Facts and Figures on Transylvania), established the Czegei Wass Foundation in 1996. The purpose of the Foundation is to provide economic and humanitarian aide to the small villages in Transylvania so that the villagers can improved their lives during the reconstruction period following Communism. Headquartered in the United States, it has established sister foundations both in Hungary and Rumania. The Home address is:
Can you help? Send a tax-deductible donation to:
Czegei Wass Foundation, Inc.
1602 Woodford Ave.
Fort Myers, FL 33901
- Read about his Starry-Wass de Czege model. Read "How to Change an Army" or the article on ABCNEWS.com: Army Fights Future Wars. You can also buy his book at Amazon: Air-Mech-Strike, 3-Dimensional Phalanx; full-spectrum maneuver warfare to dominate the 21st Century.
---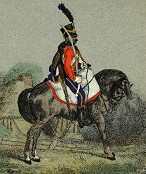 Count Lászlo Bercsényi (b. 1689)
Huszár, Founder of the modern French Cavalry! Marshal of France

The Light Cavalry of the Magyars - the Hussars - was widely imitated by other nations, both in terms of organization and detail of uniform. At the end of the 17th century, Louis XIV ordered the establishment of three separate Hungarian regiments.

According to today's French tradition, the founder of the modern French cavalry was Laszlo Count Bercsenyi (Bercheny in French spelling) son of the famous general under Rákoczi. Bercsenyi was promoted to the rank of general for his heroism in the War of Polish Succession. During the War of Austrian Succession (1741 1748) the hussar regiment of Bercsenyi covered the retreat of the French Army from Bohemia. For his services in this campaign he was appointed by Louis XV (1723-1774) to Inspector General of the French cavalry. In 1756 Bercsenyi, already 67 years old, was promoted to the highest rank of the French Army: Marshal of France. After receiving amnesty from Empress Maria Theresa, he went back to Hungary for awhile, but, disillusioned, returned to France where he died in 1778 at the age of 89.

Today the First Hussards are an active parachute regiment stationed in Tarbe, France. The First Hussards were deployed in Indochina during the Vietnam era and as part of the coalition forces in desert storm

See Hungarian Soldiers in Foreign Armies, The Hungarian Art of War
See History of the 1e Régiment de Hussards
See the French Folksong "Les Hussards de Bercheny" (in French)
---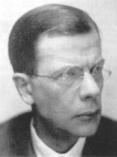 Dr. Hans von Dohnanyi (b. 1/1/1902, d. 4/8/1945)
WWII hero of German resistance!

Another son of Erno von Dohnanyi and brother-in-law of reknowned anti-Nazi pastor Dietrich Bonhoeffer. Fellow conspirator and close friend of General Hans Oster. In 1929 his outstanding legal talent lands him the job of Special Assistant to the Reich Minister of Justice at the age of 27. In the 1930s, Dohnanyi uses his post to secretly procure files on Hitler and other Nazi officials to be used to prove their criminal misconduct in office; and in Hitler's case, medical files from military psychiatrists showing evidence of mental hysteria induced by gas attacks during World War I.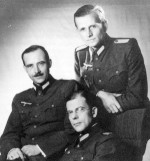 He played a major role in helping to plan the September 1938 and October 1939 coup attempts. In August 1939 he becomes special project chief in the Abwehr. He forwards reports from Dietrich Bonhoeffer about deportation of Jews to the Army High Command in the hope it may persuade the top brass to protest. Backed by Abwehr Chief Admiral Wilhelm Canaris, Dohnanyi and Deputy Abwehr Chief Oster put together Operation U-7, a secret Abwehr mission to save Jews from Hitler's death camps. On April 5, 1943, he was arrested after Gestapo discovers operation U-7 during a raid on Dohnanyi's office. Gestapo discovers Dohnanyi's compiled information on Nazi crimes after July 20, 1944. On April 8, 1945, Dohnanyi is hanged by the SS in Sachsenhausen concentration camp along with Canaris, Oster, and Bonhoeffer. (Dohnanyi is seen at center on right)
Trivia: His son and father, Christoph and Erno (Ernst) von Dohnányi are world-renowned conductors (see Film, the Arts, & Media)
See The German Conspiracy to Destroy Hitler : 1938-1944
---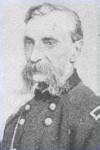 General Alexander Asbóth, (b. 12/18/1811, Keszthely, Hungary, d. 1/21/1868, Argentina)
US Chief-of-Staff, US Minister to Argentina

Asboth graduated from the academy at Selmecbanya and, after receiving government appointment as an engineer, worked in various parts of Hungary becoming a General in the Hungarian Honvedseg. During the Hungarian Revolt of 1848 against Austria, he associated himself with Lajos Kossuth and followed him into exile in the United States in 1851. By 1861 he had become a citizen and offered his services to the Union when the Civil War broke out.

John C. Fremont, who had known him in New York, applied for his services, appointed him a Brigadier General of Volunteers and his chief-of-staff. Seriously wounded three times during the war, he was appointed to the rank of general in l864. Distinguished himself at the Battle of Pea Ridge, Arkansas, where he was wounded in left arm. Despite the wound, he saddled up next morning. His arm was later shattered and a bullet lodged under his cheek in the Marianna engagement in Florida. In 1866, he was appointed U.S. Minister to Argentina and Uruguay. The wound in his cheek failed to heal, and on January 21, 1868, he died and was buried in Buenos Aires, Argentina. His remains were exhumed in Argentina, and he came home on October 23, 1990 to full military honors. He lies today in Section 2 of Arlington National Cemetery. His grandson attended the funeral and is in the Virginia National Guard.

- See his gravestone at Arlington Cemetery.com
- See Hungarian Soldiers in Foreign Armies, The Hungarian Art of War.
See Notable Hungarians in the Civil War
---

Major Gyula Vári, Hungarian Air Force
Acclaimed Fighter Pilot - First pilot to win consecutive titles at Fairford's Royal International Air Tattoo
The Royal International Air Tattoo the world's biggest military airshow, bringing together the elite pilots and aircraft from around the world. There are over 150000 spectators, nearly 450 aircraft from and about 25 nations. Various competitions are held, and the Hungarian Air Force's Major Gyula Vari is the undisputed King, pulling 9G's and presenting a remarkable concoction of vertical climbs and tail slides. He is the first pilot to win consecutive awards. Look at this record:
Fairford 1998 - "Superkings" trophy for Best Display (MiG-29)

Fairford 1999 - Major Vári flew his MiG 29UB to an award winning standard, taking both the "As the Crow Flies" and the "Superkings" trophy for Best Solo Jet Display
Fairford 2000 - Fellow Hungarian Air Force Officer, Captain Peter Kovács, and his Mig-29 win "As the Crow Flies" trophy, following in the footsteps of Major Vári
Fairford 2001 - Great success! Winner is Gyula Vári again
Read more on: Famous Hungarians
See an excerpt from author Graham Hurley's book entitled, "Airshow," on his interaction with Maj. Vári
---

János Hunyadi (1387-1456)
Military leader and statesman. First to stop the Ottoman Turks!

Following his successful long Campaign against the Turks (1443-44), he was elected (1446) governor and regent for King Ladislas (1440-57). In 1456, shortly before dying of the plague, he routed the Turkish forces before Nándorfehérvár (now Belgrade in Serbia), the securing a 70-year peace. The Pope also gave instructions that throughout Christendom the church bells should be rung to remind Christians that they, should pray for the relief of Nándorfehérvár and for the survival of Hungary. The custom of ringing church bells at noon, which is still observed throughout the Catholic world today, dates from this time.

More: Budapest Pocket Guide
---
Col. Géza Mihalóczy
Civil War Hero: Organized the famed "Lincoln Riflemen."

Organized a company of militia which came to be known as the, "Lincoln Riflemen." His militia merged and he Became Colonel of the 24th Illinois Volunteer Infantry Regiment. He was shot during an engagement on February 24, 1864, near Buzzard Roost Gap in Tennessee and later died of his wounds in Chattanooga. To honor his memory, two forts, one in Chattanooga and the other in Knoxville, were named after him.


See Notable Hungarians in the Civil War or a mirror
---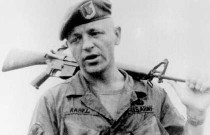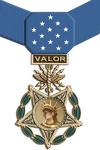 S/Sgt. Laszlo Rabel (b. 9/21/1939, Budapest, d. Binh Dinh Province, Republic of Vietnam, 11/13/1968)
US Military Hero! Congressional Medal of Honor

Laszlo earned the Medal of Honor in Vietnam while serving with the 74th Infantry Detachment (Long Range Patrol), 173rd Airborne Brigade at Binh Dinh Province, Vietnam, November 13, 1968 for conspicious gallantry and intrepidity in action at the risk of his own life above and beyond the call of duty.

He distinguished himself while serving as leader of Team Delta, 74th Infantry Detachment. At 1000 hours on this date, Team Delta was in a defensive perimeter conducting reconnaissance of enemy trail networks when a member of the team detected enemy movement to the front. As he and a comrade prepared to clear the area, he heard an incoming grenade as it landed in the midst of the team's perimeter. With complete disregard for his own life, he threw himself on the grenade and, covering it with his body, received the complete impact of the immediate explosion. Through indomitable courage, complete disregard for his own life and injury to the other members of Team Delta. By gallantry at the cost of his life in the highest traditions of the military service, he has reflected great credit upon himself and the United States Army.
His body was returned to the United States where it was buried in Section 52 of Arlington National Cemetery.
His name is also on the Vietnam Veteran's Memorial.
See ArlingtonCemetery.com, CombatVets.Net or read more at Mishalov.com
---
Colonel George Utassy (b. 1823, d. Philadelphia, 1906)
Civil War Hero: Organized the famed Garibaldi Guard

Utassy was a Huszar officer in the failed 1848 war of Independence. He was sent on a clandestine mission to Germany but was caught and served two years in irons in an Austrian prison. He came to the US after his release and joined the union cause. The New York's Civil War Garibaldi Guard was organized by George Utassy who became the first commander of the unit with the rank of colonel. The Guard was allowed to display three flags: the Union flag and Garibaldi's flag were joined by the Hungarian tricolor, since many in the Garibaldi Guard were Hungarians. His two brothers, Carl and Anton, also served in this regiment. After the war, Col. Utassy supported himself teaching piano in Philadelphia.

See Notable Hungarians in the Civil War
---
Colonel George Poműtz (Pomucz) - (b. d. 10/12/1882)
Civil War Hero: Appointed US Consul General to St. Petersburg, Russia.

One of the founders of New Buda,the Hungarian settlement in Iowa, George Pomutz began his Civil War career as a first-lieutenant and adjutant with the 15th Iowa Infantry Regiment and finished it as a brigadier-general by brevet. Pomutz was wounded in the Battle of Shiloh in April of 1862.

See Notable Hungarians in the Civil War
---
Philip Figyelmessy - (b. Pest, Hungary, 1822, d. Philadelphia)
US Inspector General during Civil War.

Another Huszar officer, Figyelmessy served under Kossuth and was often put to use as as spy but was never apprehended despite the huge reward on his head. After the loss of Komarom (now called Komarno after Slovak annexation), he went abroad. In Italy, Figyelmessy organized a Huszar regiment and served with the famed Garibaldi on his Naples campaign and commanded the First Squadron of Hungarian Hussars, distinguishing himself in numerous engagements, especially the battle of the Volturno. When he saw that there was no more hope for a resurrection of war against Austria, he left for America and quickly offered his sword to the Union. He proudly wore his Huszar regalia and medals and served under General Fremont becoming Inspector General. Figyelmessy later became American Consul in British Guiana. In keeping with his promise never to set foot on an un-free Hungary, he returned to Philadelphia, where he died.

See Notable Hungarians in the Civil War
---
Lt. Colonel Albert Anzelm (Anselm) -
Civil War Hero: General Fremont's Chief-of-Staff.

A Hungarian Lt. General, he came to the United States in 1850 after the failed Hungarian fight for democracy. One of the organizers of the Home Guards in St. Louis, Missouri, he participated in the capture of Camp Jackson in May 1861, and was wounded during the battle of Wilson's Creek on August 10 of the same year. Following his recovery, he became a staff officer with rank of colonel in the Western Department and afterward was Frémont's chief-of-staff in the Mountain Department.

See Notable Hungarians in the Civil War
---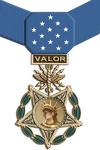 S/Sgt Frankie "Zoly" Molnar (b. 2/14/1943, Logan, West Virginia, d. Kontum Province, Republic of Vietnam, 5/20/1967)
Vietnam War Hero - Congressional Medal of Honor Winner

Rank: Staff Sergeant, US Army.
Place: Kontum Province, Vietnam, 1967.
Citation: For conspicuous gallantry and intrepidity in action at the risk of his life above and beyond the call of duty. S/Sgt. Molnar distinguished himself while serving as a squad leader with Company B, during combat operations. Shortly after the battalion's defensive perimeter was established, it was hit by intense mortar fire as the prelude to a massive enemy night attack. S/Sgt. Molnar immediately left his sheltered location to insure the readiness of his squad to meet the attack. As he crawled through the position, he discovered a group of enemy soldiers closing in on his squad area. His accurate rifle fire killed 5 of the enemy and forced the remainder to flee. When the mortar fire stopped, the enemy attacked in a human wave supported by grenades, rockets, automatic weapons, and small-arms fire.

After assisting to repel the first enemy assault, S/Sgt. Molnar found that his squad's ammunition and grenade supply was nearly expended. Again leaving the relative safety of his position, he crawled through intense enemy fire to secure additional ammunition and distribute it to his squad. He rejoined his men to beat back the renewed enemy onslaught, and he moved about his area providing medical aid and assisting in the evacuation of the wounded. With the help of several men, he was preparing to move a severely wounded soldier when an enemy hand grenade was thrown into the group.

The first to see the grenade, S/Sgt. Molnar threw himself on it and absorbed the deadly blast to save his comrades. His demonstrated selflessness and inspirational leadership on the battlefield were a major factor in the successful defense of the American position and are in keeping with the finest traditions of the U.S. Army. S/Sgt. Molnar's actions reflect great credit upon himself, his unit, and the U.S. Army.
He is listed on the Vietnam Memorial Panel 20E - Row 064
Read more at Mishalov.com
---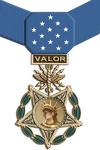 Pvt. William L. S. Tabor
Civil War Hero - Congressional
Medal of Honor Winner
Rank: Private, Company K, 15th New Hampshire.
Place: Siege of Port Hudson, LA, 1863.
Citation: "Voluntarily exposed himself to the enemy only a few feet away to render valuable services for the protection of his Comrades."
---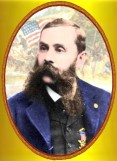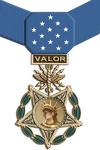 Sgt. Leopold Karpeles
Civil War Hero - Congressional
Medal of Honor Winner
Rank: Sergeant, Company E, 57th Massachusetts Infantry.
Place: At Wilderness, Va., 6 May 1864. Entered service at: Springfield, Mass. Birth: Hungary. Date of issue: 30 April 1870.
Citation: In the Battle of Wilderness, the Confederate forces had charged the Union lines many times and the woods were full of smoke. Sergeant Leopold Karpeles was entrusted with the colors which he kept waving as it was the only visible thing the Union soldiers could see. General Wadsworth rode up and down the Union lines on his horse shouting to his disarrayed soldiers "rally around the flag boys!" Risking his life, Sergeant Karpeles kept waving the flag as Confederate gun fire kept missing him. The Confederate Army was checked and defeated as the Union soldiers were able to reform their lines and fight back. For his bravery in face of the enemy fire, Sergeant Karpeles was awarded the Congressional Medal of Honor.
See The Battle of Wilderness Wall of Honor
---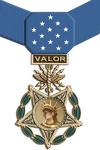 Albert Vadas (Wadas)
Spanish American War Hero -
Congressional
Medal of Honor Winner
Rank: Seaman, US Navy.
Place: Cienfuegos, Cuba, 1898.
Citation: "On board USS Marblehead, during operation of cutting the cable. Facing heavy fire, Vadas displayed extra-ordinary bravery and coolness throughout this period.
---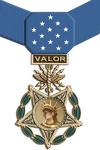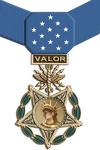 Sgt. Matej Kocak (b. 12/31/1882 Egbell, Hungary [now called Gbely after Czech and Slovak annexation], d. 1901)
WWI Hero - DOUBLE Congressional Medal of Honor Winner


Rank: Sergeant, U.S. Marine Corps
Place: Viller-Cottertes section, south of Soissons, France, 18 July 1918
Army Citation: When the advance of his battalion was checked by a hidden machine-gun nest, he went forward alone, unprotected by covering fire from his own men, and worked in between the German positions in the face of fire from enemy covering detachments. Locating the machine-gun nest, he rushed it and with his bayonet drove off the crew. Shortly after this he organized 25 French colonial soldiers who had become separated from their company and led them in attacking another machine-gun nest, which was also put out of action.

Navy Citation: For extraordinary heroism while serving with the 66th Company, 5th Regiment, 2d Division, in action in the Viller-Cottertes section, south of Soissons, France, 18 July 1918. When a hidden machinegun nest halted the advance of his battalion, Sgt. Kocak went forward alone unprotected by covering fire and worked his way in between the German positions in the face of heavy enemy fire. Rushing the enemy position with his bayonet, he drove off the crew. Later the same day, Sgt. Kocak organized French colonial soldiers who had become separated from their company and led them in an attack on another machinegun nest which was also put out of action.
---
Brigadier General Frederick Knefler (b. Arad, Hungary 1833 (annexed by Rumania in 1920), d. 1901)
Civil War Hero: "Hungarian Patriot and American General" - highest rank attained in the Union army by a member of the Jewish faith.

Active in the 1848 struggle for independence, Knepfler (Knoepfler Frigyes) started his Civil War career under Wallace in the 11th Indiana Infantry. When Wallace was promoted to brigadier-general in September 1861, he chose Knefler, then a captain, as his assistant adjutant-general. In May of 1862 he was promoted to major. Upon the formation of the 79th Indiana Infantry in August 1862, he was appointed the regiment's colonel. Knefler fought in several of the bloodiest engagements of the war, including Fort Donelson, Shiloh, Perryville, Stone's River, Chickamagua, Missionary Ridge and Nashville. On March 13, 1865, he was brevetted brigadier-general, the

His death was mourned by the entire city. The Indianapolis Journal wrote: "He was one of the first to enlist, taking whatever place came to him, serving faithfully and tirelessly in the position to which he was assigned . . . During his four years spent at the front in doing the duties assigned him he won the regard of subordinates and the confidence of superiors. No better, braver soldier than he ever buckled on a sword . . . No truer American ceased to live, no better citizen in all the duties of citizenship was left in the city when the feeble flame of that manly spirit flickered out."

See Notable Hungarians in the Civil War
---
Brigadier General Eugene A. Kozlay
Civil War Hero: Organized the 54th New York Infantry Regiment


Organized the 54th New York Infantry Regiment and was its colonel from November 1861 to March 1863 and again from March 1864 to April 1866. For gallant and meritorious services, he was brevetted brigadier-general on March 13, 1865.

See Notable Hungarians in the Civil War
---