Alanis Morrisette - (b. 6/1/1974)
Multi-Platinum-selling Singer, Songwriter - 7 Grammy Awards! Jagged Little Pill - the biggest-selling female debut LP of all-time! One of the VH1: 100 Greatest Women of Rock & Roll.

One of the most successful singer/songwriters in Rock-n-Roll history, Alanis Nadine Morissette and her two brothers were raised in Ottawa, Canada by a French-Canadian father and Hungarian Mother. In her early youth, Alanis's family moved around a lot, including a stay in West Germany and attending a Roman Catholic school. Alanis learned ballet, jazz dancing, and the piano by the age of 7 and was writing songs for the fun of it by age 9. By the age of 10, the precocious Morissette had landed a role on the Nickelodean TV show "You Can't Do That on Television" and recorded her first single, "Fate Stay With Me." She spent most of her pre-pubescent years performing throughout Canada, singing "O' Canada" at sporting events and even making the de rigueur appearance on "Star Search."

Her foray into teeny bopper music was fortunately short lived. She began to pursue darker, edgier themes and found representation. The resulting demo tape was shopped around to the major labels and Madonna's Maverick imprint eventually signed Morissette. Jagged Little Pill, was released in the summer of 1995. On the strength of the break-out single "You Oughta Know," the album reached platinum status and the Top 10. Follow-up singles "Hand in My Pocket," "All I Really Want" and "Ironic" went #1 for 12 weeks and kept Jagged Little Pill on the album charts the next two years, hitting 16x Platinum in the US and ultimately selling over 30 million copies worldwide.

Morissette was showered with industry awards for Jagged Little Pill, including Grammys for Album of the Year, Best Female Rock Vocal Performance, Best Rock Song and Best Rock Album. Her much-anticipated follow-up, Supposed Former Infatuation Junkie, debuted at #1 on the Billboard 200 Albums chart (where it spent 2 weeks) with sales of over 460,000 copies, setting a new record for 1-week sales by a female artist. She hit #1 again with Uninvited and Thank U. The album went 3x US Platinum.

Her 1999 Alanis Unplugged went US Gold and featured the #1 hit "Uninvited," and she performed an incredible arrangement of it live at the Grammy's. In February, 2002, she released Under Rug Swept which went US Platinum and # 1.

Trivia:
Alanis sings in Hungarian on the CD entitled, "Prayer Cycle."
In 1990, the poor thing was the opening act for rapper Vanilla Ice.
See Rock on the Net
---

Freddie Prinze Sr. (b. 1/28/1954, NY, d. 1/29/1977 (self-inflicted gunshot)
Actor, Comedian

The son of a Puerto Rican mother and a Hungarian father (A Hungarican as Freddie would say), Freddie Prinze was a 20 year-old stand-up comedian when he earned a spot on the TV sitcom, Chico and the Man. The show made its debut in 1974, was a ratings success, and by 1977 Prinze was one of the biggest stars on TV. At the height of his popularity, despondent over personal problems and apparently under the influence of drugs, he shot himself in the head and died several hours later.

Extra credit: Prinze is the father of movie star Freddie Prinze, Jr. Prinze's career, like that of Bill Cosby, took off after he appeared on Johnny Carson's Tonight Show.

- See Who2.com, The Freddie Prinze Sr. "Chico" Homepage, or his filmography at IMDB
- See pictures of his early childhood and his family at the Freddie Prinze Photo Gallery l and hear Prinze Performance Clips
---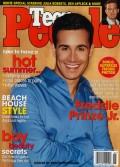 Freddie Prinze, Jr. (b. 3/8/1976, Albuquerque, New Mexico, USA)
Actor and Heart-Throb! "Young Hollywood's Leading Man"

After starting out in television, Freddie Prinze, Jr. made his big screen debut opposite Claire Danes in 1996's To Gillian On Her 37th Birthday. In 1997 he starred in the horror film I Know What You Did Last Summer, and its success made Prinze a star. (He also appeared in the 1998 sequel.) By 2001 he had made more than a dozen movies, including the hit teen romance She's All That and Head Over Heels (2001). In April of 2001 Prinze became engaged to actress Sarah Michelle Gellar; the two co-star in the 2002 live-action film of the cartoon Scooby Doo

He enjoys Martial arts and was listed on On People's 'Best-Dressed' and '50 Most Beautiful People' lists.

See the very well-designed I Love Freddie.com (or directly to their Photo Gallery), Who2.com or more at IMDB
---

Jules White (b. 1900 Budapest, d. 1985)


Four-time Oscar-Nominated Producer / Director of "The Three Stooges" and More!
When you think of Columbia Pictures, think of Jules White. White was born Juliusz Weisz and started out as a child actor working for Pathe Studios during the 1910s. He came to America with his family in 1904. Soon after founding Columbia Pictures in 1924, Harry Cohn hired White to produce comedy short-subjects. During his 25-year tenure at Columbia Pictures, he became the head of Columbia's short film division in 1933 and directed 136 Three Stooges shorts. He also produced or directed many other films with such stars as Charley Chase, Andy Clyde, Harry Langdon and Buster Keaton.

White also created the "Dogville Comedies," a popular series of short subjects. In these one-reel shorts, trained dogs dressed as people acted out the plots of popular movies of the day, sometimes assisted directly by the movie they were spoofing, as in the case of "The Dogway Melody," which borrowed the soundtrack recording of "Singin' in the Rain" from The Broadway Melody (1929).
Oscar Nominated for Hiss and Yell in 1946
Oscar Nominated for The Jury Goes Round 'n' Round in 1945
Oscar Nominated for Oh, My Nerves (Broadway Comedies Series) in 1935
Oscar Nominated Men in Black (The Three Stooges Series) in 1934
- See his production credits or
- Purchase videos at Amazon.com
---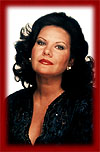 Éva Márton - (b. 1943, Budapest)
Heavenly Soprano

Internationally celebrated as one of opera's greatest singers today. Eva began singing in the children's choir of the government's radio station, which she eventually left to begin serious training as a soloist. She entered the Franz Liszt Academy and finished with a diploma in both opera and vocal teaching. She made her professional debut as Kate Pinkerton in Madame Butterfly at the Summer Festival of Margaret Island, and this, in turn, led to a scholarship at the Hungarian State Opera. In 1972, after her phenomenal success in Hungary, she was invited by fellow Hungarian listee Christoph von Dohnanyi to make her debut as the Countess in Le Nozze di Figaro at the Frankfurt Opera. Her international fame was now assured. From 1981 to 1986 she was selected three times among the best artists of the year by the New York Times. Eva has also become one of the most recorded artists. She has more than 20 complete operas to her credit, as well as solo recital programs, aria albums, and symphonic works.

- Special thanks to EvaMarton.com for her picture and biographical information (this great site includes contact information, music clips, and much more).
- Buy her CD's at a Hungary Page recommended site in Hungary: Folio
---

Frank Darabont (b. 1/28/1959, Montbeliard, France)
Director/Writer - Two Oscar Nominations for The Green Mile, "One of the best writer/directors of his generation"

Frank Darabont's parents fled Hungary during the 1956 revolution and settled in a French refugee camp, where he was born. He came to the US while still an infant and settled in Chicago.

From IMDB.com: The two-time writer Academy Award nominee made his debut in the movie industries beginning first in writing horror movies including The Blob (1988), Nightmare On Elm Street 3: Dream Warriors, A (1987), & The Fly II (1989), and one episode of "Tales from the Crypt" (1989).

Frank is a close friend of two of the biggest directors of the movie industries, George Lucas & Steven Spielberg both of whom he worked for at some time. Frank wrote some episodes of Lucas's TV-series "Young Indiana Jones Chronicles, The" (1992). He worked on the Frankenstein (1994) script. His adaptation of Stephen King's serialized novel The Green Mile (1999), starring Tom Hanks, was nominated for four Academy Awards including Best Picture. The death row drama follows his powerful Shawshank Redemption. His latest success was "The Majestic." He is busy on upcoming blockbusters.

- See more on IMDB, including filmography and photo gallery
- See eOnline!
---

Paul Frederic Simon (b. October 13, 1941 in Newark, New Jersey)
Musician, Singer, Songwriter - American Legend of "Simon & Garfunkel" fame! 12 Grammys and Rock-n-Roll Hall of Famer.

Simon and Garfunkel was the name of the American team of singer/songwriter Paul Simon and singer Art Garfunkel who recorded between 1964 and 1970. Their shimmering harmonies and acoustic concerts stood in stark contrast to the rest of the spectacle that marked rock acts of the '60s. They originally gained attention as a folk act (and some record stores continue to file their records under 'folk'), but it was Simon's songs, which frequently dealt with alienation and loneliness that seemed to strike a chord with an entire generation. By the time of the split, they were the most successful duo in pop music history.
Paul's parents were Hungarian Jews, Louis and Belle Simon. His father was a bass player bandleader who appeared on CBS-TV's Arthur Godfrey, Jackie Gleason and Gary Moore shows, sometimes under the name Lee Sims. He later went back to school to earn his master's degree in teaching, and taught at New York Community College. His mother was a high school English teacher before her children were born.
Paul Simon grew up in Queens, New York City, and attended Forest Hills High School alongside Art Garfunkel. The friends together sang Paul's first song, "The Girls for Me," when they were both 15. Billed as Tom and Jerry, the two had their first hit record at 16: "Hey Schoolgirl," a disarmingly romantic rocker that got the boys their first gig on "American Bandstand" as well as their first appearance on the Billboard charts. Tom and Jerry went their separate ways after high school, but Simon and Garfunkel soon got together again and American music would never be the same.
- See the Kennedy Center Honors
---

Sylvia Sass - (b. Near Budapest, 1951)
Another Heavenly Soprano, "the New Callas"

Sylvia Sass (pronounced shush) was born into a very musical family. Her mother was a coloratura soprano and her father was a high school music teacher. At the age of 14, Sass made her stage debut with the school orchestra in Adam's operetta Nurnberger Puppe. Soon after, she studied music at Hungary's Liszt Academy, where she completed a five-year program in just two years. She then began her seven-year stay with the Hungarian State Opera. This led to her professional debut as Frasquita in Carmen in 1971. By the age of 25 was already being heralded as the new Callas, who she met many times. She has been honored with many awards, her first in 1972 when she won first prize at the Kodály Voice Competition in Budapest. In 1973, she won the Grand Prix as Violetta in La Traviata at the International Opera Competition for Young Singers. In 1974. she won the Silver Medal (there was no First Prize) at the International Tchaikovsky Competition in Moscow. She was also made an Honored Artist of Hungary in 1977.
Someone once said to her, "I hear that you're the new Maria Callas." Sass replied by saying, "No, I am the first Sylvia Sass."
- See Sylvia Sass for more details
- Read an interview with great additional details on her life and career at "The Great Opera"
- Buy her CD's at a Hungary Page recommended site in Hungary: Folio
---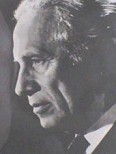 Antal Doráti - (b. 4/9/1906, Budapest, d. 11/13/1988, Gerzensee, Switzerland)
Acclaimed Conductor and Composer

Antal Dorati rose to become the youngest ever conductor of the Royal Opera House in his native city soon after graduating at age 18. In 1928 he went to Dresden as assistant to Fritz Busch and subsequently was engaged as conductor at the opera house in Münster / Westfalia, where he stayed until 1933. From 1934-1941 he was first second conductor, later music director of the Ballet Russe de Monte Carlo and, subsequently, of the American Ballet Theater in New York. His American debut as a symphony conductor came in 1937, when he guest-conducted the National Symphony in Washington, D.C. He became an American citizen in 1947. From 1945-1949 Doráti directed and greatly revitalized the Dallas Symphony. He became music director of the Minneapolis Symphony in 1949, where he stayed for 11 years.

In 1963 he was appointed Chief conductor of the BBC Orchestra, a post he held for 4 years. This was followed by a similar position with the Stockholm Philharmonic Orchestra (from 1965-1972). Parallel to his European activities he became music director of the National Symphony in Washington in 1970, followed by the same position 1977 in Detroit. At the same time (since 1975) Antal Doráti accepted the Royal Philharmonic's invitation to become their chief conductor. From 1981 he became "Conductor Laureate" for life of 3 orchestras (RPO London, Stockholm Philharmonic and Detroit Symphony). He was also a prolific and quite individual composer; he studied with Kodaly and Leo Weiner.

- Visit his International Homepage
---

Bob Babbitt (b. Pittsburgh, PA)
Legendary, Two-time Grammy-award winning Electric Bass Player earning 25 Gold and platinum records playing on over 200 top 40 hits. An "Icon of the Groove" helping to "define the era of the 1960's." Part of the Funk Brothers: "the Greatest Hit Machine in Modern Music."

Who's playing the music?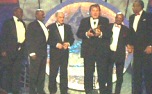 Bob was part of the legendary "Funk Brothers" who were the primary studio musicians on almost all of the Motown hits that were recorded and the ones who defined the music era of the 1960's. The Funk Brothers' music is famous around the world, though their names are not. The Funk Brothers put the backbeat - the soul - into the hits of Motown Records creating music that helped to define the era of the 1960s and has remained a vital influence to this day, these musicians played on more #1 records than the Beatles, the Beach Boys, The Rolling Stones and Elvis Presley combined.
Bob was the bass groove behind some of my favorite tunes including Marvin Gaye's "Mercy, Mercy, Me," Gladys Knight's "Midnight Train to Georgia," Smokey Robinson's "Tears of a Clown," Robert Palmer's "Every Kind of People," and the Spinners' "Rubber Band Man."

Bob's long journey didn't start in New York, Detroit, Los Angeles, or any other city with a rich studio tradition. It began in Pittsburgh, Pennsylvania, a town renowned more for its steel-making than its hit-making. Born Robert Kreiner to Hungarian parents, Bob received classical training on upright bass, although he says the gypsy music to which his family exposed him at a young age was far more influential. At 15, inspired by early rhythm & blues, he began performing in local nightclubs. Bob recalls his early days: "My parents sang with the Gypsies. They were Hungarian, and they got me a job with a Gypsy band. I think I made $15.00. It was in the late '50s."
Bob studied at the Detroit Institute Of Arts, majoring in Harmony & Theory for Bass.
- Bob appeared as himself in the critically acclaimed documentary "Standing in the Shadows of Motown." Watch the movie trailer and see him play! The film won Best Documentary at the National Society of Film Critics in 2002. It also won the New York Film Critics Circle in 2002.
- See his Official Site: bobbabbitt.com
- Listen to the Funk Brothers show on Boston's Public Radio at the Connection.org
---

Ferenc Molnár - (1/12/1878, Budapest - 4/2/1952, New York)
Playwright

Ferenc Molnar studied criminal law in Budapest and Geneva and became a journalist for the Budapest newspaper Budapesti Napló as the full-time Paris correspondent. In 1901, after writing a number of short stories, he published his first book, The Hungry City, a story of dirty politics, corruption, social inequality and anti-semitism and became the the darling of Budapest café society. Molnár was the ringleader of a circle of artists and musicians in Budapest. They were called "The Elastics," because they wore a new kind of laceless shoe with elastic on the side. The group comprised of young playwrights, writers of farce and light comedy, as well as some musicians, operetta composers and conductors from operetta and musical theatres. A friend commissioned him to write a play for the National Theatre, a farce. Although this play, The Lawyer, was never performed at the National Theatre, it played in 1902 at the new Comedy Theatre and audiences demanded more from Molnár. But he wanted to write something more serious, so he wrote The Devil, which was very modern, slightly Freudian and very titillating (in fact, it was banned in London) and brought him international acclaim. His most famous work, Liliom, was translated to English and performed in 1926 in London with Charles Laughton. He moved to New York in 1939, one of the many talented immigrants that were part of the "Hungarian Invasion" of New York Theatre, and Liliom was revived to rave reviews. Liliom provided the plot for Rodgers' and Hammerstein's famed musical, "Carousel" which debuted in 1945. Some of his plays were adapted for the Big Screen, including The Swan, starring Grace Kelly, Charles Vidor, Alec Guiness, and Louis Jourdan.

- Read more at The Play's the Thing
- Buy other movies based on Ferenc Molnar's works at Barnes and Noble
---

Jeffrey Tambor (b. 7/8/1944, San Franciso, CA)
Actor

Large-framed and prematurely bald, American actor Jeffrey Tambor excelled in character parts from the time he was draft age. Tambor spent nearly two decades in regional theatre, appearing in the classic comedy roles (his favorite was Aguecheek from Twelfth Night: "One hundred lines, one hundred laughs"). While his propensity for scene-stealing did not always endear him to his fellow actors, Tambor was able to matriculate to films and television by the end of the '70s. He was occasionally seen on the early-'80s police drama Hill Street Blues as cross-dressing attorney (and later judge) Alan Wachtel. He was in his mid-thirties when he made his film debut in the Al Pacino courtroom vehicle, …And Jutice for All (1979). His film roles usually consisted of corporate blowhards and backstabbing CEOS (e.g. 1983's Mister Mom). In 1986, Tambor starred in the situation comedy Mister Sunshine, playing a blind English professor (the series' gratuitous slapstick, which Tambor invariably performed brilliantly, incurred the wrath of several professional advocates for the sightless). Some of Tambor's more notable subsequent films include City Slickers (1991), Life Stinks (1991) (as Mel Brooks's villainous rival), Dr. Dolittle (1998), and Dr. Seuss' How The Grinch Stole Christmas (2000) and Pollock (2000). More recently, Jeffrey Tambor has been seen as the Uriah Heep-ish sidekick of scabrous talk show host Garry Shandling in cable TV's The Larry Sanders Show.

A quote: "I come from a Hungarian Russian background," he says while perusing the menu for something low-fat. "Their way of
showing love was food and the amount of food. The motto of our family was 'Did you eat? What did you eat? When are you going to eat?'
It's that European culture. My lunches in school were enormous--mine were in shopping bags!"

- See this article from the LA Times or
- See his filmography and more photos on Yahoo Movies or IMDB
---

Drew Barrymore - (b. 2/22/1975, Culver City, California)
Actress, Model, Producer, Philanthropist, America's Sweetheart


Her mother is actress and "wild child" Ildiko Jaid Mako. While waitressing at the Troubadour, a music club on Santa Monica Blvd., Ildiko met John Barrymore Jr. They dated for 5 years (from 1970-1975) when they gave birth to their child, Drew Blythe Barrymore. John was abusive and Jaid left him before Drew was born. Normalcy for Drew would be hard to come by...

This international superstar of the legendary Barrymore family appeared in her first TV commercial for Puppy Choice dog food before her first birthday. At the ripe old age of 11 months she made her first TV appearance when she appeared in a dog food commercial. At the age of two she made her first TV movie, playing a boy in Suddenly, Love. Her first feature film happened at age five when the young Barrymore apeared in Altered States. Two years later Drew landed her most famous role playing Gertie in the hugely popular E.T. The Extra-Terrestrial. Appearing in one of the top films of all time helps to put an actress on the map. In 1984, Drew appeared in Firestarter and earned a Golden Globe nomination for her role in Irreconcilable Differences. That's when things started to go bad for Drew. At age 9, she was drunk at a party thrown for Rob Lowe. At age 10, she was smoking pot and by her thirteenth year she had escalated to cocaine. At an age when most teens are getting ready for high school, Drew was checking in to rehab.

Drew felt she had finally beaten her demons and that same year she also legally declared herself free of her mother's control; the two had shared a rocky relationship for years. Clean and sixteen, Drew co-authored a book, Little Girl Lost, that chronicled her life so far. Drew now started working on getting her career back on track. In 1992, she turned in an incredible performance in the steamy thriller Poison Ivy. In October 1993, it was Drew Barrymore that surprised the world as the new "GUESS Girl." In 1995 she appeared in movies like Mad Love, Batman Forever, and Boys on the Side. In 1996 she appeared in the teen horror parody Scream and worked opposite Edward Norton in Woody Allen's Everyone Says I Love You. She teamed up with Adam Sandler in 1998 to appear in the wildly popular hit The Wedding Singer and ended the year with a strong performance in Ever After. The now hard-working actress turned her hand to producing as well. In 1999 she produced and starred in both Never Been Kissed and in 2000 Charlie's Angels which co-starred Cameron Diaz and Lucy Liu. In 2001 she produced Donnie Darko and starred in Riding in Cars with Boys. Flower Films is her sown production company, .

Trivia:
Godmother to Courtney Love's daughter Frances Bean
Steven Spielberg is her godfather
Anna Strasberg is her godmother.
(1997) Chosen by "People" magazine as one of the 50 Most Beautiful People in the World
Was the youngest person to ever host Saturday Night Live at seven years old
- See filmography, details, pictures and more at IMDB
- Buy videos, access more Drew-related sites at Star Pulse
---

Jerry Seinfeld (b. 4/29/1954, Brooklyn, NY)
Actor / Comedian: American Icon! The most successful and influential comedian of his generation!

Critically acclaimed and successful as a stand-up comic, television actor, best-selling author and advertising pitchman, Jerry was born to Hungarian Kalman Seinfeld, a signmaker, and his wife, Betty. Jerry was the second of the couple's two children. The Seinfeld family moved to Long Island when Jerry was a child, and he spent most of his youth there. After graduating from high school, Seinfeld went on to college, first attending the State University of New York at Oswego, and then moving on to Queens College of the City University of New York, where he received a Bachelor's Degree in 1976. Seinfeld developed a keen interest in performing while in college (his degree from Queens was in communications and theater), and after graduation he began working New York comedy clubs, often without pay, while holding down a number of odd jobs.

Seinfeld's first big break came when his bright but understated observational humor caught the eye of standup legend Rodney Dangerfield, who featured Seinfeld on a special for HBO. The exposure helped establish Seinfeld on the comedy club circuit, and won him a recurring role on the situation comedy Benson. In 1981, Seinfeld appeared for the first time on The Tonight Show, then hosted by Johnny Carson, and made a strong impression on both the audience and the host; he became a frequent guest on the Carson show, as well as David Letterman's late-night talk show. As Seinfeld's fame began to rise, he starred in several cable TV specials, and was approached to star in several TV series. Seinfeld and his good friend Larry David began working up an idea for a situation comedy to be called The Seinfeld Chronicles. In 1989, NBC took the bait, and a year later the show premiered under the streamlined name Seinfeld. Concerning standup comic Jerry Seinfeld and the often odd everyday occurrences of his circle of friends (many of whom were based on people Seinfeld and David knew in real life), Seinfeld got off to a slow start, but began to win a healthy audience in its second season, and in time became one of NBC's biggest hits.

- See his filmography and more photos on Yahoo Movies or IMDB
---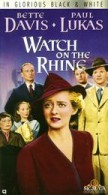 Paul Lukas (b. Pál Lukács 5/26/1824, Budapest, d. 8/15/1971, Tangier, Morocco) -
Actor, Oscar Winner for "Watch on the Rhine"

Lukas trained for the stage at the Hungarian Actors Academy, and in 1916 he went to Kassa (now Kosice after Czech annexation) to become an actor, In 1918 he entered into engagement with the Theatre for Comedy and later debuted on the Budapest stage in Ferenc Molnár's "Liliom." He soon became Star of the Hungarian Stage and appeared in a number of Max Reinhardt productions before arriving in the US in 1927 and establishing himself as one of Hollywood's favorite suave European types. For a time in the early 1930s, the dapper Lukas was a romantic lead of films including "Strictly Dishonorable" (1931), "Little Women" (1933), "By Candlelight" (1933), and "The Fountain" (1934).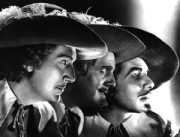 He did, however, have more than a touch of the roue about him, which manifested itself in "Affairs of a Gentleman" (1934), "The Three Musketeers" (1935) and in his splendid supporting performance as one of the heroine's illicit romances in William Wyler's "Dodsworth" (1936). Alfred Hitchcock's delightful thriller "The Lady Vanishes" (1938) found Lukas playing an outright, though still sneaky, villain, and he played a number of unsympathetic roles in wartime films, memorably as Hedy Lamarr's dangerous husband in "Experiment Perilous" (1944).
The most notably exception to Lukas's roles during this period was his fine Oscar-winning lead performance (recreating his stage role) as a heroic resistance fighter in the well-intentioned but stodgy "Watch on the Rhine" (1943). During his later years Lukas played a number of gentler roles, keeping busy in "Twenty Thousand Leagues Under the Sea" (1954, as Prof. Aronnax) and "Tender Is the Night" (1962), but the gentlemanly if sometimes deceptive Continental suavity which was always his trademark never left him.
- Buy Paul Lukas movies at Barnes and Noble
- See his filmography at IMDB
---

Johnny Weissmuller (b. 6/2/1904, Szabadfalu (Freisdorf), Hungary, [awarded to Rumania after WWI], d. 1/20/1984, Acapulco, Mexico)
The one and only Tarzan and FIVE-time Gold Olympic swimming legend! "The greatest swimmer of all time"

Johnny was born Janos Weiszmueller in Szabadfulu (Freetown or in German, Freidorf), near Temesvar [now Timisoara after Rumanian annexation] in the Banat region of Hungary where many "Schwabians" / "Donauschwaben" / "Danube Swabians" or ethnic Germans had settled after the pullout of the Ottoman Turks in the 17th century. His parents were Peter Weiszmueller, a day worker from Varjas, and Erzsebet Kersch, of Szabadfalu (the name for Freidorf at the time). His Godparents were Janos Borstner and Katharina Erbesz. The Weissmuller family arrived in New York on the S.S. Rotterdam on Jan 26, 1905 when Johnny was three.

Johnny often claimed he was born in Windber, PA because of Olympic eligibility issues. Weissmuller was the winner of the 100m freestyle in 1924 and 1928 and a member of the winning 4x200m relay team in both years. He also won a bronze medal in the 1924 water polo competition at the Olympics. He broke three records at the 1924 Olympics in Paris. Weissmuller set 28 world records and such was his margin of superiority over his contemporaries that many authorities still rate him ahead of Mark Spitz as the greatest swimmer of all time. Because of the limited number of events available to Weissmuller, his Olympic record cannot be fairly compared with that of Spitz but the longevity of his records is a testament to his greatness. His 1927 world record for the 100 yard freestyle was unbeaten for 17 years, a remarkable length of time during a period of rapid development in the sport. From 1921-29 he won every free style race he entered. In addition to his Olympic Triumph, he won 18 Gold Medals at the USA National Championships (1921 - 1923,1925 -1928). Much of his success was due to his revolutionary high-riding stroke, flutter kick and head-turning breathing.

After modeling BVD's and successfully playing a fig-leafed Adonis, MGM took notice and invited for a screen test for the role of Tarzan. Weissmuller was chosen over 150 other applicants and went on to become the most famous screen Tarzan of all, playing the role in 12 movies between 1932 and 1948. After 1942 MGM had used up its options; it dropped Tarzan and Weissmuller who then moved to RKO and made six more Tarzans. After that he made sixteen programmed Jungle Jim (1948) movies for Columbia, finally retiring from movies to private businesses in Fort Lauderdale FL. Weissmuller died in Acapulco, Mexico after a series of strokes.

Trivia:
Had three children with Beryl: Johnny Scott Weissmuller, Jr.; Heidi Elizabeth Weissmuller; and Wendy Anne Weissmuller.
Weissmuller had a close call in Cuba during the time of the Cuban Revolution. While playing golf, he and his friends found themselves suddenly surrounded by a group of Castro's soldiers intent on kidnapping them or worse. Thinking fast, Weissmuller immediately gave his trademark Tarzan yell. The soldiers immediately recognized it and were so delighted to meet Tarzan that they escorted the group back to a safe area.
When Weissmuller was introduced to the first Cheetah in his Tarzan films in 1931 (he worked with 8 chimpanzees altogether), the chimp's trainer told him to show no fear or the animal would attack him. As Weissmuller, dressed in his Tarzan loincloth and hunting knife, walked up to the animal, it bared its teeth, growled at him and lunged as if to attack him. Weissmuller took the knife out of the sheath and held it in front of the chimp's nose, to make sure he saw and smelled it. He then slammed the animal on the side of the head with the knife handle. He put the knife back in its sheath and held out his hand to the chimp. It glared at him, bared his teeth again, then changed its mind, grinned at Weissmuller and jumped up and hugged him. Weissmuller never had any further problems with the chimp--although other cast and crew members did--and it followed him around like a puppy dog during all the pictures they worked together.
- See the International Olympic Committee
- For extensive photos and filmography see IMDB
- See my Sports page
---

András Schiff - (b. 12/21/1953, Budapest)
Acclaimed Classical Pianist

Andras Schiff occupies a prominent position among the world's leading musicians. Born in Budapest, Hungary in 1953, he began piano lessons at age five with Elisabeth Vadász and continued his musical studies at the Ferenc Liszt Academy with Professor Pál Kadosa, György Kurtág and Ferenc Rados. He also worked with George Malcolm in London. Among other honors, András Schiff was awarded the Bartók Prize in 1991 and the "Claudio Arrau Memorial Medal" from the Robert Schumann Society in Dusseldorf in 1994. In March 1996, Mr. Schiff received the highest Hungarian distinction, the "Kossuth Prize" and in May 1997, he received the "Leonie Sonnings Music Prize" in Copenhagen. He makes his home in Florence, Italy.

- Read more
- See his impressive Discography at his agency, Kirshbaum Demler & Associates
- Buy his CD's at Barnes & Noble
---

Andre Watts - (b. 6/20/1946, Nürnberg, Germany)
Acclaimed Classical Pianist - one of the "Great Pianists of the 20th Century"

The first African-American concert pianist to achieve international superstardom. Critics have called Watts electrifying, sensational, daring, colorful, imaginative, powerful, and a supervirtuoso. André Watts is the son of an American career soldier stationed in Germany and a Hungarian refugee. Watts began studying the violin at age four. By the time he was six he made it known that his preference was for the piano, so his mother, a pianist herself, gave him his first lessons. As is frequently the case, he loved to play but hated to practice. When his habit persisted, his mother began relaying stories of her countryman, pianist and composer Franz Liszt, emphasizing the fact that he practiced faithfully. Liszt soon became Watts's hero, and he even adopted Liszt's bravura playing style.

At 10 he performed a Haydn concerto with the Philadelphia Orchestra. He burst upon the music world at the age of 16, when Leonard Bernstein chose him to make his debut with the New York Philharmonic in their Young People's Concerts, broadcast nationwide on CBS-TV. He became an overnight sensation. More than 30 years later, André Watts remains one of today's most celebrated and beloved superstars. His performances each year with the world's great orchestras and conductors and his sold-out recitals and appearances at the most prestigious international festivals bring him to every corner of the globe. A much-honored artist who has played before royalty in Europe and heads of government in nations all over the world, André Watts was selected to receive the Avery Fisher Prize in 1988. At age 26, he was the youngest person ever to receive an Honorary Doctorate from Yale University.

- Read more at Cramer/Marder Artists Agency or
- www.africanpubs.com
---

Béla Bartók - (3/25/1881, Nagyszentmiklós, Hungary, d. 9/26/1945, New York)
Composer, ethnomusicologist

Bela Bartok was one of the most significant musicians of the twentieth century. He shared with his friend Zoltán Kodály, another leading Hungarian composer, a passion for ethnomusicology. His music was invigorated by the themes, modes, and rhythmic patterns of the Hungarian and other folk music traditions he studied, which he synthesized with influences from his contemporaries into his own distinctive style. Bartók grew up in that part of Hungary annexed by Rumania at the Treaty of Trianon after World War I. His birthplace, Nagyszentmiklós (Great St Nicholas), in Transylvania, became Sînnicolau Mare, Romania.

In 1894, Pozsony (now called Bratislava after Slovakia was created out of Northern Hungary) the former Hungarian Capital, became their new home. He attended school, studied the piano with Laszlo Erkel and Anton Hyrtl, and composed sonatas and quartets. In 1898 he was accepted by the Vienna Conservatory, but decided rather to attend the Budapest Academy, where he studied the piano as a pupil of Franz Liszt as well as studying composition. He deepened his acquaintance with Richard Wagner during these times, though it was the music of Richard Strauss, who he met at the Budapest premiere, that had most influence. He wrote a symphonic poem, Kossuth, using Strauss's methods combined with Hungarian elements in Liszt's manner.

Trivia: Béla showed precocious musical ability and began to compose dances at the age of nine.

- See Thinkquest
- See much more at the Unitarian Church's Bartok site
- See Matt Boynick's site for more on Bartok including a picture gallery.
---

Zoltan Kodály (b. 12/16/1882 Kecskemét, Hungary, d. 3/6/1967, Budapest)
Composer, educator, ethnomusicologist, linguist, author and philosopher.
Along with Bartók and Ligeti, Zoltan Kodaly is one of the three major figures in Hungarian music this century. Kodály's many compositions show a strong affinity with the folk traditions of his country and include ballad operas, orchestral works, chamber music, choral works, songs, folk song arrangements and music for children.
Kodály was born in Kecskemét, a small town in central Hungary. Much of his childhood was spent in the Hungarian villages. It was here that Kodály developed a great love for the Hungarian countryside and for the folk traditions of his culture.From a young age Kodály showed great aptitude and interest in music. His father, an amateur musician, encouraged this interest, particularly the young boy's interest in composition. By the time Kodály reached secondary school he was composing his own music. After completing his school education, Kodály studied at The Franz List Academy (Hungary's most prestigious music institution) where he met Bela Bartok with whom they collected Magyar folk music, elements of which they would eventually use in their compositions. He later attended the University of Hungary where he earned a degree in Hungarian, German and then, later, a Doctor of Philosophy in linguistics. As a composer, Kodály did much to bridge the gap between Hungarian folk music and the European art music tradition. In later years Kodály was president of the Hungarian Academy of Sciences, president of The International Folk Music Council, and honorary president of the International Society for Music Education.
Trivia: His hand signals teaching method was seen in the movie Close Encounters of the Third Kind
- Read more at Emory University
- See this Photo Gallery
---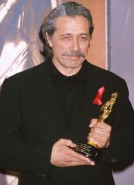 Edward James Olmos (b. 2/24/1947, East Lost Angeles, California, USA)
Oscar and Tony Nominated and Emmy Award Winning Actor, Producer, Director, and Activist. The "Olivier of the Latino World" and People's 2000 Sexiest Man Alive
"I come from a dysfunctional family, I'm a minority, I have no natural talent, but I did it. If I can do it, anybody can do it. I take away all the excuses."
Olmos's passion for education is a gift from his parents. He was born to Pedro Olmos and Eleanor Huizar. His father had left Mexico City, Mexico, at the age of twenty-one and settled in Los Angeles. Olmos claims to be Chicano-American first, Asian second, and European third. Olmos is a Hungarian name and his ancestry includes Moranos or Transversos, Jews who converted to Catholicism during the Spanish Inquisition to avoid religious persecution and torture. He also includes African ancestry. It is this global heritage 'that made me brown," he says with pride.
Olmos spent nine years trying to establish himself as an actor, making his film debut (billing himself as Eddie Olmos) as an extra in Aloha, Bobby and Rose in 1975. Prior to that, Olmos had worked as a bit player and extra in several early '70s television shows ranging from Medical Center to Hawaii Five-O. In 1979, he made a splash on Broadway playing Pachuco in Luis Valdez's Zoot Suit. The play was originally staged in L.A. and represented the first time in which Olmos was paid to act on-stage. During the show's New York run, Olmos earned a Tony Nomination and a Drama Critics Circle Award. In 1982, he played a creepy police detective in Blade Runner. Olmos became a star when he played the super-pragmatic Lieutenant Castillo on the hip police drama Miami Vice (1984-1989) and in 1985 won an Emmy for his efforts. He earned an Oscar nomination for his inspirational performance as a determined teacher who helps a troubled group of urban kids excel in math and science in Stand and Deliver (1986). He made his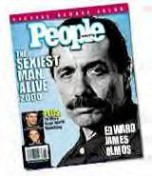 feature film directorial bow in 1992 with the powerful American Me, a grim look at a reformed gangster's attempts to stay away from the violent, criminal ways of his old cohorts. Other notable 1990s efforts include Gregory Navahos' beautiful My Family/Mi Familia (1995). Other credits include Selena with Jennifer Lopez and the voice of the Chief in The Road to El Dorado.
Olmos' humanitarian activities include acting as a United States Goodwill Ambassador for UNICEF, being the national spokesman for the Juvenile Diabetes Foundation, serving a place on the boards of the Miami and Los Angeles Children's Hospitals, serving as the executive director of the Hazard Education Project, and contributing to the foundation for the Advancement of Silence and Education. For his many good works, Olmos has received Honorary Doctorates from five educational institutions including the University of Colorado, California State University at Fresno, and the American Film Institute in Hollywood.
- Visit the Edward James Olmos Page
- See his Martin Luther King Jr. Day keynote address at the University of Michigan
- See Celebrating Hispanic Heritage - Biography
- Buy his videos at Barnes and Noble.com
---

Robert Capa -
Acclaimed Photojournalist (b. Endre Erno Friedmann, Budapest, 1913, d. May 25, 1954 (Thai Binh, Vietnam). "One of the greatest photojournalists of the 20th century" - Brittanica "The Greatest War Photographer in the World: Robert Capa"- Picture Post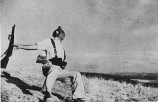 Capa left Hungary as a boy, lived in Paris in 1930's and covered many wars: Spanish Civil war, China, WW II (north Africa, Italy, D-Day, Liberation of Paris, Israeli War of Independence (1948), and the French Indo-China war. He was killed after stepping on a landmine.
His most famous photo is of the "Falling Soldier, " from the Spanish Civil War in 1936 published in Life magazine in 1937. He was one of the co-founders of the Magnum photo agency. His brother, Cornell Capa, is current director of the International Photography Centre in New York.
Trivia: Famous love affair with Ingrid Bergman -1945
Pierce Brosnan will soon portray Robert Capa in "Blood and Champagne"
---

Éva Gárdos
Acclaimed Screenwriter, Director, and Editor
Eva Gardos grew up in rural communist Hungary in the 1950s, away from film and television. She began her film career as an editor on 1983's Valley Girl and later worked on films such as Mask, Barfly, Valleygirl, Tales from the Crypt, and Time of the Butterflies. An American Rhapsody marked Eva's debut as both a screenwriter and director. Her screenplay, a semi-biographical tale depicting the personal odyssey of a family's escape from Communist Hungary on which she worked for seven years, won the prestigious Hartley-Merrill International Screenwriting Prize. The award led production company Seven Arts International (now Fireworks Pictures) to greenlight her as director. An American Rhapsody won both the Audience Award for Best Feature, and the Perrier Bubbling Under Award for promising first-time directors at the 2001 Nantucket Film Festival.
Buy her videos at Barnes & Noble
---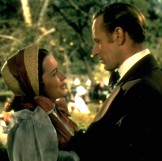 Leslie Howard - (b. 4/3/1893, London, d. 6/1/1943, Bay of Biscay ,casualty of war)
Actor (born Lászlo Steiner). See on the left in 'Gone With the Wind."

He was born to Hungarian parents, Lilian and Frank Steiner, in London. Frank worked as a stockbroker. Leslie's younger years were spent in Vienna. After school, Leslie worked as a bank clerk until the outbreak of World War I. In 1917, diagnosed as shell shocked, he was mustered out and advised to take up acting as therapy. In a few years, his name was known on the stages of London and New York. He became known as the perfect Englishman, slim, tall, intellectual and sensitive, a part that he would play in many movies and a part women would dream about.

He made his first movie in 1930, 'Outward Bound', a film adaptation of his stage performance of the same name. In 'Never the Twain Shall Meet (1931)' and 'Smilin Through (1932)', he was playing the Englishman role to the hilt. His screen persona could perhaps be best summed up by his role as Sir Percy Blakeney in 'The Scarlet Pimpernel (1934)', a foppish member of society. It was Leslie who insisted that Humphrey Bogart get the role of Duke Mantee, in 'The Petrified Forest (1936), the character that Bogart played in the stage production.

With success, he became quite picky about which roles he would do and usually did but two films per year. In 1939, he would play the character that would always be associated with him - that of Ashley Wilkes, the honor bound disillusioned intellectual southern gentleman in 'Gone with the Wind'. But war clouds were gathering over England and Leslie devoted all his energy on behalf of the war effort. He directed films, wrote articles and made radio broadcasts. Howard returned to his native England after World War 2 began, and was shot down by Nazi fighter planes while flying from Portugal in 1943.

Trivia:
His son is actor Ronald Howard, who played Sherlock Holmes on television.
The oldest of 5 children, Leslie's youngest brother, Arthur Howard (1910-1995), was also an actor.
His sister, Irene, also worked in the studios in Hollywood.
A nephew of Leslie's, Alan Howard, below, is an acclaimed stage actor in Britain, who was awarded the C.B.E. in 1997.
See above and much more at the IMDB
---

Goldie Jean Hawn (born November 21, 1945) is an American actress, film director and producer, whose career has spanned more than four decades.
Hawn is perhaps best known for her roles in Private Benjamin, Foul Play, Wildcats, Overboard, Bird on a Wire, Death Becomes Her, The First Wives Club, and The Banger Sisters.
She won the Academy Award for Best Supporting Actress for her performance in the 1969 film Cactus Flower.
She is also the mother of actors Oliver Hudson and Kate Hudson.
Hawn has maintained a relationship with her long-time boyfriend, actor Kurt Russell since 1983.

Early life
Hawn was born in Washington, D.C., the daughter of Laura (née Steinhoff), a jewelry shop/dance school owner, and Edward Rutledge Hawn, a band musician who played at major events in Washington. She was named after her mother's aunt. She has a sister, Patricia; a brother, Edward, who died before she was born. Through her father, Hawn is a direct descendant of Edward Rutledge, a signatory of the Declaration of Independence. Hawn was raised in Takoma Park, Maryland. Her father was Presbyterian and her mother was Jewish, the daughter of immigrants from Hungary; Hawn was raised in Judaism.



Hawn began taking ballet and tap dance lessons at the age of three, and danced in the chorus of the Ballet Russe de Monte Carlo production of The Nutcracker in 1955. She made her stage debut in 1961, playing Juliet in a Virginia Shakespeare Festival production of Romeo and Juliet. By 1964, she ran and taught in a ballet school, having dropped out of American University, where she was majoring in drama. In 1964, Hawn, who graduated from Montgomery Blair High School (class of 1963), made her professional dancing debut in a production of Can-Can at the Texas Pavilion of the New York World's Fair. She began working as a professional dancer a year later, and appeared as a go-go dancer in New York City.

Career
1960s
Hawn began her acting career as a cast member of the short-lived situation comedy Good Morning, World during the 1967-1968 television season, her role being that of the girlfriend of a radio disc jockey, with a stereotypical "dumb blonde" personality. Her next role, which brought her to international attention, was as one of the regular cast members on the 1960s sketch comedy show, Rowan & Martin's Laugh-In. On the show, she would often break out into high-pitched giggles in the middle of a joke, and deliver a polished performance a moment after. Noted equally for her chipper attitude as for her bikini and painted body, Hawn personified something of a 1960s "It" girl. Hawn's Laugh-In persona was parlayed into three popular film appearances in the late 1960s and early 1970s: Cactus Flower, There's a Girl in My Soup and Butterflies Are Free. Hawn had made her feature film debut in a bit role as a giggling dancer in the 1968 film The One and Only, Genuine, Original Family Band, in which she was billed as "Goldie Jeanne", but in her first major film role, in Cactus Flower (1969), she won an Academy Award for Best Supporting Actress as Walter Matthau's suicidal fiancee.

1970s
After Hawn's Academy Award win, her film career took off. She starred in a string of above average and successful comedies starting with There's a Girl in My Soup (1970), $ (1971) and Butterflies Are Free (1972), as well as proving herself in the dramatic league with the satirical dramas The Girl from Petrovka, The Sugarland Express both in 1974 and Shampoo (1975). She also hosted two television specials: Pure Goldie in 1971 and The Goldie Hawn Special in 1978. The latter was a sort of comeback for Hawn, who had been out of the spotlight for two years since the 1976 release of The Duchess and the Dirtwater Fox, while she was focusing on her marriage and the birth of her son. On the special she performed show tunes and comedy bits alongside comic legend George Burns, teen matinee idol Shaun Cassidy, popular television star John Ritter (during his days on Three's Company) and even the Harlem Globetrotters joined her for a montage. The special later went on to be nominated for a prime-time Emmy. This came four months before the feature film release of Foul Play (with Chevy Chase), which became a box office smash and revived Hawn's career in the film industry. The plot centered around an innocent woman in San Francisco who becomes mixed up in a murder plot. Hawn's next film, Mario Monicelli's Lovers and Liars (1979), was a box office bomb. In 1972 Hawn recorded and released a solo country LP for Warner Brothers, titled Goldie. It was recorded with the help of Dolly Parton and Buck Owens. All music gives the album a favorable review, calling it a "sweetly endearing country-tinged middle of the road pop record".

1980s
Hawn's popularity continued into the 1980s, starting off with another primetime variety special alongside actress and singer Liza Minnelli - Goldie and Liza Together (1980) - which went on to be nominated for four prime time Emmy's. Hawn furthermore established both her critical and commercial worth in Private Benjamin (1980), a comedy which not only starred Hawn but was also her foray into producing. Private Benjamin, which also starred Eileen Brennan and Armand Assante, garnered Hawn her second Academy Award, this time for Best Actress. Hawn's box office success continued with an assortment of pictures, including comedies like Seems Like Old Times (1980), Protocol (1984) and Wildcats (1986) (Hawn also served as executive producer on the latter two) and dramas like Best Friends (1982) and Swing Shift (1984).

At the age of thirty-nine, Hawn posed for the cover of Playboy's January 1985 issue, which went on to be one of their highest selling issues. Hawn posed in a giant martini glass wearing nothing but a white collar shirt, a loosened black tie, and a pair of red stilettos. The headline read: "A SPARKLING PLAYBOY INTERVIEW WITH GOLDIE HAWN". Her last film of the 1980s was opposite partner Kurt Russell (for the third time) in the 1987 comedy Overboard, a critical and box office disappointment which questioned the likability and bankability of the two paired together onscreen.

1990s
Hawn's career slowed down after 1987, but was revived somewhat in 1990 with the action comedy Bird on a Wire, a critically panned but commercially successful picture that paired Hawn with action favorite Mel Gibson. Hawn had mixed success in the early 1990s, with the thriller Deceived (1991) and the drama Criss Cross (1992). But her role opposite Bruce Willis and Meryl Streep in 1992's film Death Becomes Her garnered her much attention. Earlier that year, she starred in House Sitter (1992), a screwball comedy with Steve Martin, which was a commercial and critical success. Hawn was absent from the screen again for four years, while caring for her mother who died of cancer in 1994. Hawn made her entry back into the film business with producing the satirical comedy Something to Talk About starring Julia Roberts and Dennis Quaid, as well as making her foray into directing with the television film Hope (1997) starring Christine Lahti and Jena Malone.

Hawn returned to the screen again in 1996 as the aging, alcoholic actress Elise Elliot in the financially and critically successful The First Wives Club, opposite Bette Midler and Diane Keaton, with whom she covered the Lesley Gore hit "You Don't Own Me" for the film's soundtrack. Hawn also performed a cover version of the Beatles' song, "A Hard Day's Night", on George Martin's 1998 album, In My Life. She continued her tenure in the '90s with Woody Allen's musical Everyone Says I Love You (1996) and reuniting with Steve Martin for the comedy The Out-of-Towners (1999), a remake of the 1970 Neil Simon hit. The film was critically panned and was not successful at the box office.

2000s
In 2001, Hawn was reunited with former co-stars Warren Beatty (her co-star in $ and Shampoo) and Diane Keaton for the comedy Town & Country, a critical and financial fiasco. Budgeted at an estimated US$90 million, the film opened to little notice and grossed only $7 million in its North American theatrical run. As of 2010, her last film appearance was in The Banger Sisters (2002), opposite Susan Sarandon and Geoffrey Rush.

In 2005, Hawn's autobiography, A Lotus Grows in the Mud, was published. Hawn has said that the book is not a Hollywood tell-all, but rather a memoir and record of what she has learned in her life so far. Hawn announced in an interview with AARP's magazine that her next film project would be called Ashes to Ashes and co-star her partner Kurt Russell. The film is about a New York widow who loses her late husband's ashes in India. As of 2010 the project has yet to go into production.

Personal life
Relationships and family
Hawn's first husband was dancer (later director) Gus Trikonis, who appeared as a Shark in West Side Story; his sister Gina played Graciella, Riff's girlfriend. Her second husband was Bill Hudson, of the Hudson Brothers, but the two divorced in 1980. They have two children, Oliver Hudson (born 1976) and Kate Hudson (born 1979), both of whom are now actors.

Hawn has been in a relationship with actor Kurt Russell since 1983, when the two met again on the set of Swing Shift (they had previously met while filming 1968's The One and Only, Genuine, Original Family Band). The couple have a son, Wyatt Russell (born July 10, 1986), who lives in Vancouver, British Columbia, Canada.

Hawn is stepmother to Kurt Russell's son Boston and she became a grandmother on January 7, 2004, when her daughter, Kate Hudson, gave birth to son Ryder Russell Robinson. Hawn became a grandmother for a second time when her son, Oliver Hudson and his wife, actress Erinn Bartlett had a son Wilder Brooks Hudson, on August 23, 2007.

For more information see Goldie Hawn at Wikipedia the free encyclopedia.
---
André Kertész (b. Budapest, 1894 - d. New York, 1985)
Acclaimed photographer

One of the pioneers of "street photography." He said, "technique is unimportant," "it is important to think." With a small camera he captured the poetic and absurdity of ordinary life. A major force, he made his mark on different kinds of photography, making documentary an art form. Kertesz began taking pictures when he was sixteen. He was called to arms in World War I and took his camera with him. These early war photos set him apart as he captured images not of blood and war, but often the tender side of the lives of ordinary soldiers. In 1925 he moved to Paris, where he met and photographed painters and writers. In 1927 he presented the first one-man photographic exhibition ever held.

From About.com:
Hungary, a small land-locked country in the center of Europe, nurtured far more than its share of genius in the first half of 20th century. It was Hungarian scientists who drove forward the Manhattan project to produce the first atomic bomb and invented the biro and the hologram; Hungarian footballers who showed that England could be defeated and Hungarian photographers who shone in the world of photojournalism and modernism. Among them were Brassai (Gyula Halasz), the great recorder of the Paris demimonde, Cornell and Robert Capa, the inspiration of Magnum, Lazlo Moholy-Nagy who brought the ideas of the Bauhaus to found the Institute of Design in Chicago, Martin Munkasci, and, perhaps the greatest of them all, André Kertész.

The photographs of Andre Kertesz can be found in several collections: the Detroit Institute of Arts, Museum of Modern Art, Harvard University, University of Kansas Museum of Art, Mint Museum of Art, the Smithsonian Institution, Wellesley College Museum and Pompidou Center to name a few.

- Read the full About.com article or
- See the PBS series, American Masters, and watch video and more on Kertesz
- See an Interview
- You can see some of his works and purchase from his estate
---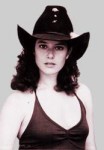 Debra Winger - (b. 5/16/1955, Cleveland)
Actress - 2 Oscar Nominations!

In 1961, her family left Cleveland for sunny California when she was 6 years old. As a teenager, she emigrated to Israel, where she worked for two years on a collective farm and served in the Army. Upon returning to the States, she was involved in a serious accident that left her in a coma. Partially paralyzed and blinded in one eye for several months, Winger thought long and hard about where her life was going, and decided that upon recuperating she would become an actress. She did, making several commercials before being cast as Lynda Carter's little sister Drusilla on the popular "Wonder Woman" TV series. Her determination has paid off with a successful career that includes starring roles in "Urban Cowboy," "Legal Eagles," "Betrayed," "Black Widow," and Oscar Nominated performances in "An Officer and a Gentleman" and "Shadowlands."

See more at IMDB or at Debra Winger
---

Jamie Lee Curtis (b. 11/22/1958)
Actress...Best Legs in Hollywood?

Jamie Lee Curtis was born to legendary parents Janet Leigh and Tony Curtis. She got her big break at acting in 1978 when she won the role of Laurie Strode in Halloween (1978) and rose to cult stardom playing the straightlaced teenage baby sitter imperiled by an unknown slasher. After that she became very famous for roles in movies like Trading Places (1983), Perfect (1985), and A Fish Called Wanda (1988). She soon starred in one of the biggest action films ever, True Lies (1994) in which she won a Golden Globe for her performance. In 1998 she starred in Halloween H20: Twenty Years Later (1998) in which she reprised her role that made her famous back in 1978. She then appeared in Virus in 1991 and Tailor of Panama in 2001.

Trivia:
Married to actor Christopher Guest since 1984, Curtis became a Baroness, Lady Haden-Guest, when her husband inherited the Barony in 1996.
- For more biographical info., visit Mr.Showbiz or
- IMDB
---

Kelly Curtis (b. 61/17/1956, Santa Monica, CA)
Actress

Sister of Jamie Lee, and first child of Tony Curtis and Janet Leigh, Kelly Lee Curtis appeared with her sister in Trading Places as Muffy. She as appeared in screen and television films, including "The Sentinel" as Lieutenant Carolyn Plummer, "The Devil's Daughter (AKA The Sect)," "Search and Rescue," "Thanksgiving Day," and "Almost Famous." She also appeared in "Star Trek: deep Space Nine" and "Silk Stalkings."

- See her full filmography and TV appearances at IMDB
- See pictures of Kelly with her Mom, Janet Leigh
---

Eugene (Jenö) Ormándy - (b.11/18/1899, Budapest, Hungary, d. 3/12/1985, Philadelphia)
Renowned Conductor (Philadelphia)

One of the most famous conductors in musical history, Ormandy graduated from the Budapest Royal Academy, where he studied violin with Jenö Hubay, an eminent Hungarian violinist. By the time he was 17, Ormandy was a professor of violin himself and performed in concerts throughout Central Europe. In 1921, Ormandy traveled to the United States for a concert tour. Once in America, however, he cancelled the tour and became a violinist in the orchestra of the Capitol Theater in New York City.

During his tenure with this orchestra, Ormandy began his career as a conductor. He performed light classics for radio, as well as summer concerts. This led to a position as deputy for Arturo Toscanini during a major concert series of the Philadelphia Orchestra. From 1931 to 1936 Ormandy conducted the Minneapolis Symphony Orchestra, achieving national recognition with a series of recordings. In 1936, he returned to the Philadelphia Orchestra where he shared the conductorship with Leopold Stokowski. Two years later, Ormandy became principal conductor of the Philadelphia Orchestra, a position he held until his retirement in 1980. Acclaimed for his interpretations of 19th-century music, he was known to conduct all scores from memory. He emphasized rich orchestral tones and developed fine, velvety string playing that became his trademark. Under his direction, the Philadelphia Orchestra became known for its warm, textured romantic "Philadelphia Sound."

- See the Eugene Ormandy Pages for CD's and much more.
---

Lászlo Kovács ASC - (b. May 14, 1933, Hungary)
Legendary Cinematographer.
"The great achievements of Laszlo Kovacs, A.S.C., are not only those of a world-renowned and respected cinematographer, but also those of a man of courage, strength, and determination who overcame great obstacles to achieve his filmmaking dreams." - hollywoodawards.com
International Film Festivals have celebrated "the extraordinary impact Kovacs has made in advancing the art of filmmaking." They also cited his influence on young filmmakers in every part of the world. Laszlo Kovacs has compiled more than 60 narrative films credits, including Easy Rider, Five Easy Pieces, Paper Moon, Close Encounters of the Third Kind, Shampoo, The Rose, New York, New York, What's Up Doc?, The Last Waltz, The Runner Stumbles, Ghostbusters, The Mask, Little Nikita, F.I.S.T., Blow Out, Legal Eagles, My Best Friend's Wedding, Return to Me, Copycat, Multiplicity, Sliver, and Miss Congeniality.
Kovacs was born and raised in Hungary during the World War II Nazi occupation of his native land. His parents were farmers, who lived in a small village some 60 miles from Budapest. Despite his penchant for skipping school to go to the movies and a less-than-perfect academic record, Kovacs, on his second try, was accepted at the Academy of Drama and Film Art in Budapest, where George Illes, a legendary Hungarian filmmaker and head of the cinema department, took him under his wing. Kovacs was in his final year at school in 1956, when a spontaneous revolt that began on the streets of Budapest seemed to be on the verge of moderating the communist regime. Kovacs and Vilmos Zsigmond, ASC, a recent graduate, borrowed a 35mm camera from the school, along with a generous supply of film. They used the camera to document incredible acts of bravery as citizens armed only with homemade weapons tried to stop Soviet tanks and soldiers when they poured into the city en masse and brutally crushed the revolt. Kovacs and Zsigmond were forced to flee or face severe reprisals at the hands of the invading Russians. They arrived together in the U.S. as political refugees in 1957.
Kovacs worked his way up from prints to documentaries and a low budget Western. His talents were noticed and he was introduced to Robert Altman and Peter Bogdanovich with whom he worked on a number of their earliest films. In 1969, Lewis introduced Kovacs to Dennis Hopper who was getting ready to shoot a film with Peter Fonda and Jack Nicholson. The reluctant Kovacs agreed to film "Easy Rider" and the rest is history!
Trivia: Wears a T-Shirt that says "I am not Vilmos" (Acclaimed Cinematographer friend and colleague, Vilmos Zsigmond that is!)
- Read above excerpt in more detail at The International Cinematographer's Guild
- See his full filmography and more at IMDB.com
- See Cinematographyworld.com, the American Society of Cinematographers Website.
- See an Interview with Laszlo Kovacs
- Buy his videos at Barnes and Noble.com
---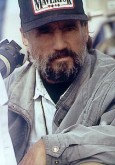 Vilmos Zsigmond (ASC) - (b. June 16, 1930, Szeged, Hungary)
Legendary Cinematographer - Oscar Winner and Multiple Oscar Nominations!
First cinematographer to use the Panaflex camera on a movie -- "The Sugarland Express."

From Cinequest.org - "...Son of a celebrated soccer player and coach, Zsigmond developed an interest in photography while in high school. After his graduation from the State University of Motion Picture and Theater Arts in Budapest (with friend Laszlo Kovacs), the Hungarian Revolution hit. [Along with Laszlo Kovacs, he filmed footage of the 1956 Hungarian revolution, supposedly with a camera concealed in a shopping bag.] His escape from the country and pilgrimage to the United States were underway. Eventually making connections with U.S. filmmakers, Zsigmond had the chance to develop his new style of lighting-a combination of the "old" classical style and the "new" flexible soft lighting. Zsigmond's evocative look and "altering eye" found outlets in such masterpieces as John Boorman's Deliverance (1972), Mark Rydell's The Rose (1979), Richard Donner's Maverick (1994), Sean Penn's The Crossing Guard (1994) and Steven Hopkins' The Ghost and the Darkness (1996).

His long-overdue Academy Award came in 1977, with his powerful achievements on Steven Spielberg's Close Encounters of the Third Kind. The following year found Zsigmond's dark and disturbing work on Michael Cimino's The Deer Hunter (1978) receiving an Oscar nomination, and another nomination appeared for the daring and powerful look he brought to Mark Rydell's The River (1983)."

Trivia: Wears a T-Shirt that says "I am not Laszlo" (Acclaimed Cinematographer friend and colleague, Laszlo Kovacs that is!)

- See his Filmography and more at IMDB.com
- Read: "A talk with legendary cinematographer and Cinequest honoree Vilmos Zsigmond"
---

István Szabó (b. 2/18/1938, Budapest)
Director, Writer, Producer - Academy Award in 1981

Though he stayed home in Hungary, he won an Academy Award in 1981 for his acclaimed film "Mephisto." Other recent credits include "Sunshine," "Meeting Venus," and "Oberst Redl."

See his filmography and more at IMDB
---
Beatrix Aruna Pasztor - (b. Budapest, Hungary)
Costume Designer

Beatrix (Beáta) studied at the Academy of Applied Arts, graduating in 1984. While finishing her diploma, she designed couture shoes and costumes for theatrical productions and constructed Bauhaus costumes for Carlos Godzi's 15th century play The Deer King. These costumes became part of the first Hungarian theatre exhibition to travel throughout Eastern Europe. She moved to New York in 1984 to pursue her career, and earned a living as a hat designer and a window display dresser at Bloomingdale's and Henry Bendel's before landing jobs on low-budget films in New York. In 1988 she relocated to Los Angeles and soon found great success. Altogether, Pasztor has designed costumes for 20 feature films including Psycho, Indecent Proposal, An American Rhapsody, John Q, Monkeybone, She's So Lovely, Drugstore Cowboy, U-Turn, Excess Baggage, Bad Company, The Fisher King, My Own Private Idaho, A Dog of Flanders, Even Cowgirls Get the Blues, To Die For, and Good Will Hunting.

- See Psycho: The Production
- Buy her films at Videoflicks
- See her filmography on IMDB
---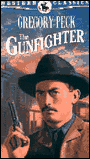 Andre de Toth (a.k.a. Tóth Endre, b. May 15, Mako, Hungary, 1913)
Director - Oscar Nomination, "The Gunfighter"

The son of a Hungarian military officer, Andre De Toth studied law at the Royal Hungarian University in Budapest. His academic career was shelved when De Toth became involved with the Hungarian film industry, where he served in several artistic and technical capacities before graduating to director in 1938. After completing five features in the space of one year, he was brought to England by fellow Hungarian Alexander Korda, who hired De Toth as second unit director on The Thief of Baghdad (1940). Then he moved to Hollywood and worked again for Korda shooting second-unit for Jungle Book (1942). A full-fledged Hollywood director by 1943, De Toth specialized in westerns and adventure films; one of these, Slattery's Hurricane (1949), co-starred the director's then-wife Veronica Lake, whose fame was diminishing even as her husband's was descending. Andre de Toth's second American production, None Shall Escape in 1944, was a remarkable achievement, an intense, at times almost harrowing, experience that deals with the issue of what to do with Nazi war criminals-not on an impersonal level, as did Judgment at Nuremberg a few years later, but on a one-to-one basis. De Toth is also well known for his embrace of 3-D films of the 1950s, House of Wax (1953) and The Stranger Wore a Gun (1953); the fact that De Toth had lost one eye did not diminish his lifelong fascination with stereoscopic photography, nor his expertise in this field. In 1950, De Toth was nominated for an Oscar for his work on the screenplay of The Gunfighter (1950). Though his last official directorial credit was for 1970's El Condor, De Toth made several significant (and uncredited) contributions to the 1978 big-budgeter Superman: The Movie. Arguably de Toth's greatest American films are two of his last, Day of the Outlaw and Play Dirty. In 1994, Andre De Toth published Fragments a memoir.

- See his Filmography and more at IMDB.com
- Read an interesting look at his work "Harsh Master"
---
Dezsö Magyar (b. Hungary)
Director / Screenwriter: Chair, American Film Institute Conservatory, Master Filmmaker-in-Residence: Directing

From The American Film Institute:
Born and educated in Hungary, Dezso Magyar was a renowned director of a number of banned Hungarian films and was the elected head of the progressive Studio Bala Balazs before coming to the United States. His Hungarian features are Agitators and Punitive Expedition (prizes at the Oberhausen Film Festival, the Locarno International Film Festival and official selection at the Cannes Film Festival). His American feature film credits include Streets of Gold, No Secrets, King of America, and Off Beat.

Magyar was Director of the AFI Conservatory between 1989 and 1994. In 1994, he left to become Artistic Director of the Canadian Film Centre (chaired by Norman Jewison) where he oversaw curriculum, faculty and production of short dramatic films. He was also Executive Producer of the Canadian Feature Film Project, the producer of such acclaimed films as Cube, Rude, Klutch, and Uncles. Magyar returned and was named chair of the AFI Conservatory in June of 2000.

See AFI
---

Lajos Koltai, HSC, ASC (b. 4/2/1946, Budapest)
Cinematographer - Oscar Nomination for "Malčna" and worked on numerous Oscar-Nominated Films
Lajos shot his first Super 8 film during a family vacation when he was 14 years old. After that experience, Koltai began writing, directing and shooting "little films" starring his friends and family. One year, he won first and second prize at an amateur film festival where a promising young director named Istvan Szabo headed the jury. Koltai graduated from the School of Drama and Film in Budapest, which also nurtured Vilmos Zsigmond, ASC and Laszlo Kovacs, ASC.
Koltai subsequently shot many films with Szabo including the Oscar-winning Mephisto, the Oscar-nominated Confidence, Colonel Redl, and most recently the epic multi-generational family story Sunshine that earned cinematography prizes in Europe. His body of work also includes Time Stands Still, Taking Sides, White Palace, Wrestling Ernest Hemingway, Born Yesterday, When a Man Loves a Woman, Home for the Holidays and Just Cause, among an eclectic blend of more than 60 European and United States-made films. Current projects are "Max" with John Cusack, and "The Palace Thief" with Kevin Kline.
See his filmography at IMDB
---

Sir Alexander Korda - (b. Sandor Laszlo Kellner, Turkeve, Hungary, 9/16/1893, d. January, 1956)
Legendary, Oscar Nominated Producer / Director: A "Hollywood Renegade" & Founding Member of The Society of Independent Motion Picture Producers. Founder and guiding force behind the British film industry: the only "British Movie Mogul" and "Savior of the British film industry."

He was the oldest of three sons to a Hungarian Jewish family. As a young boy, Sandor's sight was damaged by the improper treatment of an eye condition. Throughout his life he always wore thick glasses. Despite this detriment, he was a voracious reader, and acquired a near-photographic memory. Throughout his life he also mastered about a half-dozen languages, and was known to be a brilliant (some say "hypnotic") conversationalist.

Age age thirteen Sandor suffered the death of his father, and shortly thereafter Sandor left the capital Budapest. There he became a short story writer for a daily newspaper. Here he adopted the pseudonym "Korda," and became a full-time reporter at age sixteen. Sandor Korda also contributed crime stories and wrote reviews, and became the paper's night editor.

In 1911 he set out to start a career in films and spent several months in Paris, doing odd jobs in the Pathé studio -- at the time, the most advanced film factory in the world. He returned to Hungary and joined a film company in Budapest. Though the Hungarian film industry was in its infancy, the country would produce a surprisingly rich heritage of film. Influential filmmakers like Alexander Korda, Michael Curtiz, and George Cukor were Hungarian. The country also boasted the world's first film journal. Korda helped found the Hungarian film industry. He soon called himself Alexander Korda and worked in the studios of Vienna, Berlin and Hollywood before becoming a naturalized and, in 1943, a knighted Englishman.

Together with his brothers Vincent (a production / art designer) and Zoltan (a director), Korda settled in London, and made the Oscar nominated film, The Private Life of Henry VIII, perhaps the most influential British film of all time. The movie was an international blockbuster and is credited with single-handedly creating a boom film market in England. Alexander Korda became the first member of the film industry to be knighted. Korda helped define the cinematic image of the British Empire.

The vast Denham Studios were built by Korda on money borrowed from the Prudential Insurance company. Among the films he produced in the pre-war period were The Scarlet Pimpernel, Sanders of the River, Things to Come, The Ghost Goes West, Rembrandt, Knight Without Armour, Elephant Boy, The Drum, The Thief of Bagdad and many more. The bubble burst and the studios were sold up, but after the war Korda renewed his energies, producing such post-war successes as The Fallen Idol, The Third Man, Seven Days to Noon, The Sound Barrier and Richard III.

Trivia
He married the beautiful actress Merle Oberon
His nephew, Mihaly (Michael) Korda would go on to be a best-selling author and star publisher and Editor-in-Chief at Simon & Schuster
- More on Hollywood.com or
- Hollywood Renegades.com or
- Alexander Korda: Biography
---
Zoltan Korda - (b. Zoltan Kellner, Turkeve, Hungary, 1895)
Acclaimed Director

The brother of Alexander Korda, Zoltan Korda achieved recognition in his own right as a director of action films. A one-time cavalry officer, Korda entered films as a cameraman and later became an editor before moving into the director's chair in the '30s at his brother's London Films. It was as a director that his military background proved invaluable -- Zoltan Korda knew how to deploy men and horses to maximum effect, and the battle scenes in the films he directed, including The Four Feathers and Drums, as well as parts of The Thief of Baghdad, helped make those movies among the most exciting in history. During World War II, Korda also directed Sahara for Columbia Pictures, which remains one of the most enduring and impressive of World War II action films and one of Humphrey Bogart's best pictures as well.

One of the ironies of the relationship between Zoltan Korda and his older brother was their politics. Zoltan was a liberal with leftist leanings, where Alexander was a proud British imperialist -- all the funnier, because they were Hungarian-born -- and the two frequently clashed over the content of their films. Zoltan would shoot a picture like Sanders of the River as a sympathetic portrait of oppressed peoples under an imperialist system, and Alexander would recut the material to reflect the pro-British position. In later years, they reached an accomodation of sorts, with Zoltan directing and Alexander distributing a film adaptation of Alan Paton's anti-apartheid book Cry The Beloved Country.

- More on Hollywood.com
---

Vincent Korda - (b. Vincent Kellner, Turkeve, Hungary, 1897, d. 1979)
Oscar Winning Film Art Director

Distinguished art director with multiple Oscar Nominations. Vincent Korda trained as a painter at Budapest Academy of Art, and at the Academies of several other cities. Most often associated with his brothers Alexander and Zoltán Korda, he became famous in his own right as designer of such London Films productions as "The Private Life of Henry VIII," "The Thief of Baghdad" for which he won an Oscar, and for the futuristic vision of the ambitious science fiction tale, "Things to Come," a landmark in feature film production design and Britain's biggest sci-fi film of the 1930s, adapted from H.G.Wells. He received Oscar nominations for "The Longest Day," "Lady Hamilton," and "The Jungle Book."

- Read more on Hollywood.com or
- BritMovie.com or
- ScreenOnline or
- IMDB
---

Michael Korda (b. 1933, London, England)
Best-Selling Author and Superstar Publisher and over 40 years as Editor-In-Chief of Simon & Schuster

The talented nephew of Hungarian-born film magnate Sir Alexander Korda, he was born to an English mother, baptized in the Anglican church, and grew up in England surrounded by brilliant and famous people. But he was unsure about his future when he left Oxford. After an international education (England, America, Switzerland, France) Korda wound up in New York in the late '50s. There, with the aid of family connections, he got a job doing research for playwright Sidney Kingsley and later worked as a script reader for CBS. Drifting into publishing in New York in the 1950s, he joined Simon & Schuster in 1958.

Korda is known for writing with style and wit. His novels "Charmed Lives," in which he tells the story of his celebrated show-business family in his 1979, "The Fortune," "Power!," and "Queenie" a fictional biography of his aunt Merle Oberon, were all best-sellers. He has also written a memoir of his years in publishing, "Another Life," that makes his arcane industry as entertaining and dramatic as any of the novels he published. The editors of Publishers Weekly chose "Another Life" for inclusion in their "100 Best Books for 1999." Most recently, Man to Man, provides a helpful and timely account of his bout with prostate cancer.

His cast of clients is amazing -- Ronald Reagan, Richard Nixon, Mafia boss Joe Bonanno, faded movie legend Joan Crawford, super-agent 'Swifty' Lazar, noted writers Graham Greene (whom he had known since adolescence) and Tenessee Williams, schlockmasters Harold Robbins and Jacqueline Susann. Using his inside knowledge of many of his clients, he was the screenwriter for "Isn't She Great," with Bette Midler, the real-life story depicting the vibrant, flamboyant and sometimes outrageous life of author and celebrity Jacqueline Susann and her husband and manager Irving Mansfield.

- A review of his book Another Life
---

Fritz Reiner - (b. 12/19/1888, Budapest, d. 11/25/1963, New York City)
Legendary Conductor: A "Foremost Conductor of his Time" and "Genius Orchestra Builder"

Fritz Reiner was a legend among conductors. Universally admired for his music making, widely disliked for his aggressive and exacting temperament, and survived by a legacy of definitive recorded performances, he was largely responsible for the artistic ascendancy of the Chicago Symphony Orchestra, and exerted considerable influence on generations of musicians.

Reiner studied piano with his mother. At 15, he studied with Bela Bartok at the renowned Franz Liszt Academy that has produced many outstanding conductors and musicians including Reiner, Bartok, Kodaly, Dohnanyi, Szell, Ormandy, Solti and Dorati. He also graduated in law from the University in Budapest. At the age of twenty one he became the Chorusmaster of the Budapest Opera and two years later the conductor of the Budapest Volksoper. From 1914 to 1922 he was principal conductor of the Royal Opera in Dresden. At Dresden he worked with Richard Strauss on productions of his early operas and conducted the German premiere of Die Frau Ohne Schatten. Reiner left Europe to become the appointed director of the Cincinnati Symphony Orchestra a post he held until 1930. In 1928 he became an American citizen. He married his second wife Cincinatti actress Carlotta Irwin in 1930.

From 1931-1941 Reiner served as head of the orchestra and opera departments at the Curtis Institute of Music where Leonard Bernstein was his student supervised activities of the Philadelphia Academy of Music and was a frequent guest conductor at the Philadelphia Grand Opera. During that time he also participated in opera festivities at Covent Garden in honor of King Edward VIII's coronation and Wagner performances at the San Francisco Opera from 1936-1938. In 1938 Reiner was appointed conductor and music director of the Pittsburgh Symphony resigning in 1948 over financial disputes. He became conductor at the Metropolitan Opera in New York City where he debuted with a historic performance of Strauss' Salome on February 4, 1949. From 1953-1962 Reiner conducted the Chicago Symphony which he raised to international stardom.

- Buy his CD's on Yahoo! shopping or
- Read an interesting critique of his works at Frtiz Reiner: The Art of Economy
---
László Moholy - Nagy, (b. Bácsborsod, Hungary 7/20/1895, d. 1946)
Avant-Garde Painter, designer, and experimental photographer: A Founder of Constructivism, Professor and Director at the Bauhaus School of Design, Chicago, and Founder and head of the Chicago Institute of Design

Laszlo Moholy-Nagy first expressed his creative interests through writing. He contributed short stories to the Hungarian periodical Jelenkor (Our Age), published by the aesthetician Iván Hevesy. While training to be a lawyer at the University of Budapest, Moholy-Nagy was drafted into the Austro-Hungarian Army and called to the Russian front during World War I. It was during this period that Moholy-Nagy began to experiment with visual art, making over 400 drawings on military-issued postcards. After World War I, Moholy-Nagy returned to Budapest where he became active in the Hungarian avant garde, aligning himself with the circle of intellectuals and artists led by Lajos Kassák.

A founder of CONSTRUCTIVISM, and a professor at the BAUHAUS (1923-28), he directed the Bauhaus School of Design, Chicago, until 1938, and then opened and headed the Chicago Institute of Design. His teaching influenced American commercial and industrial design, and he wrote The New Vision (1928) and Vision in Motion (1947). For more, visit:

- László Moholy-Nagy: From Budapest to Berlin, 1914-1923
- Encyclopedia.com
- www.artincontext.org
- The Poster Shop
---

Sir Georg Solti - (b. 10/21/1912, Budapest, Hungary, d. 9/5/1997, Antibes, France)
Legendary Conductor: Record number of Grammys

Born György Stein, Solti studied piano and composition with Ernst von Dohnanyi, Zoltan Kodaly and Béla Bartók at the Franz Liszt Academy in Budapest, giving his first concert at the age of twelve. He began working as assistant at the Budapest Opera in 1930 and was director of music there from 1934 to 1939. In the summers of 1936 and 1937 he was assistant to Arturo Toscanini at the Salzburg Festival, an encounter that left a deep impression on the young musician. After the outbreak of the Second World War, he emigrated to Zurich, resuming his career as a pianist. He won first prize at the Geneva International Competition in 1942. His career really began after the end of the Second World War.

For almost twenty-five years, he concentrated entirely on conducting operas. He was chief musical director of the Munich Opera from 1947 to 1951 and of the Frankfurt Opera from 1952 to 1961. Covent Garden excelled during his tenure as musical director (1961-71). In 1961 he was appointed as musical director of the Los Angeles Philharmonic Orchestra, but hardly ever worked in this position since the orchestra's management had appointed an assistant without asking him (the assistant was none other than Zubin Mehta!). In 1969 he took over as director of the Chicago Symphony Orchestra and his second career as a conductor of orchestral music began. He remained in this post until 1991. From 1972 to 1975 he was also director of the Orchestre de Paris. In 1973, Rolf Liebermann appointed him as musical adviser to the Paris Opera. From 1979 to 1983 he was director of the London Philharmonic Orchestra. In 1992 he took over from Herbert von Karajan as artistic director of the Salzburg Easter Festival (until 1994). In 1995 he was artistic adviser to the festival that replaced the Schleswig-Holstein Music Festival.
For his outstanding contribution to music, he received a knighthood from Queen Elizabeth II of Great Britain in 1972.
- Buy his CD's and read more at iClassics.com or
- A Short Biography
---

Friedrich Schorr - (b. 09/02/1888, Nagyvárad, Hungary, d. 8/14/1953, Farmington, CT)
Renowned "mahogany-colored" Bass-Baritone

Schorr initially intended to become a lawyer. His father was an attorney, but also a renowned Jewish cantor who had a first-class baritone voice himself. His son Friedrich had a beautiful voice and studied singing at Brno with Adolf Robinson, the teacher of Leo Slezak. Robinson recommended the young bass-baritone to the management of the Chicago Opera and, during his vacation, he had the opportunity to appear in small roles. He made his debut at Graz as Wotan in Walküre! His success was great and Schorr was immediately offered a four-year contract. He remained there until 1916.
His fame as a Wagner singer spread rapidly. From 1916 until 1923 he appeared at the opera houses of Prague and Cologne and became a guest star of the Berlin Staatsoper, Covent Garden and Bayreuth. He also sang roles like Amonasro, Escamillo, Barak, Borromeo, Dr. Faust (Busoni), Scarpia, Michele and Pizarro. The main part of his career, however, he spent in the U.S.A. Impresario Gatti-Casazza heard him as Hans Sachs and engaged him in 1923. Friedrich Schorr appeared at the Met until 1943 and made guest appearances all over the world. In March 1943 he gave his farewell performance at the Met in Siegfried. He continued to appear in concerts and became director of the Manhattan School of Music in New York. He also directed productions at the City Centre Opera in New York. He was also a very successful vocal coach.
Trivia:
Charles Nelson Reilly, the zany television personality, Tony Award-winning actor, and acclaimed opera and stage director is honorary chairman of the Friedrich Schorr Memorial Performance Prize in Voice international competition. He was a student of Mrs. Friedrich Schorr at the Julius Hartt School of Music in Hartford, Connecticut.
- Buy CD's and see more at Yahoo! Shopping
---

Ferenc Rofusz -
Animator: Oscar in 1981 for his animated film, "The Fly" (A Légy) - the first Hungarian Oscar for a cartoon.

The film is a simple story about a day in the life of a housefly. The short is a perfect example of how a simple plot can be very compelling when the animation is solid. The fact that the film is totally from the point of view of the fly, along with the building tension provided by the sound, the viewer truly feels for the insect and his situation. And for students, THE FLY is an amazing example of perspective and foreground-to-background movement.

- See an interview in Hungarian here
- Read a great article on Hungarian Animation entitled, "Beyond the frames: Will this art survive?"
- See Animated cartoons in Hungary
---

Viktor Vasarely - (b. 4/9/06, Pécs, Hungary, d. 1997)


Famed painter known for his geometrical forms, he is the father of Op-Art

He began as a medical student in Budapest before studying art (1928-9) at the "Budapest Bauhaus' (the Mühely Academy). He settled in Paris in 1930. He pioneered the visually disturbing effects that were later called Op Art and began experimenting with the use of optical illusion during the 1930s, although the style of geometric abstraction for which he is best known dates from the late 1940s. His paintings were characterized by their repeated geometric forms and interacting vibrant colors which created a visually disorientating effect of movement. He also experimented with Kinetic Art.

His motto is "Art for all" and the Paris subway is full of his modern works.

- See the beautiful official website, Vasarely.org
---

Pierre Székely (b.Budapest, Hungary, 6/11/1923, d. 4/3/2001, Paris)
Renowned Sculptor and Architect - the "Incessant Adventurer"

Known for his monumental scuplture in granite and marble. His work is present on four continents and was considered to be a guiding force of his generation. Pierre Szekely learned to sculpt stone on his own, before attending art school. He came to Paris in 1946 where he formally studied design, modeling and wood sculpture. He specialized in the creation of monumental sculptures and worked in close collaboration with architects on problems of architectonic integration and sculptural games for children. His work employs the concept of symmetry, a movement started in Hungary, which he, Vasarely, and the many Hugnarian professors at the Bauhaus, were pioneers.
He is founder of the European Institute of Technology of Granite. Some of his noteworthy works of sculptural architecture are the "Chapelle du Carmel" in Valenci-ennes, France; his rose granite sculpture in Budapest entitled "Monument to Peace"; and for "Impossible Bird" which French President Mitterand presented to Israeli President Menachem Begin. Pierre Szekely was decorated with the French National Order of Merit in 1980 and was inducted into the French Legion of Honor
- Read more and see and hear Pierre in a video (In French)
---


Arthur Koestler - (b. 1905, Budapest, d. 3/3/1983)
Influential Journalist and Author of "Darkness at Noon," among the 20th century's most influential novels

Few literary figures have influenced the course of modern history like Arthur Koestler. As a prominent journalist, memoirist and popular science writer, Koestler chronicled the dehumanizing brutality of totalitarianism. His publicized split with the Communist International earned Koestler honorary standing as a literary cold warrior. Darkness at Noon catapulted Koestler to prominence as a somber critic of communist oppression. It ranks consistently among the 20th century's most influential novels.

Though he studied science and psychology in Vienna, at the age of twenty he became a foreign correspondent and worked foe various European newspapers in the Middle East, Paris, Berlin, Russia and Spain. During the Spanish Civil War, which he covered from the Republican side, he was captured and imprisoned for several months by the Nationalists, but was exchanged after international protest. In 1939-1940 he was interned in a French detention camp. After his release, due to British government intervention, he joined the French Foreign Legion, subsequently escaped to England, and joined the British Army.

Like many other intellectuals in the thirties, Koestler saw in the Soviet experiment the only hope and alternative to fascism. He became a member of the Communist Parry in 1931, but left it in disillusionment during the Moscow purges in 1938. His earlier books were mainly concerned with these experiences, either in autobiographical form or in essays or political novels. Among the latter, Darkness At Noon has been translated into thirty-three languages.

After World War II, Mr. Koestler became a British citizen, and all his books since 1940 have been written in English. He now lives in London, but he frequently lectures at American universities, and was a fellow at the Center for Advanced Study in the Behavioral Sciences at Stanford in 1964-65. In 1968 Mr. Koestler received the Sonning Prize at the University of Copenhagen for his contributions to European culture. He is also a Commander of the Order of the British Empire, as well as one of the ten Companions of Literature, elected by the Royal Society of Literature. His works are now being republished in collected editions of twenty volumes.

He established The Koestler Foundation, which exists to promote research in parapsychology and other fields. In his will Koestler left his entire property to found a Chair of Parapsychology at the Edinburgh University. In the 1970s Koestler was made a Commander of the Order of the British Empire and a Companion of Literature. Facing incurable illness - Parkinson's disease and terminal leukemia - and as a lifelong advocate of euthanasia, Koestler took his own life with his wife, who, however, was perfectly healthy. Koestler died of a drug overdose - death was reported on March 3, 1983. In her suicide note Cynthia Koestler wrote, "I cannot live without Arthur, despite certain inner resources."

- See more and read some Koestler quotes here or
- a great biography
- Arthur Koestler Project or
- Adrift in the Diaspora or
- buy his remarkable books at Amazon
---

Csontváry Kosztka Tivadar (b. 1853, Kisszeben, Hungary, d. 1919, Budapest)
Famed Painter: Picasso once chided Chagall that he could not produce a painting half as good as one of Csontvary's.
Although he died at the age of sixty, his creative period was very short. He started his art studies in 1894; he painted his major pictures between 1903 and 1909. His oeuvre consists of about one hundred paintings and twenty drawings - not too many, but his paintings were the first great summary of modern art in Hungary. Csontváry's decision to become a painter was influenced by his schizophrenia. He worked for fourteen years in order to become financially independent, and started to study painting at the age of forty-one: first in Munich under Simon Hollósy, then in Karlsruhe under Kallmorgen.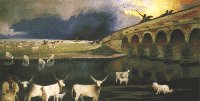 In 1895 be travelled to Dalmatia and Italy to paint landscape studies. His individual style - best illustrated by "Trees in Electric Light a Jajce" and "Storm over the Great Hortobágy" - was fully developed by 1903. In the beginning of the same year, he travelled to he Near East in search of the "great motif". The dramatic, expressive representation of "Great Tarpatak" is a conclusion of this search. He worked on his other monumental, singularly expressive painting. "The Ruins of the Greek Theatre at Taormina" between 1904 and 1905. "Balbeck" is the last piece of this period, which was characterized chiefly by his pantheism and by his expressive use of colours.
Csontváry first showed his works in Paris in 1907, then travelled to Lebanon. His symbolic paintings of mysterious atmosphere were painted there: "Lonely Cedar", "Pilgrimage to the Cedars in Lebanon" and "Mary's Journey in Nazareth". His next exhibitions were in 1908 an in 1910, but they did not bring him the recognition he had so earnestly hoped for. The last major canvas. "Riding along the Beach" was painted in Naples in 1909. After this year he hardly painted, loneliness and the lack of understanding caused in him such a severe mental condition, that he was able to create nothing else, but sketches of surrealistic visions.
- Visit the following Hungarian site: The Csontváry Múzeum (great site) in Pécs for images and link to his own Autobiography.
- See Artworks by Tivadar CSONTVÁRY KOSZTKA
- Also see, Hidden Masterpieces, in the UK.
---

Christina Kiss - (b. Budapest, Hungary)
Renowned Pianist: one of the foremost Liszt interpreters of our time

Internationally acclaimed as an artist of world class statue, Christina Kiss is recognized as one of the foremost Liszt interpreters of our time. She is performing the entire Liszt cycle at Carnegie Hall (over a thousand works) from memory performed over several years. Presently in its ninth New York season, she will complete the cycle of over 60 recitals in the year 2010. Critics have said, her Liszt Cycle is akin to climbing Mount Everest. Ms. Kiss has already played more Liszt works in concert than any other pianist, thus making this series one of the truly important and historic piano cycles of all time. Concert tours have taken her to Italy, Spain, Greece, Austria, Hungary, France, Belgium, Israel and the U.S. She is a frequent soloist with the world's leading orchestras including the Barcelona, Cincinnati and Budapest Philharmonic.

Born in Budapest, Miss Kiss completed her studies at the Franz Liszt Academy and Juilliard with Gyorgy Sandor and Kornel Zempleni. She received First Prize at Barcelona's 1979 Maria Canals International Piano Competition, First Prize at Cincinnati's International American Music Competition, and two dozen additional prizes at international competitions on three continents including the Athens, Dino Ciani, Van Cliburn, Gina Bachauer and the Liszt-Bartok

Watch an excerpt from one of Christina's like performances
Real Video
---

George Széll - (b. Budapest 6/7/1897, d. Cleveland, Ohio 1970)
Legendary Conductor: "One of the greatest conductors of symphony and opera of the twentieth century"

Part of the wave of great Hungarian conductors who took over American musical life just before and after World War II (the others included Fritz Reiner, Antal Dorati, and Eugene Ormandy), George Szell quickly transformed a middling Midwestern orchestra into one of the nation's Big Five. His cultivation of the Cleveland Orchestra set an example of discipline and hard work that gradually helped raise the standards of orchestras across America.

Considered a child prodigy, he first performed in a public concert at the age of eleven. At age sixteen he conducted the Vienna Philharmonic Orchestra. The next year he appeared with the Berlin Philharmonic Orchestra as conductor, pianist, and composer. During this time, Richard Strauss heard Szell perform his transcription of the composer's symphonic poem TILL EULENSPIEGEL. Upon hearing Szell's arrangement, Strauss appointed Szell to the conducting staff of the Berlin State Opera. Szell stayed as Strauss's assistant for two years, at which time Strauss recommended Szell as principal conductor of the Strassburg Municipal Theater to succeed Otto Klemperer. A few years later, Szell left the Strassburg Municipal Theater to become conductor of the Court Theater at Darmstadt. Between the years of 1921 and 1929, he was conductor of the Berlin Broadcasting Company and was also a member of the faculty at the renowned Hochschule für Musik.

In 1929, Szell went to Prague to become the general music director of the German Opera House and the Philharmonic. At this time he started to appear as guest conductor with many of the leading orchestra's of Europe. From 1930 to 1931 he conducted the St. Louis Symphony Orchestra. He was so well received as a guest conductor in England that he soon became the conductor of the Scottish Orchestra in Glasgow, England and the Residentie Orchestra at The Hague in Holland.

The start of World War II in 1939 found Szell in Australia. Making his way to the United States Szell was invited by Toscanini to guest conduct the famous NBC Symphony Orchestra in New York City. His debut attracted such wide attention that other conducting engagements soon followed including the Cleveland Orchestra. From 1942 to 1946 Szell was one of the regular conductors of the Metropolitan Opera House. In 1946 Szell become the conductor and music director of the Cleveland Orchestra.

Szell had, at one time or another, conducted just about every major symphony orchestra in the world. He also appeared as guest conductor at the leading European summer music festivals, including Vienna, Salsburg, Milan, Paris, Florence and Lucerne. His compositions include; Variations for Orchestra, Symphony in B Minor, Lyric Overture, and several chamber music works.

It goes without saying that Szell has been the recipient of many honors and awards. These include and honorary degree of Doctor of Music from Case Western Reserve University (1951) and a similar degree from Oberlin College. In 1949 he received an Award of Honor by the National Music Council, the Chevalier of the National Order of the Legion of Honor in France (1957), Commanders' Cross, Order of Merit in Germany (1959), Laurel Leaf Award for performing more American contemporary works than any other conductor (1954).

- See Sony Classical.com
- Buy the video: George Szell, "One Man's Triumph -The Cleveland Orchestra "
---

S.Z. "Cuddles" Sakall (b. Budapest, 2/2/1884, d. Los Angeles, 2/12/1955)
Famed Character Actor, from Casablanca fame

Chubby-jowled character actor S.Z. Sakall began as a sketch writer for Budapest vaudeville shows, then turned to acting at age 18. Initially billed as Szőke Szakall (the name translated to "blonde beard," in honor of the hirsute adornment he'd grown to appear older), the actor became a star of the Hungarian stage and screen in the 1910s and 1920s. Among his German-language films of the early-talkie era were 1929's Ihre Majestaet die Liebe (remade in the U.S. as Her Majesty Love, with W.C. Fields in Sakall's role) and the box-office hit Two Hearts in Waltz Time (1930); he also briefly ran his own production company during this period.
Fleeing Hitler in the late '30s, Sakall settled in Hollywood, where from 1939 through 1955 he played an endless succession of excitable theatrical impresarios, lovable European uncles, and befuddled shopkeepers. His rotund cuteness earned Sakall the nickname "Cuddles," and he was often billed as S.Z. "Cuddles" Sakall in his later films. Nearly always featured in the supporting cast (notably as Karl the waiter in 1942's Casablanca), S.Z. Sakall was given the principal role of songwriter Fred Fisher in 1949's Oh, You Beautiful Doll, though top billing went to June Haver.
S.Z. Sakall's final performances were seen in the 1954 film The Student Prince and the like-vintage TV series Ford Theatre.In Hollywood, became popular comic support and was nicknamed "Cuddles." Some other movies: It's a Date (1940), Ball of Fire ('41), Casablanca (Nick's waiter, '42), Tea for Two ('50), Lullaby of Broadway ('51). He wrote an autobiography in 1953: The Story of Cuddles. AKA: Eugene Gerő Szakáll, Szőke Szakáll.
- For more visit: S.Z. Sakall or
- Read more and buy his films on Yahoo!
---

Zsa Zsa Gábor - (b. 2/6/1918, Budapest)
Glamorous Actress with a Hungarian Temper!
The glamorous, Hungarian-born actress, is the middle child of the celebrated Gabor sisters. Though officially an actress, Zsa Zsa Gabor is more famous as a whimsical celebrity sex symbol. Married nine times, Gabor made a career of joking about her man-hungry ways and her love of jewelry and furs. Among her husbands was hotel millionaire Conrad Hilton and Oscar-winning actor George Sanders. Among her more prominent films: John Huston's Toulouse-Lautrec biopic, "Moulin Rouge," 1952; "The Story of Three Loves," 1953; "The Girl in the Kremlin," 1957; and Orson Welles' classic "Touch of Evil," 1958.
In 1989, ZsaZsa gained fresh notoriety as she was sentenced to 72 hours in jail for slapping a Beverly Hills police officer. She also was ordered to perform 120 hours of community service at a women's shelter. Another traffic accident, in November of 2002, left her in a coma.

Less known is that Zsa Zsa Gabor is the mother of actress Constance Francesca Hilton, the only child of all 3 Gabor sisters' marriages and unions and the great aunt of Paris and Nicky. Francesca was born five months after her parents were divorced; Conrad Hilton later disclaimed her as his daughter and, although he left her with $100,000 in his will on the condition she didn't contest, she ended up suing for a larger part of an estate estimated at close to $50 million. Francesca plans to tell all in a new novel about her hotel-running family.

Trivia:
Zsa Zsa Gabor was Miss Hungary of 1936

She played the villainess Minerva in the final episode of the 1960s TV series Batman...
Zsa Zsa quotes:
When asked how many husbands she had had: "You mean, other than my own?"

"I don't take gifts from perfect strangers -- but then, nobody is perfect."

"I never hated a man enough to give him his diamonds back."
- See and buy her films on Amazon
- Read more at Allmovie.com, or IMDB
- See all her movie and television credits on this fan's site
- See ALL her husbands on Fact Index.com
---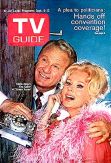 Eva Gábor (b. 2/11/1920, Budapest, d. 7/4/1995)
Actress
Best known as the Gabor sister with talent, actress Eva Gabor began her career as a cabaret singer and ice skater in her native Hungary. Forced to emigrate to the United States at the outbreak of World War II, Gabor was able to secure film work in mystery-woman parts in such films as Forced Landing (1941) and Pacific Blackout (1942). The actress didn't truly achieve star stature until her Broadway appearance in The Happy Time (1950), though curiously she wasn't called upon to appear in the 1952 film version of this play. Gabor's movie career in fact remained rooted in supporting roles, such as one of Vincent Price's victims in The Mad Magician (1953) and as Liane d'Exelmans in the Oscar-winning Gigi (1958). In 1958 she was nominated for a Golden Laurel Award - Top Female Comedy Performance for: "Don't Go Near the Water" (1957). Like her sister Zsa Zsa Gabor, Eva has accrued plenty of press coverage thanks to her multiple marriages, but unlike Zsa Zsa, Gabor has managed to stay off the police blotter - except for a 1964 incident in which she was nearly killed fighting off a couple of vicious diamond robbers.

Eva's best-loved public appearances were manifested in her five-year run as Lisa Douglas on the popular TV sitcom Green Acres (1965-70). Contrary to the Gabor Sisters' image of contentiousness, Eva was well liked on the Green Acres set by both co-star Eddie Albert and director Richard Bare, who had nothing but praise for her professionalism and comic timing. Eva Gabor proved she hadn't lost her touch in 1990 when the inevitable Green Acres two-hour revival movie made its way to television. She was also a successful business woman with her being the owner of Eva Gabor Wigs company. Eva died in 1995 of Respiratory failure and is still remembered by millions.
---

Gabor Szabo, (b. in Budapest,1936 d: Budapest, 1982 )
Jazz Great: One of the "most original and outstanding improvisational guitarists of the 20th century"
Born Gábor István Szabó and Inspired by a Roy Rogers cowboy movie, Szabo began playing guitar when he was 14 and often played in dinner clubs and covert jam sessions while still living in Budapest. He escaped from his country at age 20 on the eve of the anti-Communist uprising and eventually made his way to America, settling with his family in California. He attended Berklee College (1958-60) and in 1961 joined jazz legend Chico Hamilton's innovative quintet featuring Charles Lloyd. Urged by Hamilton, Szabo crafted a most distinctive sound; agile on intricate, nearly-free runs as he was able to sound inspired during melodic passages. Szabo left the Hamilton group in 1965 to leave his mark on the pop-jazz with another jazz legend, Gary McFarland. Szabo initiated a solo career in 1966, recording the exceptional album, SPELLBINDER, which yielded many inspired moments and "Gypsy Queen," the song the rock group, Santana, turned into a huge hit in 1970. During the 1970s, Szabo regularly performed along the West Coast; hypnotizing audiences with his enchanting, spellbinding style. But from 1970, he was locked into a commercial groove – even though records like MIZRAB occasionally revealed the success of his jazz, pop, Gypsy, Indian and Asian fusions.
Szabo had revisited his homeland several times during the 1970s, finding opportunities to perform brilliantly with native talents. He was hospitalized during his final visit and died in 1982 – just short of his 46th birthday and five years after his final American album was released.
Dougls Payne writes, "He was one of the most original jazz guitarists to emerge in the 1960s; mixing his hungarian folk music heritage with a deep love of jazz and crafting a distinctive, largely self-taught sound."

- See Doug Payne's Iconoclasm
---

Georges Cziffra (b. 11/05/1921, Budapest, d. 01/15/1994 in Morsang-sur-Orge)
World-renowned, Legendary Concert Pianist: The "virtuoso showman at the keyboard!"
Tragedy, Torture, Triumph, and Tragedy...
Born Cziffra György, he became one of the most celebrated and individual piano virtuosos in the post-War decades in Europe, especially noted for his powers of improvisation and as a Liszt pianist.
He was born in a shanty-town called Angels Court on the outskirts of Budapest to a family of gypsy musicians. He said he was born in the family bathtub because they could not afford a hospital. The family was desperately poor and ultimately both his father (an accomplished piano and cimbalom player) and a sister died of starvation. He began to play piano by watching an older sister's lessons. By the age of five he was appearing in a circus, improvising variations on request of the audience. At ten, even he was sent to the Conservatory in Budapest. He was able to stay there only briefly, taking piano lessons from Gyorgy Ferenczi and composition with Ernst von Dohnanyi. He supported himself playing in nightclubs and began to establish a recital career in Hungary, Holland, and Sweden. He married his wife, Zuleika, shortly before he was drafted into the Hungarian army in 1941. After the war he was imprisoned for a year in 1946.
Returning to his wife and small son, and with his mother and surviving sisters dependent on him, he worked hours each day to recover his piano technique, making a living on tips from playing jazz in bars and cabarets each night. After the Communists gained full power in Hungary, Cziffra was imprisoned again, for political reasons, which meant that his captors also took his wife and son, Gyorgy Cziffra, Jr. The boy nearly died from the inhuman conditions. Cziffra's Communist captors tortured him; knowing he was a pianist, they went after his hands, beating on them and making him carry heavy pieces of stone in each hand. When he was released, the ligaments were so loose that he could not transmit the power of his arms through his wrists, but found a certain type of wristbands gave him the needed support. After six months of exhaustive work he recovered his top form. His records on the Hungarian label, Qualiton, and the Czechoslovak Supraphon label began to circulate in Western Europe, raising him to legendary status.
When Russian troops poured into Hungary he and his family was forced to flee. After ten days on foot, they reached Vienna where he debuted on November 17, 1956, with outstanding success. Debuts elsewhere in Europe followed. After one recital in London, the Daily Telegraph said the audience "witnessed feats of piano playing probably never to be equalled, certainly never surpassed in their lifetime."
Cziffra eventually settled in France with his family and took citizenship there. He undertook three major projects: One was the establishment of a piano competition in his name. The second was the purchase of the Royal Chapel of St. Frambourg near Senlis, which he made a non-sectarian shrine to spirituality and the arts. It is now known as the Foundation Cziffra. He also restored the organ at the Abbey of La Chaise Dieu and started a summer festival there, on the suggestion of his son, who became a conductor. It is known as the Salle Cziffra. Gyorgy, Junior died tragically in an accident in 1981, shortly after making his first commercial recordings. Cziffra refused to perform with an orchestra thereafter. He retired from recording in 1986 and left the stage in 1988. In the same year France named him a cultural ambassador to a newly liberalized Hungary. He was diagnosed with cancer in the early 1990s, but died in 1994 of a heart attack. He is buried in the cemetery of Senlis near the remains of his son. Mme Cziffra continued to direct the Foundation Cziffra.
- See The Inkpot for CD reviews and more! or
- Buy his CD's on Yahoo! or
- Read a GREAT biography on Piano-news.com
---

Zoltán Kocsis (b. 1952, Budapest)
Piano Virtuoso, Composer, and Conductor
The pianist, composer, and conductor awarded with the Kossuth and Liszt prizes, was born in 1952 in Budapest. His extraordinary gift for music became evident at a very early age. He commenced his musical studies when he was 5 years old and continued them at the Béla Bartók Conservatory from 1963, specializing in piano and composing. In 1968 he was admitted to the Ferenc Liszt Academy of Music. From the start, reviews referred to him as a prodigy and a lion of the piano, who rose above his contemporaries with his virtuosity and his personality of elemental strength. (1981 Le Figaro writes about the genius, 1987 the Kölner Stadt-Anzeiger mentions the miracle of the keyboard, 1990 the Frankfurter Allgemeine Zeitung writes about the pianist above all criticism etc).
Zoltán Kocsis is also an acknowleged composer. He is one of the founders of the New Musical Studio of Budapest. His works, written for the Ensemble Modern and performed together with the ensemble at concerts, along with his Bartók and Schönberg transcriptions, have won him considerable appreciation in the profession.
When in 1983 conductor Ivan Fischer and pianist Zoltan Kocsis decided to establish a new orchestra, no one guessed that this was beginning of one of the most successful and exciting musical ventures on the Hungarian and international music scene. After nine successful years of a few concerts every season in 1992 it become the permanent orchestra of Budapest. Today, the Budapest Festival Orchestra is one of the most successful musical ensembles internationally. Currently, he is Music Director of the Hungarian National Philharmonic Orchestra.
- See klassik.com for more. You can order CD's or even send questions to him from the Website!
---

Joseph Pasternak - (b. 9/19/1901, Szilagy-Somylo, Hungary (Transylvania), d. 9/13/1991, Hollywood, California)
Prolific Film Producer/Director: Multiple Oscar Nominations. Rescued Universal Studios

Joe Pasternak came to the US as a teenager. He was fascinated by show business and worked several menial jobs at the Paramount Studios commissary, learning the trade talk of the stars, technicians and executives. Pasternak worked his way into a job as second assistant director at Paramount in 1923, and, within three years, he was manager of Universal Studio's Berlin operations.

In the early '30s, Pasternak made a name for himself producing German, Austrian and Hungarian musicals. He returned to the US at the request of the new Universal Studios management, which was hoping to reorganize the near-bankrupt company. Joe carefully nurtured a screen image for 13-year-old soprano Deanna Durbin as a down-to-earth tomboy with a beautiful singing voice and produced her first vehicle, Three Smart Girls in 1936 for which he received an Oscar nomination for. The film was an enormous hit, literally rescuing Universal. Pasternak received another Oscar nomination for One Hundred Men and a Girl in 1937. He would later rescue the film career of Marlene Dietrich in the 1939 film Destry Rides Again.

Pasternak moved to MGM, which was filming lavish escapist musicals for wartime audiences. Again he met with great success receiving an Oscar nomination for Anchors Aweigh. Joe retired in 1968 after producing three of Elvis Presley's best musicals (including the immortal Girl Happy). Suffering from Parkinson's disease, Joe died just six days shy of his 90th birthday.

Trivia:

- See his filmography and more, and buy his films on Yahoo! Movies
---

László Benedek - (b.1905 Budapest - d. 3/11/1992, Bronx, NY)
Producer/Director/Writer of "The Wild One" fame

He was brought to the US by MGM. Laszlo gained acclaim and won a Golden Globe and Director's Guild Award in 1951 with his 5-Oscar nominated film, "Death of a Salesman," adapted from Arthur Miller's Pulitzer Prize-winning social drama of a middle-aged man at the end of his emotional rope featuring Fredric March. In 1954, he directed the classic motorcycle rebel movie, "The Wild One" with Marlon Brando. On television, he was prolific, responsible for such hits as "The Outer Limits," "Mannix," "The Untouchables," "Voyage to the Bottom of the Sea," "Perry Mason," and the "Alfred Hitchcock Hour." He is sometimes credited as Laslo Benedek.

- See his filmography and more on IMBD
---

Lawrence Dorr
Pulitzer Prize Nominated Author / Professor - The "Christian Hemingway"
As a child stricken with polio in Hungary and unable to play traditional games with other children, Lawrence Dorr turned to reading and writing at an early age. By the age of 16, he was writing what he calls "trashy" stories which he sold to earn a few cents. He also experienced war first hand as his country was occupied by the Nazis and later the Soviets. Dorr writes, "I escaped from Hungary (then under communist rule) in 1946 and went to England in 1948 as a European Voluntary Worker (indentured servant), where I worked in coal mines, cotton mills, and (my last most significant job) as a kitchen porter in Shenley Mental Hospital, Hartfordshire. There I met Clare, a psychiatric occupational therapist, who would become my wife. Clare is the daughter of an English Anglican priest (he was also a missionary); her mother hailed from St. Helena's Island, South Carolina. I was allowed into the U.S. as a 'war bride' in 1950. His experiences, including those on the Russian front and later as a political exile, compose much of the material for Dorr's short stories.
Collections of these stories include "A Slow, Soft River" (1973), "The Immigrant" (1976), and "A Slight Momentary Affliction" (1987) which was nominated for a Pulitzer Prize. He has also written a novel entitled "The Open Face of Heaven," and has most recently had published "A Bearer of Divine Revelation." Dorr currently teaches creative writing at Santa Fe Community College. Dorr has presented at the Festival of Faith and Writing numerous times.
- Buy his books on Amazon
- Read an interview with Dorr
---

Emmerich (Imre) Kálmán - (10/24/1882, Siofok, Hungary, d. 10/30/1953, Paris)
Composer - The last Grand Master of the Viennese Operetta

Emmerich (Imre) Kálmán was admitted to the Budapest Academy of Music in 1900, together with Zoltán Kodály, to János Koessler's composition class. Béla Bartók had already been studying with Koessler for a year and Leó Weiner joined them somewhat later. After his years at the Academy a few of his works were performed, including Saturnalia and a symphonic poem titled Endre and Johanna. In 1907 he won a Franz Joseph Prize for his songs. As a result he was able to continue his studies in Bayreuth, Munich and Berlin. However his career in classical music that began so promisingly was redirected towards lighter genres following a few brilliant cabaret songs and the success of his operetta Herbstmanöver composed in 1908. We now know that this decision was a decisive one. The praise expressed by his fellow composers, Bartók and Kodály, shows that Emmerich Kálmán was exceptionally talented. His early chamber and orchestral works were eclipsed by his later world famous operettas and remained practically unknown. These works quite clearly demonstrate that without his sound classical training, Emmerich Kálmán would not have been able to achieve his later successes in the "light" genre.

For two decades, from 1909 to 1930, Imre Kalman's compositions dominated the Viennese entertainment theaters and all small and big stages of the German speech area. In a bizarre turn of events, Hitler was so impressed with Kálmán's music that he offered the composer honorary Aryan status. He refused; his music was banned by the Nazis; and he fled Vienna, traveling first to Paris in 1939 and then to the United States when the Germans occupied Paris. He became an American citizen in 1942 but returned to Europe in 1949, eventually settling in Paris.

- See Imre Kálmán
- See his stageworks at MusicalTheatreGuide.com
---

Goldmark, Karl (b. 5/18/

1830, Keszthely, Hungary

– 1/2/1915, Vienna)
Composer

Goldmark's father, a poor cantor in the local Jewish synagogue, was unable to assist to any extent financially in the development of his son's, one of twenty children, talents. Yet in the household much music was made, and on a cheap violin and home-made flute, constructed by Goldmark himself from reeds cut from the riverbank, the future composer gave rein to his musical ideas. His talent was fostered by the village schoolmaster, by whose aid he was able to enter the music-school of the Oedenburger Verein. Here he remained but a short time, his success at a school concert finally determining his parents to allow him to devote himself entirely to music. In 1844, then, he went to Vienna, where Jansa took up his cause and eventually obtained for him admission to the Conservatorium. For two years Goldmark worked under Jansa at the violin, and on the outbreak of the anti-Habsburg revolution, after studying all the orchestral instruments, he obtained an engagement in the orchestra at Raab. There, on the capitulation of Raab, he was to have been shot for a Hungarian spy, and was only saved at the eleventh hour by the happy arrival of a former colleague. In 1850 Goldmark left Raab for Vienna, where from his friend Mittrich he obtained his first real knowledge of the classics.

Highly gifted in lyrical melody, he was influenced by Wagner and had his first success with his String Quartet, Op. 8, in 1860. He joined in the establishment of a Wagner Society in Vienna and gradually assumed a position of great importance in the musical life of the city. His concert overture Sakuntala (1865), his symphony A Rustic Wedding (1870), and an opera, The Queen of Sheba (1875), were all very popular. In addition to two symphonies and two violin concertos, Goldmark wrote a series of concert overtures. His popular Rustic Wedding Symphony was later championed by the great Leonard Bernstein. A third opera, a version of Dickenss Cricket on the Hearth, was given by the Royal Carl Rosa Company in London in 1900. Encylopedia.org adds, "In opera he is most certainly at his best, and as an orchestral colorist he ranks among the very highest."

Trivia:
His nephew, Rubin Goldmark,. 1872–1936, a pupil of Dvorák in New York, was a composer and educator. From 1924 to 1936 he was chairman of the composition department at the Juilliard School of Music. His works include A Negro Rhapsody (1923).
His son, Peter Karl Goldmark invented the color television and 33 1/3 LP!
- Read about him at the American Symphony Orchestra
- Listen to his Violin Sonata Suite for violin and piano in D, Op 11
- Buy his CD's on Amazon
---


Marton Csokas (b. 6/30/1966, New Zealand)
Acclaimed Actor - "The Kiwi who Infiltrated Hollywood"

After WW II, Marton's father (whom he was named for) emigrated from Hungary to New Zealand, where he met and married Marton's mother, a New Zealander of Irish/Danish descent. A graduate of the New Zealand Drama School in 1989, he landed his first movie role in Jack Brown, Genius in 1994. Talent, elvish good-looks, and a muscular 6'3" frame helped him land the roles of the assassin Jarda in The Bourne Supremacy; that of Russian bad guy Yorgi, opposite Vin Diesel in XXX; and one of the most sought after roles, that of King of the Elves in the Lord of the Rings, husband to Galdadriel (played by the stunning Australian Cate Blanchett). Other credits include Swimming with Sharks, The Monkey's Mask, Timeline, Kangaroo Jack, Broken English, Down and Under, Rain, and as the voice of Poggle in Star Wars Episode II: Attack of the Clones. For television, Csokas has performed in a range of dramas including "The Three Stooges," "G.P." (AFI Nomination), "Farscape," "Halifax f.p" and "Wildside." Marton is known to most in the US as Khrafstar and Borias in the 1997-1998 seasons of "Xena: Warrior Princess" (1995).



Marton's performances on the stage include New Zealand's productions of "Arcadia," "Angels in America," "Julius Caesar," "Glorius Ruins," "Amy's View" and "Closer." In Australia, Csokas has performed on the stage in "A Clockwork Orange," "Twelfth Night," "The Herbal Bed" and "Andromache" as well as an Australian tour of "Ladies Night." Marton also co-founded the Stronghold Theatre in Australasia, which has created such pieces as "Possibilities," "Meeting Place" and "Media Sluts," all of which played to great acclaim. His talent for classical work was seen in numerous productions of Shakespeare, Chekhov and Brecht, including roles as Alstaff in The Merry Wives of Windsor, Brutus in Julius Caesar and Orsino in Twelfth Night, as well as performing in Three Sisters, The Cherry Orchard, and Happy End.
- See his filmography and more at IMDB
- Read about him on TheOneRing.net
- See the Marton Csokas Archives for many photos, bio, interviews, and more. A great site.
---

Géza Anda (b. 11/19/1921,Budapest, d. 6/14/1976)
Acclaimed Pianist: The "Troubador of the Piano"

One of Europe's leading pianists in the 1950s and 1960s, Furtwängler once called him the "troubadour of the piano," and indeed, though Anda joked about his "box of wires," what mattered to him more than anything was making the piano sing. Taught by Ernö Dohnányi and others in Budapest, the pianist won the Franz Liszt Prize at nineteen and débuted under Willem Mengelberg's baton with Brahms's Second Piano Concerto. 1941 saw Anda continuing his studies in wartime Berlin as a protégé of Furtwängler; but when Hungary mobilized in 1942, Anda moved to Switzerland. In 1960, he took over Edwin Fischer's master classes in Lucerne; starting his own in Zurich in 1969, he ran them with missionary zeal as a symbolic corrective to state education, responsible across central Europe - in his view - for promoting mediocrity and systematically suppressing creative talent. At the height of his career, Anda contracted cancer in 1974, dying two years later.

Anda brought heartfelt devotion to the music of his fellow-countryman Béla Bartók. His Bartók readings, particularly his recordings or the three concertos under Ferenc Fricsay, are timeless classics. But for Anda, Bartók was where music ended. He believed that a suitably talented composer should still be capable of writing a good piece in C major. Anda accused 20th-century composers of having no feeling for the piano, lacking the pianistic skills (which Bartók possessed) of their classical forebears. Mozart was the other important composer in Anda's repertoire. Directing the Camerata Academica of the Salzburg Mozarteum from the keyboard, Anda recorded all Mozart's piano concertos with the chamber orchestra - the first pianist to do so - and composed and published cadenzas of his own wherever no original cadenzas existed. Anda's Mozart was deliberately unromantic; still, it was typical "post-war Mozart," not period performance, and Anda accused the new historical-performance movement of musicological pedantry. True to his time, Anda shunned fireworks, sentimentality and fevered emotionalism; his ideal was the true synthesis of temperament and intellect. He cared about phrasing; when pupils had problems with it, he sometimes made them sing out the tunes during lessons.

- But his CD's and see more at iClassics.com
---

Janos Prohaska (b. 10/10/1919, Budapest, Hungary, d. 3/13/1974 in Airplane crash (Bishop, CA))
Actor/Stuntman



Best known for playing "animal" roles, typically gorillas and bears. He played Cookie Bear on The Andy Williams Show (1969). His thick Hungarian accent forced producers to dub his voice. Besides sculpting highly-detailed ape and bear masks, Prohaska designed a wide variety of non-anthromorphic costumes to avoid the "man in a suit" concept. His work included the Horta for the original Trek episode "Devil in the Dark", "Mugatu," and for The Outer Limits (original series) he designed a reverse-jointed Thetan alien (accomplished with the aid of stilts) and an amoeba (the "Mikie"). He is the father of stuntman Robert Prohaska who died with him in the airplane crash in 1974.

Byron Haskin, director of the Outer Limits episode "The Architects of Fear", claimed, "When I first met Janos, he came into my office, put a beer bottle on the table, and then stood on his head with his finger in the bottle, supporting himself. He could defy the law of gravity." (Outer Limits Companion, pg. 81).

Prohaska maintained a workshop in Santa Monica up to the time of his death from which he did most of his greatest work.

- See all his roles at TV Tome or
- at IMDB
---

Anna Sandor
Emmy Award-Winning screenwriter

Anna Sandor was born in Budapest, Hungary to Holocaust survivors. Her childhood was uprooted when her family immigrated to Canada following the Hungarian Revolution.
Ms. Sandor began acting professionally while still a teenager. She worked on Canadian stage and television before shifting to writing in the mid-seventies. After a distinguished writing career in Canada (for which she was awarded a Lifetime Achievement Award by the Canadian Academy of Cinema & Television) she moved to the U.S. in 1989.

Ms. Sandor has written everything from sitcoms to mysteries, and over twenty movies for television on a wide variety of topics, ranging from Amelia Earhart's last years (Amelia Earhart, the Final Flight) to a Holocaust survivor's moving search for her identity (Miss Rose White) to a young girl's discovery of the true meaning of family (My Louisiana Sky). Her screenplays have twice been nominated for the Emmy and have been honored with numerous awards, including the Humanitas (1993 & 2002), the Gemini (Canadian Emmy), and the WGA Award. Two of her films, Miss Rose White and My Louisiana Sky, have won the Emmy. Her latest TV-movie (co-written), Tiger Cruise, premiered 8/6/2004 on the Disney Channel to great reviews. Ms. Sandor is the proud mother of one daughter, Rachel.

- See IMDB
---

Imre Reiner (b. Versec, Hungary, 8/18/1900 - d. Lugano, Switzerland, 1987)
Painter, Sculptor, Illustrator, and Renowned Type Designer of "Reiner Script" fame!

Reiner attended the Zalatua State Sculpture School, the Frankfurt School of Arts and Crafts and the School of Arts and Crafts in Stuttgart under Prof. F. H. Ernst Schneidler. From 1923 to 1925, he worked as a graphic designer in London, Paris, New York and Chicago. Reiner left for Switzerland in 1926. From 1931 he worked in Ruvigliana near Lugano as painter, graphic designer and illustrator.

Steven Heller writes in his book "The Education of a Graphic Designer" that Reiner is known as "an eccentric antimodernist typographer, who after WWII, when objectivity was the goal of graphic design, rebelled by promoting an even more subtle subjectivity be lending the inflection of the scrawl and the hand to the public language of classical typography." Reiner is credited with many typefaces and fonts, such as: Meridian (1930), Gotika (1933), Corvinus (1934–35), Matura™ (1938), Symphonie (1938), Floride (1939), Reiner Script (1951), Contact (1952), Reiner Black (1955), Mustang (1956), Bazar (1956), London Script (1957), Mercurius™ (1957), Pepita™ (1959).

- See more fonts at linotype.com
- When in Switzerland, visit the Museum of Mendrisio
- See a great site in Hungarian
---

J. Anthony Lukas (b. 4/25/1933, New York, d. 6/5/1997, New York)
Acclaimed Author and Journalist - Winner of TWO Pulitzer Prizes! "One of America's most brilliant writers."

Lukas was known for the "excrutiating, almost obsessive precision of his research." After graduating from Harvard he worked as a reporter for the Baltimore Sun, then the New York Times. He won his first Pulitzer in 1967 for an account of a wealthy teenager found beaten to death in Greenwich Village by her counter-culture boyfriend. His second Pulitzer was for "Common Ground," a 1985 book about race relations in Boston. Lukas also wrote in 1971 a book about another famous trial, "The Barnyard Epithet and Other Obscenities: Notes on the Chicago Conspiracy Trial."

J. Anthony Lucas, two-time winner of Pulitzers, spent the last seven years of his life researching and writing his 754-page opus "Big Trouble," which will remain without question the seminal study of one of America's most fascinating trials. On the morning of June 5, 1997, Lukas met with his editor to discuss final revisions to Big Trouble. He returned in the afternoon to his Upper West Side apartment and hanged himself with a bathrobe sash. He was 64 when he died. Lukas, who had been diagnosed with depression ten years earlier, wrote a 1987 book "Silent Grief: Living in the Wake of Suicide," inspired by his own pain of living with the suicide of his mother, who had slashed her throat at age 33.

Many adjectives have been used to describe one of America's most brilliant writers: decent, erudite, insightful, dedicated, intense, energetic, inventive, sensitive, tender, self-righteous, brooding, restless. A friend described Lukas as "the happiest and the saddest man I know." Apart from his love of writing, Lukas found happiness in gardening, baseball, and pinball (Lukas bought his own machine: "The ball flies into the ellipse, into the playing field -- full of opportunities.")

"Big Trouble" was Lukas's first attempt at pure history, and the project left him full of self-doubt. He worried that his book was too ambitious, that he wouldn't be able to get his point across, that it didn't show his talents as well as "Common Ground." As the Big Trouble neared completion in the spring of 1997, friends worried that he seemed mentally and physically exhausted. On the Monday before he died, Lukas called an editor at Life who had assigned him the task of writing a piece on Caldwell, Idaho's changes since the Steunenberg assassination and told him "he didn't know what to write." Friends who knew Lukas said such a thing had never happened before.

Trivia
His uncle is Academy Award Winner, Actor Paul Lukas!
- Read about the Lukas Prize at Columbia University or
- An Interview with J. Anthony Lukas at the National Book Foundation in which he mentions a story about his uncle, Paul Lukas
- Read "No Mere Journalist: The hard labors of J. Anthony Lukas at Harvard Magazine
---

John Lukacs (1/31/1924, Budapest)
Eminent Historian: Pulitzer Prize Nominated, Ingersoll Prize Winner - "one of America's most respected historians - Yale"


Praised by critics as a historian who has the literary talents of a novelist, John Lukacs is the author of more than 20 books, including The Hitler of History (1997), in which Lukacs studies German Chancellor Adolf Hitler's life by examining the more than one hundred biographies written about him. A recipient of the Ingersoll Prize, his other books include The Great Powers and Eastern Europe (1954); A History of the Cold War (1961); Outgrowing Democracy: A Historical Interpretation of the U.S. in the 20th Century (1984); and The Duel (Hitler vs. Churchill (1991); Churchill: Visionary. Statesman. Historian; The End of the Twentieth Century; the End of the Modern Age (nominated for the Pulitzer Prize); and A New Republic, a major statement on the nature of our political system and a critical look at the underpinnings of our society: American democracy, says John Lukacs, has been transformed from an exercise in individual freedom and opportunity to a bureaucratic system created by and for the dominance of special groups..

Lukacs served from 1947–94 as professor of history at Chestnut Hill College, and as its department chair from 1947–74. He also served as a visiting professor at many universities, including Columbia, Princeton, Johns Hopkins University, and at the University of Budapest in his native Hungary.

- Purchase his books at Yale University Press
- Read "The Triumph and Collapse of Liberalism"
---

Ilona Massey (Hajmássy) - (b. 6/16/1910, Budapest, d. 8/20/1974, Bethesda. MD)
"Breathtakingly beautiful" Actress, Star of MGM Musical "Balalaika" and more!

Hal Erickson, All Movie Guide, writes, "Ilona Massey was born into poverty in Budapest; her father, a typesetter was left an invalid in WW I. With her meager earnings as a dressmaker's apprentice, Massey studied singing. She went on to perform at the Vienna Stratsoper then made her screen bow in two Austrian musical films. Conflicting reports state that either Massey wasn't interested in films until she was spotted by MGM executive Louis B. Mayer while she was appearing in a Stratsoper production of Aida, or that she eagerly submitted her publicity photos to MGM in the hopes of meeting her "idol" Nelson Eddy. Another variation of the legend has her meeting a producer at a party, then being invited to audition for Mayer. Whatever the case, Massey was cast opposite Nelson Eddy and Eleanor Powell in the MGM musical Rosalie in 1937. At first, she spoke no English and had to learn her lines phonetically. By the early 1940s, she was conversant enough in her second language to star on the network radio series Top Secret.

Massey made only 11 films during her Hollywood career; her favorite was Balalaika (1939), while her least characteristic were Frankenstein Meets the Wolfman (1943) and the Marx Brothers' Love Happy (1950). On Broadway, she co-starred with Milton Berle and Arthur Treacher in the 1943-44 revival of The Ziegfeld Follies. On TV, she starred in the 1952 adventure weekly Rendezvous and hosted the 1953 variety series The Ilona Massey Show. Off camera, she was extremely active in anti-communist causes, especially after the 1956 Hungarian uprising; at one point, she picketed the United Nations, demanding the expulsion of visiting Soviet premiere Nikita Khrushchev. Among her many husbands was film actor Alan Curtis. Ilona Massey's last husband was retired Air Force general Donald S. Lawson, a union that entitled her to treatment at Bethesda Naval Hospital, where she died in 1974 after a three-month illness."

- See Yahoo! to buy her movies and read more!
---