Uzbekistan - Asia




Uzbekistan facts & history in brief



Islam in Uzbekistan
Excerpted from Wikipedia, the free encyclopedia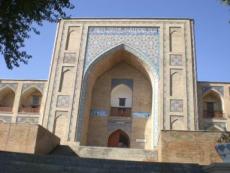 Islam is by far the dominant religion in Uzbekistan.
In the early 1990s, many of the Russians remaining in the republic (about 8% of the population) were Orthodox Christians.
An estimated 93,000 Jews also were present.
Despite its predominance, the practice of Islam is far from monolithic.
Many versions of the faith have been practiced in Uzbekistan.
The conflict of Islamic tradition with various agendas of reform or secularisation throughout the 20th century has left the outside world with a confused notion of Islamic practices in Central Asia.
In Uzbekistan the end of Soviet power did not bring an upsurge of Islamic fundamentalism, as many had predicted, but rather a gradual reacquaintance with the precepts of the faith.
However after 2000, there seems to be a rise of support in favour of the Islamists.



For a more information about Islam in Uzbekistan see Wikipedia, the free encyclopedia

This page was retrieved and condensed from (http://en.wikipedia.org/wiki/Islam_in_Uzbekistan) see Wikipedia, the free encyclopedia, March 2008.
All text is available under the terms of the GNU Free Documentation License (see Copyrights for details).
About Wikipedia
Disclaimers


This information was correct in March 2008. E. & O.E.

2007

You can click on these photos for an enlargement.
Tashkent - Mosques
Tashkent - Mosques
Tashkent - Mosques
Tashkent - Mosques
Tashkent - Mosques
Tashkent - Mosques
Tashkent - Mosques
Tashkent - Mosques
Tashkent - Mosques
Tashkent - Mosques
Tashkent - Mosques
Tashkent - Mosques
Tashkent - Mosques
Tashkent - Mosques
Tashkent - Mosques
Tashkent - Mosques
Tashkent - Mosques
Tashkent - Mosques
Tashkent - Mosques
Tashkent - Mosques
Tashkent - Mosques
Tashkent - Mosques
Tashkent - Mosques
Tashkent - Mosques
Tashkent - Mosques
Tashkent - Mosques
Tashkent - Mosques
Tashkent - Mosques
Tashkent - Mosques
Tashkent - Mosques
Tashkent - Mosques
Tashkent - Mosques
Tashkent - Mosques
Tashkent - Mosques
Tashkent - Mosques
Tashkent - Mosques
Tashkent - Mosques
Tashkent - Mosques
Tashkent - Mosques
Tashkent - Mosques
Tashkent - Mosques
Tashkent - Mosques
Tashkent - Mosques
Tashkent - Mosques
Tashkent - Mosques
Tashkent - Mosques
Tashkent - Mosques
Tashkent - Mosques
Tashkent - Mosques
Tashkent - Mosques
Tashkent - Mosques
Tashkent - Mosques
Tashkent - Mosques
Tashkent - Mosques
Tashkent - Mosques
Tashkent - Mosques
Tashkent - Mosques
Tashkent - Mosques
Tashkent - Mosques
Tashkent - Mosques
Tashkent - Mosques
Tashkent - Mosques
Tashkent - Mosques
Tashkent - Mosques
Tashkent - Mosques
Tashkent - Mosques
Tashkent - Mosques
Tashkent - Mosques
Tashkent - Mosques
Tashkent - Mosques
Tashkent - Mosques
Tashkent - Mosques
Tashkent - Mosques
Tashkent - Mosques
Tashkent - Mosques
Tashkent - Mosques
Tashkent - Mosques
Tashkent - Mosques
Tashkent - Mosques
Tashkent - Mosques
Tashkent - Mosques
Tashkent - Mosques
Tashkent - Mosques
Tashkent - Mosques
Tashkent - Mosques
Tashkent - Mosques
Tashkent - Mosques
Tashkent - Mosques
Tashkent - Mosques

Site Index Back to Top Photos Index
Thanks for coming, I hope you have enjoyed it, will recommend it to your friends, and will come back later to see my site developing and expanding.

I'm trying to make my pages enjoyable and trouble free for everyone, please let me know of any mistakes or trouble with links, so I can fix any problem as soon as possible.

These pages are best viewed with monitor resolution set at 800x600 and kept simple on purpose so everyone can enjoy them across all media and platforms.

Thank you.

Webmaster