Uzbekistan - Asia




Uzbekistan facts & history in brief


Tashkent
Excerpted from Wikipedia, the free encyclopedia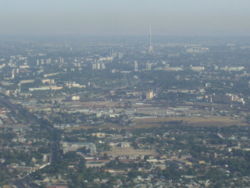 Tashkent - Aerial view

Tashkent is the capital of Uzbekistan and also of the Tashkent Province.
The officially registered population of the city in 2006 was 2.1 million.
According to unofficial data, the population is more than 3 million.

In medieval times the town and the province were known as "Chach".
Later, the town came to be known as Chachkand/Chashkand, meaning "Chach City." (Kand, qand, kent, kad, kath, kud--all meaning a city, are derived from the Old Persian, kanda, meaning a town or a city.
They are found in city names like Samarkand, Yarkand, Penjikent etc.)

After the 16th century, the name was steadily changed slightly from Chachkand/Chashkand to Tashkand, which, as "stone city", was more meaningful to the new inhabitants than the old name.
The modern spelling of Tashkent reflects Russian orthography.

Geography
Tashkent is located 41°18'N, 69°16'E in a well watered plain to the west of the last Altai mountains on the road between Chimkent and Samarkhand.
Tashkent sits at the confluence of the Chirchik river and several of its tributaries and is built on deep alluvial deposits (up to 15 metres).
It is a lively tectonic area suffering large numbers of tremors and some earthquakes.
One earthquake in 1966 measured 7.5 on the Richter scale.
The local time in Tashkent is UTC/GMT +5 hours.



For a more information about Tashkent see Wikipedia, the free encyclopedia

This page was retrieved and condensed from (http://en.wikipedia.org/wiki/Tashkent) see Wikipedia, the free encyclopedia, March 2008.
All text is available under the terms of the GNU Free Documentation License (see Copyrights for details).
About Wikipedia
Disclaimers


This information was correct in March 2008. E. & O.E.

2007

You can click on these photos for an enlargement.
| | | | |
| --- | --- | --- | --- |
| | | | |
| Tashkent | Tashkent | Tashkent | Tashkent |
| | | | |
| Tashkent | Tashkent | Tashkent | Tashkent |
| | | | |
| Tashkent | Tashkent | Tashkent | Tashkent |
| | | | |
| Tashkent | Tashkent | Tashkent | Tashkent |
| | | | |
| Tashkent | Tashkent | Tashkent | Tashkent |
| | | | |
| Tashkent | Tashkent | Tashkent | Tashkent |
| | | | |
| Tashkent | Tashkent | Tashkent | Tashkent |
| | | | |
| Tashkent | Tashkent | Tashkent | Tashkent |
| | | | |
| Tashkent | Tashkent | Tashkent | Tashkent |
| | | | |
| Tashkent | Tashkent | Tashkent | Tashkent |
| | | | |
| Tashkent | Tashkent | Tashkent | Tashkent |
| | | | |
| Tashkent | Tashkent | Tashkent | Tashkent |
| | | | |
| Tashkent | Tashkent | Tashkent | Tashkent |
| | | | |
| Tashkent | Tashkent | Tashkent | Tashkent |
| | | | |
| Tashkent | Tashkent | Tashkent | Tashkent |
| | | | |
| Tashkent | Tashkent | Tashkent | Tashkent |
| | | | |
| Tashkent | Tashkent | Tashkent | Tashkent |
| | | | |
| Tashkent | Tashkent | Tashkent | Tashkent |
| | | | |
| Tashkent | Tashkent | Tashkent | Tashkent |
| | | | |
| Tashkent | Tashkent | Tashkent | Tashkent |
| | | | |
| Tashkent | Tashkent | Tashkent | Tashkent |
| | | | |
| Tashkent | Tashkent | Tashkent | Tashkent |
| | | | |
| Tashkent | Tashkent | Tashkent | Tashkent |
| | | | |
| Tashkent | Tashkent | Tashkent | Tashkent |
| | | | |
| Tashkent | Tashkent | Tashkent | Tashkent |

Site Index Back to Top Photos Index
Thanks for coming, I hope you have enjoyed it, will recommend it to your friends, and will come back later to see my site developing and expanding.

I'm trying to make my pages enjoyable and trouble free for everyone, please let me know of any mistakes or trouble with links, so I can fix any problem as soon as possible.

These pages are best viewed with monitor resolution set at 800x600 and kept simple on purpose so everyone can enjoy them across all media and platforms.

Thank you.

Webmaster