Antarctica flag(unofficial)



The Graham Bartram design.


Antarctica History and Facts in Brief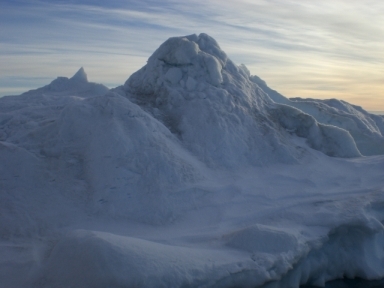 Antarctica is Earth's southernmost continent, overlying the South Pole.
It is situated in the Antarctica region of the southern hemisphere, almost entirely south of the Antarctic Circle, and is surrounded by the Southern Ocean.
At 14.0 million km² (5.4 million sq mi), it is the fifth-largest continent in area after Asia, Africa, North America, and South America.
About 98% of Antarctica is covered by ice, which averages at least 1.6 kilometres (1.0 mi) in thickness.
On average, Antarctica is the coldest, driest and windiest continent, and has the highest average elevation of all the continents.
Antarctica is considered a desert, with annual precipitation of only 200 mm (8 inches) along the coast and far less inland.
There are no permanent human residents, but anywhere from 1,000 to 5,000 people reside at the various research stations scattered across the continent throughout the year.
Only cold-adapted plants and animals survive there, including penguins, seals, mosses, lichen, and many types of algae.

The name Antarctica is the romanized version of the Greek compound word antarktiké, meaning "opposite to the north".
Although myths and speculation about a Terra Australis ("Southern Land") date back to antiquity, the first confirmed sighting of the continent is commonly accepted to have occurred in 1820 by the Russian expedition of Mikhail Lazarev and Fabian Gottlieb von Bellingshausen.
However, the continent remained largely neglected for the rest of the 19th century because of its hostile environment, lack of resources, and isolation.
The first formal use of the name "Antarctica" as a continental name in the 1890s is attributed to the Scottish cartographer John George Bartholomew.



For more information about Antarctica see Wikipedia, the free encyclopedia

This page was retrieved and condensed from (http://en.wikipedia.org/wiki/Antarctica) see Wikipedia, the free encyclopedia, April 2009.
All text is available under the terms of the GNU Free Documentation License (see Copyrights for details).
About Wikipedia
Disclaimers


This information was correct in April 2009. E. & O.E.

Earlier this year (2009), Hui Chin & I were privileged enough to have an awesome experience to sail to Antarctica and few other very interesting places and to meet some very interesting, kind hearted, helpful, caring and understanding people, as the 'expedition team', crew and passengers of the M.V. Polar Star, (Ice breaker).
A very big (A huge) thanks to you all good people.
More of this and my unspoken end of the voyage thank you - later on this page.
Well, well, as we all very well know, Antarctica is only a "hop, skip and a jump" away from the Moon, oh, oh or is it the other way around. Well it is well beyond the average holiday destination, aspirations or budgets.

Hui Chin and I are seasoned travelers and we like to go to places where we have never been before and I can swear to you, neither of us have ever been to Antarctica before.

We were planning to sign up for one of those few 'seasonal' excursions, that a few ships make annually, but put it in the "hard basket" year after year, until towards the end of last year (2007), when it became obvious, that due to my "pre existing medical condition" (A term travel insurance firms use in the last few years, well I have only noticed it in the last few years, anyway. I will elaborate on this on one of these Antarctica pages.)

After days and weeks of research, we came up with one, Quark Expeditions, that was going, where we wanted to go and doing what we wanted to do, set foot on a few hard to visit places.

These 'seasonal' trips or 'expeditions' as they call them, only operate from November to late February and there are only a very few opportunities really.

We missed the November sailings due to my "pre existing medical condition" check up.

We did make a 'test the water' booking for the late February sailing and we did get our 'booking' approved, the price and the conditions, like the strict conditions for "pre existing medical condition" and a $US 100,000.00 emergency evacuation coverage.
More of this on our page of 'Antartica - Sub Antarctica - Our Personal Experience'

2009

You can click on these photos for an enlargement.

Site Index Back to Top Photos Index
Thanks for coming, I hope you have enjoyed it, will recommend it to your friends, and will come back later to see my site developing and expanding.

I'm trying to make my pages enjoyable and trouble free for everyone, please let me know of any mistakes or trouble with links, so I can fix any problem as soon as possible.

These pages are best viewed with monitor resolution set at 800x600 and kept simple on purpose so everyone can enjoy them across all media and platforms.

Thank you.

Webmaster