Vanuatu - Melanesia - Pacific Ocean




Vanuatu History and Facts in Brief


Port Vila
Excerpted from Wikipedia, the free encyclopedia
Port Vila - Capital City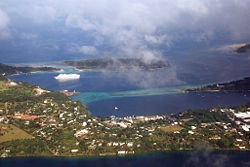 Aerial view of central Port Vila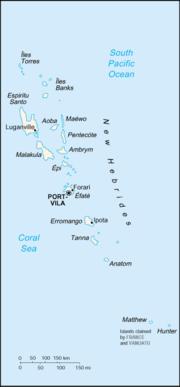 Map of Vanuatu Coordinates: 17°45'S 168°18'E /
-17.75, 168.3
Country - Vanuatu
Province - Shefa Province
Population (1999) - Total 29,356

Port Vila is the capital city of Vanuatu.
It is also Vanuatu's largest city.
Situated on the south coast of the island of Efate, in Shefa Province, the city population at last census (1999) was 29,356,[1] an increase of 55% on the previous census result (1989).
This suggests a 2007 population of about 40,000 or around 65% of the province's population.
Port Vila is the economic and commercial centre of Vanuatu.


History The area occupied by Port Vila has been inhabited by Melanesian people for thousands of years.

In 1606, the first Europeans arrived at the island, led by Pedro Fernandez de Quirůs and Luis VŠez de Torres.

In the 19th century, French settlers established the municipality of Franceville, which declared independence in 1889 and became the first self-governing nation to practice universal suffrage without distinction of sex or race.
Although the population at the time consisted of about 500 native islanders and less than 50 whites, only the latter were permitted to hold office.
One of the elected presidents was a U.S. citizen by birth, R.D. Polk.

After 1887 the territory was jointly administered by the French and the British.
This was formalized in 1906 as an Anglo-French Condominium.

During World War II, Port Vila was an American and Australian airbase.

In 1987, a cyclone severely damaged the city.
Another powerful earthquake in January 2002 caused extensive damage in the capital and surrounding areas.



For more information about Port Vila see Wikipedia, the free encyclopedia

This page was retrieved and condensed from (http://en.wikipedia.org/wiki/Port_Vila) see Wikipedia, the free encyclopedia, May 2008.
All text is available under the terms of the GNU Free Documentation License (see Copyrights for details).
About Wikipedia
Disclaimers


This information was correct in May 2008. E. & O.E.

During early 2008, Hui Chin and I booking a special package deal for a week in Vanuatau.
Our agent came back telling us, that the one we booked wasn't available because some trouble with booking the accommodation part of.
We decided to book our flight only and look for a lodging in Vanuatu after our arrival.
After checking a number of hotels in the city and they all being booked out, we ended up booking in a rather pricey Moorings Hotel.

Very bad move.

One night we were awoken at 4 am. by loud banging on the door next to our room, accompanied by loud screening and swearing (Open the f....ng door, etc), which went on for nearly an hour.

All this time I was trying to calm Hui Chin, as neither of us known, whether that noisy person was a burglar, or rapist, and will attack our door in the coming minutes.

I was trying to ring the reception, without anybody responding, everything seemed to be closed.

Around about 7 am I tracked down and complained to the night watchman and another staff member, - they both knew about the disturbances and show me where the manager lived, two buildings away.

I decided that my complaint can wait until the manager came on duty at 8 am, as I was told.

It was 9.30 am when I managed to have a word with the manager, who practically made me out as a liar and was choke full b......t.

I: My wife and I very upset. We were woken up at 4 am with loud banging, yelling and swearing next to our door and partly open windows.

Manager: Nothing like this ever happened here.
(Well, it did happen, we were there and spoilt our best sleep as Hui Chin and I have our deepest, best, most refreshing sleeps between about 4 am and 7 am, probably you too.

I: It did happen, right next to our door.

Manager: I did not hear anything, I live just over there, pointing to his flat, which is visible from the reception desk, but quiet a few metres away.
(I already knew, where he lived, courtesy the night watchman, but not next door to the disturbance and his glass balcony door was shut, most likely because for the airconditioning.)

I: I did complain to the night watchman and another young lady (staff member) and they both knew about the loud disturbances.

Manager: No one complained to me about it. There's nothing mentioned in "the book".
(Well, I'm not privy, who writes what in the "the book", anyway I wasn't shown "the book".) I: They might have forget to put it in "the book" or just could not be bothered.

Manager: I can give you another room.
You not even listening to me! He said.
As I started to walk away from that truck load of ...........
Shifting to another room seemed the silliest idea to me at the that time.
It is not very likely that the disturbance will be repeated next door to us.
That was a mistaken assumption on our part, because there was some disturbance and yelling, this time front of us (Less than 2 m between the rows of cabins) a couple days later, about the same time.
Anyway shifting to another room would have involved at least 2-3 hours of cleaning and packing and about much the same time for unpacking and making ourselves settled and comfortable.

We went to Vanuatu for the rest, relaxation and tranquility, which was badly spoilt - twice.

I do not usually comment about our accommodation and other services, but I like to draw your attention to the facts and the manager's attitude to our complaint.

Neither Hui Chin nor I have ever received any apologies or expression of regret or anything.
Our room is the furthest away, the far end one


Our room's window is on top of Hui Chin's
head, to the left of it is our door and
another one of our window (the small),
next to it their small window and their
door, where most of the banging, yelling
and swearing.
Alternately it happened at the front door,
just as close to us.


About 2 metres between the row of rooms, maybe less.
The Manager's room, second floor,
with the towel or something hanging on
balcony.
That's the one I was shown, anyway.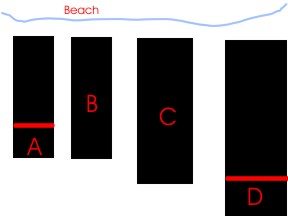 A - Our unit
B - The other row of units
C - Swimming Pool
D - Manager's unit -
I guess about 100 metres away.
(the top my drawing is in fact is south - sorry.

Site Index Back to Top Photos Index
Thanks for coming, I hope you have enjoyed it, will recommend it to your friends, and will come back later to see my site developing and expanding.

I'm trying to make my pages enjoyable and trouble free for everyone, please let me know of any mistakes or trouble with links, so I can fix any problem as soon as possible.

These pages are best viewed with monitor resolution set at 800x600 and kept simple on purpose so everyone can enjoy them across all media and platforms.

Thank you.

Webmaster