Solomon Islands - Melanesia - Pacific Ocean




Solomon Islands History and Facts in Brief


New Georgia Sound
Excerpted from Wikipedia, the free encyclopedia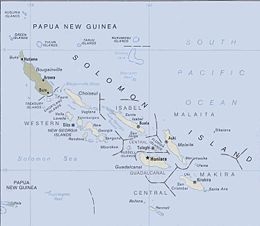 New Georgia Islands


New Georgia Sound is the body of water that runs approximately through the middle of the Solomon Islands.
The Sound is bounded by Choiseul Island, Santa Isabel Island, and Florida Island to the north, and by Vella Lavella, Kolombangara, New Georgia, and the Russell Islands to the south.
Bougainville and Guadalcanal define western and eastern ends of the sound, respectively.

During World War II the Sound was known as "the Slot" by Allied combatants due to its geographical shape and the amount of warship traffic which traversed it; the Japanese naval efforts to resupply their garrison on Guadalcanal were referred to as the Tokyo Express.
A large number of naval battles were fought in and around the sound during 1942 and 1943, between the Imperial Japanese Navy, and the allied forces of the United States Navy, Royal Australian Navy, and Royal New Zealand Navy.

The volcanic cone, Savo Island, northeast of Guadalcanal, is the only significant island lying within the Slot.



For more information about New Georgia Sound see Wikipedia, the free encyclopedia

This page was retrieved and condensed from (http://en.wikipedia.org/wiki/New_Georgia_Sound) see Wikipedia, the free encyclopedia, November 2008.
All text is available under the terms of the GNU Free Documentation License (see Copyrights for details).
About Wikipedia
Disclaimers


This information was correct in November 2008. E. & O.E.

Site Index Back to Top Photos Index
Thanks for coming, I hope you have enjoyed it, will recommend it to your friends, and will come back later to see my site developing and expanding.

I'm trying to make my pages enjoyable and trouble free for everyone, please let me know of any mistakes or trouble with links, so I can fix any problem as soon as possible.

These pages are best viewed with monitor resolution set at 800x600 and kept simple on purpose so everyone can enjoy them across all media and platforms.

Thank you.

Webmaster