Middlegate - Norfolk Island - Pacific Ocean




Norfolk Island History and Facts in Brief
Saint Philip Howard Catholic Church - Middlegate - Norfolk Island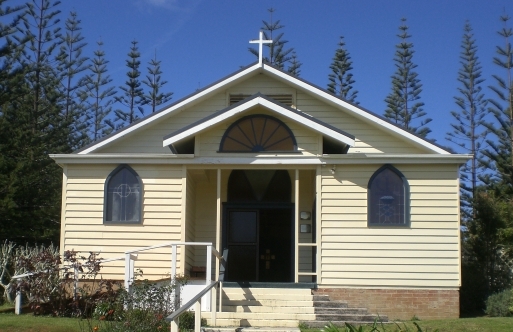 Saint Philip Howard Catholic Church.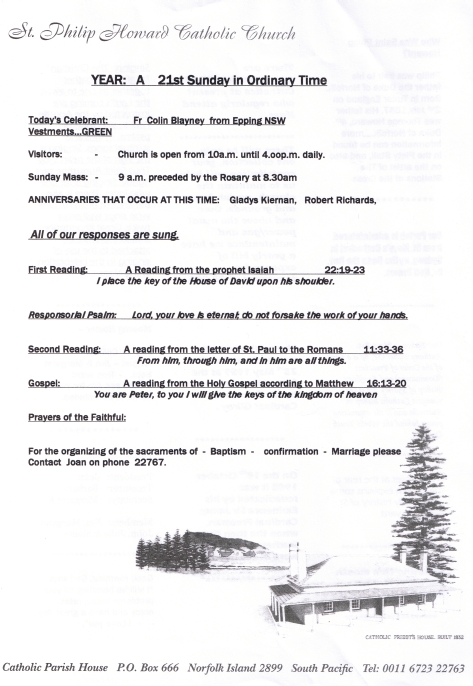 August 24. 2008 Mass' order. (Hui Chin and I attended this Mass)

The Parish church of Saint Philip Howard of Norfolk Island is administered from St Mary's Cathedral in Sydney.
Their Bishop is the Most Reverend Anthony Fisher OP, he is a friar of the Order of Preachers (Dominicans) and Auxiliary Bishop of Sydney.
He is the youngest Catholic bishop in Australia and is the organising power behind the World Youth Day 08, Sydney.


* * *
Saint Philip Howard
Excerpted from Wikipedia, the free encyclopedia.

Saint Philip Howard, 20th Earl of Arundel (28 June 1557 - 19 October 1595) was an English nobleman.
He was canonised by Pope Paul VI in 1970, as one of the Forty Martyrs of England and Wales.
He is variously numbered as 20th or 13th Earl of Arundel.

Biography
Born in Strand, London, he was the eldest son of Thomas Howard, 4th Duke of Norfolk and Lady Mary FitzAlan, daughter of Henry FitzAlan, 19th Earl of Arundel.
He was baptized at Whitehall Palace with the Royal Family in attendance, and was named after his godfather, King Philip II of Spain.

At the age of fourteen, he was married to his foster sister, Anne Dacre.
After years of estrangement, they were reunited and built a very strong marriage.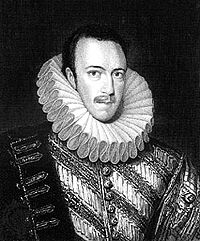 The Earl of Arundel.


His father was attainted and executed in 1572, but Philip Howard succeeded to his mother's heritage upon the death of his grandfather, becoming Earl of Arundel in 1580.

Howard, and much of his family, remained Catholics during the reign of Queen Elizabeth, when it was very dangerous to do so.
They also attempted to leave England without permission.
While some might have been able to do this quietly, Howard was second cousin of the Queen.
He was committed to the Tower of London on 25 April 1585.
While charges of high treason were never proved, he was to spend ten years in the Tower, until his death of dysentery.
He had petitioned the Queen as he lay dying to allow him to see his beloved wife and his son, who had been born after his imprisonment.
The Queen responded that if he would return to Protestantism his request would be granted.
He refused and died alone in the Tower.
He was immediately acclaimed as a Catholic Martyr.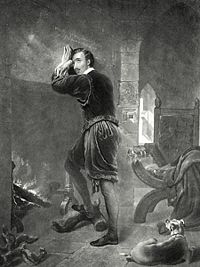 Nineteenth-century engraving
by William Barraud depicting
the Earl of Arundel
in the Tower of London.


He was buried without ceremony beneath the floor of the church of St Peter ad Vincula, inside the walls of the Tower.
Twenty nine years later, his widow and son obtained permission from King James I of England to move the body to the FitzAlan Chapel just below Arundel Castle.
His tomb was moved to the Catholic cathedral in Arundel in 1971 and remains a site of pilgrimage.

He was attainted in 1589, but his son Thomas eventually was restored in blood and succeeded as Earl of Arundel, and to the lesser titles of his grandfather.

References
Malcolm Brennan, "Martyrs of the English Reformation." Sigrid Undset, "Stages on the Road," copyright 1934.

N.B.
Howard's great-grandson, also named Philip Howard, was a Catholic cardinal.



For more information about Saint Philip Howard see Wikipedia, the free encyclopedia

This page was retrieved and condensed from (http://en.wikipedia.org/wiki/Saint_Philip_Howard) see Wikipedia, the free encyclopedia, September 2008.
All text is available under the terms of the GNU Free Documentation License (see Copyrights for details).
About Wikipedia
Disclaimers


This information was correct in September 2008. E. & O.E.



2008

You can click on these photos for an enlargement.

Site Index Back to Top Photos Index
Thanks for coming, I hope you have enjoyed it, will recommend it to your friends, and will come back later to see my site developing and expanding.

I'm trying to make my pages enjoyable and trouble free for everyone, please let me know of any mistakes or trouble with links, so I can fix any problem as soon as possible.

These pages are best viewed with monitor resolution set at 800x600 and kept simple on purpose so everyone can enjoy them across all media and platforms.

Thank you.

Webmaster