North Island - New Zealand
New Zealand facts & history in brief

New Zealand Map
Okiato
Excerpted from Wikipedia, the free encyclopedia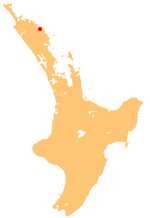 Okiato or Old Russell is a small holiday spot in the Bay of Islands, New Zealand, seven km south of present-day Russell.
It was New Zealand's first national capital, for a short time from 1840 to 1841, before the seat of government was moved to Auckland.
The car ferry across the Bay of Islands, the main tourist access to Russell, runs between Okiato and Opua.

History
Pomare, the local Maori chief in the 1830s, sold land at Okiato to a British merchant and ship owner, Captain James Reddy Clendon, who settled there in 1832 and set up a trading station with partner Samuel Stephenson.
Clendon became the first United States Consul for New Zealand in 1838 or 1839.

When the Colony of New Zealand was founded in 1840, Governor William Hobson instructed the Surveyor General, Felton Mathew, to report on possible locations for a capital in the Bay of Islands.
Clendon's property met the requirements for a good anchorage and immediate availability of land suitable for subdivision and on-sale to settlers.
Kororareka (present-day Russell) was discounted as it had insufficient available land and locations such as Paihia and Kerikeri were bypassed for various reasons.
Clendon wanted 23,000 pounds for the 1.24 km² of land, the house, two small cottages, a large store and other buildings.
Hobson eventually secured it for 15,000 pounds.
He changed its name from Okiato to Russell, in honour of the Secretary of State for the Colonies, Lord John Russell.
Hobson and his family moved there in May 1840 and officials, troops, workmen and immigrants took up residence in permanent or temporary buildings and tents.
Mathew drew up ambitious plans for a town, but only one of the intended roads was ever built - leading directly from the town hall to the town jail.
A year later Hobson moved the capital to Auckland and most of the Russell residents moved there too.
A few officials lived on in the Government House at Russell but when it and the offices burned down in May 1842, they moved to Kororareka leaving Russell virtually deserted.

Kororareka was part of the Port of Russell and gradually became known as Russell also.
In January 1844 Governor Robert FitzRoy officially designated Kororareka as part of the township of Russell.
Now the name Russell applies only to the erstwhile Kororareka while Okiato has resumed its original name.



For more information about Okiato see Wikipedia, the free encyclopedia

This page was retrieved and condensed from (http://en.wikipedia.org/wiki/Okiato) see Wikipedia, the free encyclopedia, January 2009.
All text is available under the terms of the GNU Free Documentation License (see Copyrights for details).
About Wikipedia
Disclaimers


This information was correct in January 2009. E. & O.E.
2009

You can click on these photos for an enlargement.

Site Index Back to Top Photos Index
Thanks for coming, I hope you have enjoyed it, will recommend it to your friends, and will come back later to see my site developing and expanding.

I'm trying to make my pages enjoyable and trouble free for everyone, please let me know of any mistakes or trouble with links, so I can fix any problem as soon as possible.

These pages are best viewed with monitor resolution set at 800x600 and kept simple on purpose so everyone can enjoy them across all media and platforms.

Thank you.

Webmaster