North Island - New Zealand
New Zealand facts & history in brief New Zealand Map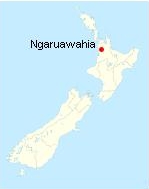 Location of Ngāruawāhia
in New Zealand.

Ngāruawāhia
Excerpted from Wikipedia, the free encyclopedia



Ngāruawāhia (pop. 5,106 is a town in the Waikato region of the North Island of New Zealand.

The meaning of the town's name is open the food pits, which comes from a feast held hundreds of years ago to celebrate the coming together of two tribes through a marriage.
The word combines the Māori words wahia meaning firewood and rua meaning pit or hole in this usage.

Geography
Ngāruawāhia is located 20 km north-west of Hamilton at the confluence of the Waikato and Waipa Rivers.

1863 Invasion
After the Invasion of the Waikato in 1863 by British imperial forces the town was re-named Newcastle, but reverted to Ngāruawāhia soon after.


Home of the Kīngitanga
Ngāruawāhia is home to the Māori Kīngitanga or King Movement.
This was the official residence of the late Maori Queen, Te Arikinui Dame Te Atairangikaahu.
Tūrangawaewae Marae is on the eastern bank of the Waikato River in Ngāruawāhia.

Music festivals
Several Music festivals have been held near the town, the first in 1970, and a series from 1979 onwards.

Railway Accident
A train derailed on 14 March 1998 after a load moved in transit and then struck a through-truck bridge.
The wagons piled high on the superstructure of the Waikato River Bridge, and there was major damage to the bridge.

Sport
Football (Soccer)
Ngaruawahia United, known as "The Green Machine", is the local football (soccer) club, founded in 1968.
As of 2007, it comprised ten junior sides, four senior sides and a women's team.
The senior men's team competes in the Northern League Division 1 competition along with its Reserve side.
At the beginning of 2008 the Northern League competition was rearranged.
This means that Ngaruawahia United has their A team in the Northern League, their B team in the Federation League and their C team in the Waikato League.

Ngaruawahia will host Waikato FC of the New Zealand Football Championship for the 2008-09 season. Waikato will play their matches at Centennial Park.

Rugby League
Ngaruawahia is the home of the rugby league team Turangawaewae RLC, which is named after the Marae opposite the clubrooms.
The club currently holds the record for the first team to ever win consecutive titles in the annual Waicoa Bay Premiers Competition, consisting of all teams in the Waikato, Coast and Bay Of Plenty regions.



For more information about Ngāruawāhia, New Zealand see Wikipedia, the free encyclopedia

All text is available under the terms of the GNU Free Documentation License (see Copyrights for details).
About Wikipedia
Disclaimers




This information was correct in May 2009. E. & O.E.

2009

You can click on these photos for an enlargement.

Site Index Back to Top Photos Index
Thanks for coming, I hope you have enjoyed it, will recommend it to your friends, and will come back later to see my site developing and expanding.

I'm trying to make my pages enjoyable and trouble free for everyone, please let me know of any mistakes or trouble with links, so I can fix any problem as soon as possible.

These pages are best viewed with monitor resolution set at 800x600 and kept simple on purpose so everyone can enjoy them across all media and platforms.

Thank you.

Webmaster