North Island - New Zealand
New Zealand facts & history in brief

New Zealand Map
Moerewa
Excerpted from Wikipedia, the free encyclopedia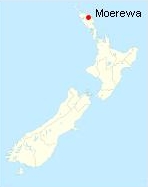 Moerewa is a small town in the Northland Region of the North Island of New Zealand.
It is unusual for its high proportion of Maori - over 80% of the population.
It is located close to the Bay of Islands five kilometres to the west of Kawakawa.

The population was 1536 in the 2006 Census, a decrease of 126 from 2001.

A service town for the surrounding farming industry, its main industry is the freezing works.
During the economic slump of the 1980s, many of the town's industries were badly affected, and unemployment soared.
For this reason, the town's population has dwindled in recent years, although there are signs of an economic revival in the district.

Education
Moerewa School is a coeducational full primary (years 1-8) school with a decile rating of 1 and a roll of 228.
Moerewa School opened in 1913,[3] and merged with Otiria School at the beginning of 2005.

Transport
Moerewa is on State Highway 1.
Moerewa was formerly served by the Opua Branch of the North Auckland Line railway.
The line was originally built to link the Bay of Islands with Whangarei, and the complete route opened on 13 April 1911.
From December 1925 until November 1956, the Northland Express train ran through Moerewa, providing a direct service to Auckland.
After it ceased to run, passengers were served by mixed trains between Opua and Whangarei until 18 July 1976.
In 1985, freight services ceased and the line from Moerewa to Kawakawa was dismantled.
The line from Otiria, the present northern terminus, to Moerewa remains in place but is disused.



For more information about Moerewa see Wikipedia, the free encyclopedia

This page was retrieved and condensed from (http://en.wikipedia.org/wiki/Moerewa) see Wikipedia, the free encyclopedia, January 2009.
All text is available under the terms of the GNU Free Documentation License (see Copyrights for details).
About Wikipedia
Disclaimers


This information was correct in January 2009. E. & O.E.

2009

You can click on these photos for an enlargement.

Site Index Back to Top Photos Index
Thanks for coming, I hope you have enjoyed it, will recommend it to your friends, and will come back later to see my site developing and expanding.

I'm trying to make my pages enjoyable and trouble free for everyone, please let me know of any mistakes or trouble with links, so I can fix any problem as soon as possible.

These pages are best viewed with monitor resolution set at 800x600 and kept simple on purpose so everyone can enjoy them across all media and platforms.

Thank you.

Webmaster