South Island - New Zealand
New Zealand facts & history in brief New Zealand Map
Mahinapua Hotel
World famous in New Zealand


Mahinapua Hotel

P.S. I specifically made this page for the "world famous" Mahinapua Hotel, but since I couldn't find any information relating to the hotel I stitched the info about the Lake Mahinapua, you know, just to make this page's existence justifiable. Webmaster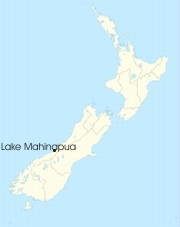 Location of Lake Mahinapua

Lake Mahinapua
Excerpted from Wikipedia, the free encyclopedia


Lake Mahinapua is a shallow lake on the West Coast of New Zealand's South Island.
It is roughly 10km south of Hokitika and near the small town of Ruatapu.
It was formerly a coastal lagoon, but the buildup of coastal dunes made it an inland lake roughly 500 m from the Tasman Sea coastline.

In 1907, the Lake Mahinapua Scenic Reserve was established to protect the land around the lake, and a number of walking tracks run through this area.
Other activities that take place around the lake are picnicking, camping, and various water-based activities. Species of birds such as black swans and grey and mallard ducks live around the lagoon, and the surrounding bush provides a habitat for species such as parakeets and tui.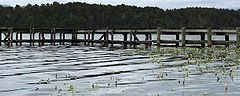 Lake Mahinapua.

State Highway 6 passes between the lake and sea on its route between Hokitika and Ross.
The Ross Branch railway also once ran past the lake; it opened to Ruatapu on 9 November 1906, was extended to Ross on 1 April 1909, and closed on 24 November 1980.




For more information about Lake Mahinapua see Wikipedia, the free encyclopedia

All text is available under the terms of the GNU Free Documentation License (see Copyrights for details).
About Wikipedia
Disclaimers




This information was correct in June 2009. E. & O.E.

Site Index Back to Top Photos Index
Thanks for coming, I hope you have enjoyed it, will recommend it to your friends, and will come back later to see my site developing and expanding.

I'm trying to make my pages enjoyable and trouble free for everyone, please let me know of any mistakes or trouble with links, so I can fix any problem as soon as possible.

These pages are best viewed with monitor resolution set at 800x600 and kept simple on purpose so everyone can enjoy them across all media and platforms.

Thank you.

Webmaster