North Island - New Zealand
New Zealand facts & history in brief New Zealand Map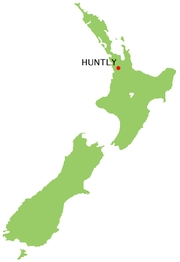 Location of Huntly in New Zealand.

Huntly
Excerpted from Wikipedia, the free encyclopedia



Huntly (37°33.6'S 175°9.6'E - population 7,067) is a town in the Waikato region of the North Island of New Zealand.
It is on State Highway 1, 93 kilometres south of Auckland and 35 kilometres north of Hamilton.
It is situated on the North Island Main Trunk Railway and straddles the Waikato River.

Huntly was called Rahui Pokeka when migrants settled the town some time in the 1850s.
The Huntly name was adopted in the 1870s when the postmaster named it after Huntly, Aberdeenshire in Scotland.
He used an old 'Huntley Lodge' stamp to stamp mail from the early European settlement.
The 'Lodge' was later dropped and the spelling changed to also drop the additional 'e'.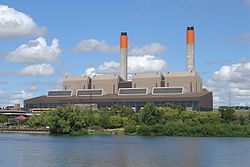 Huntly Power Station.

Major industries
The town is very well known for its large coal-fired power station, situated on the western bank of the Waikato River.
Huntly power station is New Zealand's largest thermal power station, situated in the area which also is New Zealand's largest producer of coal, producing over 10,000 tonnes a day.
The area has a very long history of coal mining, with both open pit and classical mines operating or having operated here.
The major New Zealand clients for the mined coal are the power station and the New Zealand Steel mill at Glenbrook.
Huntly is also surrounded by rich farmland and beautiful lakes (many of them former open-pit mines) which are used for course fishing, yachting and waterskiing.

Huntly falls within the Waikato District Council and Environment Waikato local government boundaries.

Rugby League
Huntly has a proud rugby league history - at one time the town had four rugby league clubs: Taniwharau, Huntly South, Huntly United and Rangiriri Eels.
Taniwharau has been one of the most successful clubs having won 11 straight Waikato premierships during the 1970-80's.
Taniwharau also won the inaugural Waicoa Bay championship in 2002 and again in 2007 a year in which they went through the season unbeaten; a feat that has never been achieved before at the Waikato Rugby League Premier Level.
The Waicoa Bay championship is a combined rugby league competition involving clubs from Waikato, Bay of Plenty and Coastlines.

A number of Kiwi players have come out of Huntly including Tawera Nikau (Rangiriri) and as of late Wairangi Koopu (Taniwharau) and also Lance Hohaia (Taniwharau).
The town has produced numerous NZ Maori Rugby league representatives.

Tainui
Huntly and its surrounding area is steeped in Maori history and falls within the rohe (tribal area) of Waikato-Tainui of the Tainui Waka confederation.
Ngati Mahuta and Ngati Whawhakia are the local subtribes within the Huntly area.
There are a number of marae in and around Huntly they being Waahi Pa, Te Kauri, Kaitimutimu, Te Ohaaki and further north Maurea and Horahora.
Waahi Pa was the official residence of the late Maori Queen Dame Te Atairangikaahu and is currently still the official residence of her son the Maori King Tuheitia Paki.

Huntly is home to Rakaumanga Kura which became one of the first bilingual Schools (Maori/English) in New Zealand in 1984.
Raukaumanga became a Kura kaupapa (total immersion, Maori as its first language) in 1994 and is now known by the name Te Whare Kura o Rakaumangamanga.
The school was first established as a native school in 1896.



For more information about Huntly, New Zealand see Wikipedia, the free encyclopedia

All text is available under the terms of the GNU Free Documentation License (see Copyrights for details).
About Wikipedia
Disclaimers




This information was correct in May 2009. E. & O.E.

2009

You can click on these photos for an enlargement.

Site Index Back to Top Photos Index
Thanks for coming, I hope you have enjoyed it, will recommend it to your friends, and will come back later to see my site developing and expanding.

I'm trying to make my pages enjoyable and trouble free for everyone, please let me know of any mistakes or trouble with links, so I can fix any problem as soon as possible.

These pages are best viewed with monitor resolution set at 800x600 and kept simple on purpose so everyone can enjoy them across all media and platforms.

Thank you.

Webmaster