North Island - New Zealand
New Zealand facts & history in brief New Zealand Map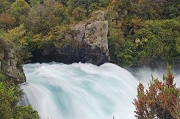 Huka Falls.

Huka Falls
Excerpted from Wikipedia, the free encyclopedia


The Huka Falls are a set of waterfalls on the Waikato River that drains Lake Taupo in New Zealand.
A few hundred metres upstream from the Huka Falls, the Waikato River narrows from roughly 100 metres across into a narrow canyon only 15 metres across.
The canyon is carved into lake floor sediments laid down before Taupo's Oruanui eruption 26,500 years ago.

The volume of water flowing through often approaches 220,000 litres per second.

At the top of the falls is a set of small waterfalls dropping over about 8 metres.
The most impressive, final stage of the falls is an 11 metre drop.
The drop is technically six metres (cliff beneath the water) but the water flow raises the level to 11m.

The falls are a popular tourist attraction, being close to Taupo and readily accessible from State Highway One, although there are much higher waterfalls to be seen in the country.
Hukafalls Jet takes tourists within a few meters of the base of the falls in their jetboats.
The narrow canyon, with the tourist bridge visible at the top left.

The falls were brought to national attention in February 1989 when the body of cricket umpire, Peter Plumley-Walker was found immediately downstream, with wrists and ankles bound.
The resulting investigation lifted the lid on the Auckland bondage scene and the news media had a field day.
Dominatrix Renee Chignall was acquitted of his murder after three trials.




For more information about Huka Falls see Wikipedia, the free encyclopedia

All text is available under the terms of the GNU Free Documentation License (see Copyrights for details).
About Wikipedia
Disclaimers




This information was correct in June 2009. E. & O.E.

2009

You can click on these photos for an enlargement.

Site Index Back to Top Photos Index
Thanks for coming, I hope you have enjoyed it, will recommend it to your friends, and will come back later to see my site developing and expanding.

I'm trying to make my pages enjoyable and trouble free for everyone, please let me know of any mistakes or trouble with links, so I can fix any problem as soon as possible.

These pages are best viewed with monitor resolution set at 800x600 and kept simple on purpose so everyone can enjoy them across all media and platforms.

Thank you.

Webmaster