New Caledonia - Melanesia - Pacific Ocean




New Caledonia History and Facts in Brief


Grande Terre - New Caledonia
Excerpted from Wikipedia, the free encyclopedia

Nouvelle-Calédonie

New Caledonia

| | |
| --- | --- |
| | |
| Flag | Emblem |

Anthem:  "Soyons Unis, Devenons Freres"
"La Marseillaise"


Capital
(and largest city)
Nouméa
Official languages
French
Government
Overseas territory of France
Overseas territory of France
since 1853 
Area
 - 
Total
18,575 km² (154th)
7,359 sq mi 
Population
 - 
Jan. 1, 2008 estimate
244,600 (176th)
 - 
Aug./Sept. 2004 census
230,789 
 - 
Density
13/km² (200th)
34/sq mi
GDP (nominal)
2006 estimate
 - 
Total
US$6.813 billion (not ranked)
 - 
Per capita
US$28,568  (not ranked)
HDI (2003)
n/a ( unranked) (n/a)
Currency
CFP franc (XPF)
Time zone

(UTC+11)

Internet TLD
.nc
Calling code
+687

New Caledonia (French: Nouvelle-Calédonie; popular names: Kanaky, Le caillou), is a "sui generis collectivity" (in practice an overseas territory) of France, made up of a main island (Grande Terre), the Loyalty Islands, and several smaller islands.
It is located in the region of Melanesia in the southwest Pacific.
At about half the size of Taiwan, it has a land area of 18,575.5 square kilometres (7,172 sq mi).
The population was 244,600 inhabitants as of January 2008 official estimates.
The capital and largest city of the territory is Nouméa.
The currency is the CFP franc.

New Caledonia is made up of a main island, the Grande Terre, and several smaller islands, the Belep archipelago to the north of the Grande Terre, the Loyalty Islands to the east of the Grande Terre, the Île des Pins to the south of the Grande Terre, the Chesterfield Islands and Bellona Reefs further to the west.

The Grande Terre is by far the largest of the islands, and the only mountainous island.
It has an area of 16,372 square kilometres (6,321 sq mi), and is elongated northwest-southeast, 350 kilometres ( 217 mi) in length and 50 to 70 kilometres (31-44 mi) wide.
A mountain range runs the length of the island, with five peaks over 1,500 meters (4,900 ft).
The highest point is Mont Panié at 1,628 meters (5,341 ft) elevation.
The total area of New Caledonia is 19,060 square kilometers (7,359 sq mi), 18,575 square kilometers (7,172 sq mi) of those being land.



New Caledonia is one of the northernmost parts of a (93%) submerged continent called Zealandia.
It sank after rifting away from Australia 60-85 million years ago (mya) and from Antarctica between 130 and 85 mya.
New Caledonia itself is separated from Australia since 65 mya, and subsequently drifted in a north-easterly direction, reaching its present position about 50 mya.

Nationality:
noun: New Caledonian(s)
adjective: New Caledonian

Ethnic groups:
According to the 1996 census:
Melanesian 44.6%, European 34.5%, Wallisian 9.1%, Tahitian 2.7%, Indonesian 2.6%, Vietnamese 1.4%, Ni-Vanuatu 1.2%, other (Filipino) 3.9%


The Kanak are known officially as Melanesians.
Similarly, those whose roots are in French Polynesia are known either as Tahitians (which excludes persons originating in the other archipelagoes of French Polynesia) or simply as Polynesians (which would include both Tahitians and Wallisians, as well as many other minor groups).
Whites that have lived in New Caledonia for several generations are locally known as Caldoches, whereas newcomers who have immigrated from metropolitan France are called Métros or Métropolitains.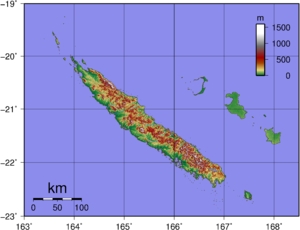 Topographic map of New Caledonia

Religions:
Roman Catholicism 60%, Protestantism 30%, other 10%.

Languages:
French (official), 33 Melanesian-Polynesian languages.




For more information about New Caledonia see Wikipedia, the free encyclopedia

This page was retrieved and condensed from (http://en.wikipedia.org/wiki/New_Caledonia) see Wikipedia, the free encyclopedia, July 2008.
All text is available under the terms of the GNU Free Documentation License (see Copyrights for details).
About Wikipedia
Disclaimers


This information was correct in July 2008. E. & O.E.

2008

You can click on these photos for an enlargement.

Grande Terre (Aerial photos)
2008

You can click on these photos for an enlargement.

Site Index Back to Top Photos Index
Thanks for coming, I hope you have enjoyed it, will recommend it to your friends, and will come back later to see my site developing and expanding.

I'm trying to make my pages enjoyable and trouble free for everyone, please let me know of any mistakes or trouble with links, so I can fix any problem as soon as possible.

These pages are best viewed with monitor resolution set at 800x600 and kept simple on purpose so everyone can enjoy them across all media and platforms.

Thank you.

Webmaster