Bourail - New Caledonia - Melanesia - Pacific Ocean




New Caledonia History and Facts in Brief

Bourail
Excerpted from Wikipedia, the free encyclopedia
Commune of Bourail

Location
Location of the commune (in red) within New Caledonia
Administration
Country
France
Sui generis collectivity
New Caledonia
Province
South Province
Statistics
Elevation
0 m-1,438 m
(avg. 10 m)
Land area¹
797.6 km²
Population²
(2004 census)
4,779
 - Density
6.0/km² (2004 census)
 - Ethnic distribution
  (1996 census)
Europeans 55.6%
Kanaks 34.8%
Polynesians 3.3%
Other 6.3%
Miscellaneous
INSEE/Postal code
98803/98870
1 New Caledonia Land Register (DITTT) data, which exclude lakes and ponds larger than 1 km² (0.386 sq mi or 247 acres) as well as the estuaries of rivers.
2 Population sans doubles comptes: residents of multiple communes (e.g. students and military personnel) only counted once.

Bourail is a commune in the South Province of New Caledonia, an overseas territory of France in the Pacific Ocean.
4900 inhabitants (2006).
A museum.

Sights:
The Arabian cemetery and the New Zealand military cemetery of an epoch of the Second world war.
Beaches on which turtles live.
In Bourail lies the last remains of Antoni Berezowski, the Polish patriot, who in Paris in 1867 made an unsuccessful attempt to assassinate the Russian emperor Alexander II.

Sister Cities
Waimate, New Zealand



For more information about Bourail see Wikipedia, the free encyclopedia

This page was retrieved and condensed from (http://en.wikipedia.org/wiki/Bourail) see Wikipedia, the free encyclopedia, July 2008.
All text is available under the terms of the GNU Free Documentation License (see Copyrights for details).
About Wikipedia
Disclaimers



This information was correct in July 2008. E. & O.E.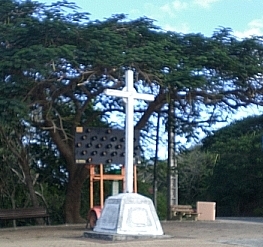 2008

You can click on these photos for an enlargement.

Site Index Back to Top Photos Index
Thanks for coming, I hope you have enjoyed it, will recommend it to your friends, and will come back later to see my site developing and expanding.

I'm trying to make my pages enjoyable and trouble free for everyone, please let me know of any mistakes or trouble with links, so I can fix any problem as soon as possible.

These pages are best viewed with monitor resolution set at 800x600 and kept simple on purpose so everyone can enjoy them across all media and platforms.

Thank you.

Webmaster