Map of Europe Map of Hungary Map of Budapest
Hungary, facts and history in brief Budapest, facts and history in brief
Hungary

Veszprém is a very beautiful city, rich in history and things to do and see.
Interesting churches, Bishopric etc.

In 1996 Hui Chin, Endre and I were fortunate enough to be in Veszprém for the celebrations of the return of the 11th century remains of Saint Giselle from Passau, Germany and was re-united with the Holy Right Hand of Saint Stephen.

Hui Chin and I went to visit Passau for many reasons and 95% of it is to do because we are devout Catholics and I was born in Hungary.

Let me explain the 5% of the answer first. Passau is another city, during our trips we visit many cities, including German cities, Passau was one of them.

The 95%'s explanation will take me a little longer, so please bear with me.

I have already hinted at my Catholic belief and Hungarian origin, they both have major bearing on our visit.

The first Hungarian King, Saint Stephen married Giselle, sister of Saint Henry, emperor of Germany.
She born in Passau and was the First Queen of Hungary.
After a life of using her position for charity, she retired to the convent at Passau, now in Germany, where she died c.1095 of natural causes.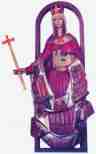 Saint Gisella

Hui Chin, Endre and I attended a Mass at Veszprém, Hungary in 1996 to celebrate the home coming of Saint Giselle's remains and was re-united with the Holy Right Hand of Saint Stephen.

It worth mentioning here, that the party attending the Mass and Celebration for the home coming of Saint Giselle's remains to Veszprém included the College of Cardinals head and delegate, Cardinal Ratzinger, our reigning Pope Benedict XVI, who has very close association with Regensburg and Passau. (As far as I can remember, he can also speak some Hungarian.
Don't quote me on this though.)

Another distinguished person at the High Mass, Celebration was Otto Habsburg-Lothringen, (Also known as Archduke Otto of Austria, or Crown Prince Otto of Austria, or simply, Habsburg Ottó to Hungarians, the pretender to the Hungarian throne since the age of ten.

Habsburg Ottó, who speaks perfect Hungarian, did confirm that he still a 'pretender' at this Celebrations and he is ready to be King anytime the Hungarians want him.

(In 1961 Otto Habsburg-Lothringen renounced all claims to the Austrian throne and was eventually allowed to return to his home country in 1966. An early advocate of a unified Europe, he served from 1979 till 1999 as a Member of the European Parliament for the conservative Christian Social Union of Bavaria (CSU) party. He is also a member of the Mont Pelerin Society and president of the International Paneuropean Union.)

Excerpt from the Veszprém Home page: The beginning of May is a special time of the year for us who are living in Veszprém: Around the 7th May, which is the name-day of Gisela, we remember the wife of our first king, Saint Stephen, Blessed Gisela of Bavaria. Our city had been the property of the Hungarian Queens since thousand years, when King Saint Stephen had donated the town to his Queen, Gisela.




1996

You can click on these photos for an enlargement.
Veszprém
High Mass - celebrating
the return of the
remains of
Saint Giselle
Veszprém
The
remains of
Saint Giselle
2000
| | | | |
| --- | --- | --- | --- |
| | | | |
| Veszprém | Veszprém | Veszprém | Veszprém |

Site Index Back to Top Photos Index
Thanks for coming, I hope you have enjoyed it, will recommend it to your friends, and will come back later to see my site developing and expanding.

I'm trying to make my pages enjoyable and trouble free for everyone, please let me know of any mistakes or trouble with links, so I can fix any problem as soon as possible.

These pages are best viewed with monitor resolution set at 640x480 and kept simple on purpose so everyone can enjoy them across all media and platforms.

Thank you.

Webmaster