Map of Europe Map of Hungary Map of Budapest
Hungary, facts and history in brief Budapest, facts and history in brief
Hungary



Excerpted from Wikipedia, the free encyclopedia

The Budapest Metro (Hungarian: Budapesti metró) is the metro system in the Hungarian capital Budapest.
It consists of three lines, each marked with a number and a separate colour.
Metro Line 4 is currently under construction and the first section is to be put into operation in 2010.
Plans for Line 5 are also ready for implementation.
It is the second oldest underground metro system in the world, and its iconic Line 1 (dating from 1896), the first underground system in Europe, is a World Heritage Site now.

Transit type: Electrified Metro Railway
Began operation: 1896, First underground system in Europe
System length: 31.7km
No. of lines: 3 (plus 1 under construction)
No. of stations: 40 (plus 12 under construction)
Daily ridership: 1.27 million (approximate)
Track gauge: 1,435 mm (4 ft 8˝ in)
Operator: BKV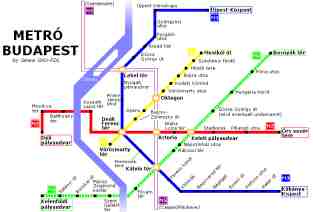 Budapest Metro map
o O o
| | | | |
| --- | --- | --- | --- |
| Millennium Underground old phase at Heroes' Square | "Stadiums" (Stadionok) station on the metro line 2 | Kõbánya-Kispest terminal on the line 3 | Lajos Kossuth Square on metro line 2 |
o O o
P.S.
A film titled Kontroll was made in Budapest Metro in 2003.
It was screened in Cannes and in the U.S.
The movie Underworld (2003) also has scenes shot in the Budapest Metro.
The original New York City Subway entrances were modeled after the Budapest Metro entrances.
There is a game about budapest metro created from realistic level data.
This is downloadable from here.
For a more information about Budapest Metro see Wikipedia, the free encyclopedia


This page was retrieved and condensed from (http://en.wikipedia.org/wiki/Budapest_Metro) see Wikipedia, the free encyclopedia, December 2007.
All text is available under the terms of the GNU Free Documentation License (see Copyrights for details).
About Wikipedia
Disclaimers

This information was correct in December 2007. E. & O.E.


The building of the new Metro 4 line seems to be progressing well, across Budapest.
N.B. Some of these photos were taken at existing Metro lines and stations.

You can click on these photos for an enlargement.
| | | | |
| --- | --- | --- | --- |
| | | | |
| Budapest Metro | Budapest Metro | Budapest Metro | Budapest Metro |
| | | | |
| Budapest Metro | Budapest Metro | Budapest Metro | Budapest Metro |
| | | | |
| Budapest Metro | Budapest Metro | Budapest Metro | Budapest Metro |
| | | | |
| Budapest Metro | Budapest Metro | Budapest Metro | Budapest Metro |
| | | | |
| Budapest Metro | Budapest Metro | Budapest Metro | Budapest Metro |
| | | | |
| Budapest Metro | Budapest Metro | Budapest Metro | Budapest Metro |
| | | | |
| Budapest Metro | Budapest Metro | Budapest Metro | Budapest Metro |
| | | | |
| Budapest Metro | Budapest Metro | Budapest Metro | Budapest Metro |
| | | | |
| Budapest Metro | Budapest Metro | Budapest Metro | Budapest Metro |
| | | | |
| Budapest Metro | Budapest Metro | Budapest Metro | Budapest Metro |
| | | | |
| Budapest Metro | Budapest Metro | Budapest Metro | Budapest Metro |
| | | | |
| Budapest Metro | Budapest Metro | Budapest Metro | Budapest Metro |
| | | | |
| Budapest Metro | Budapest Metro | Budapest Metro | Budapest Metro |

Site Index Back to Top Photos Index
Thanks for coming, I hope you have enjoyed it, will recommend it to your friends, and will come back later to see my site developing and expanding.

I'm trying to make my pages enjoyable and trouble free for everyone, please let me know of any mistakes or trouble with links, so I can fix any problem as soon as possible.

These pages are best viewed with monitor resolution set at 640x480 and kept simple on purpose so everyone can enjoy them across all media and platforms.

Thank you.

Webmaster