Ukraine



Ukraine facts and history in brief

Yalta
Excerpted from Wikipedia, the free encyclopedia.


Yalta is a city in Crimea, southern Ukraine, on the north coast of the Black Sea.
The city is located on the site of an ancient Greek colony, said to have been founded by Greek sailors who were looking for a safe shore on which to land.
It is situated on a shallow bay facing south towards the Black Sea, surrounded by wooded mountains.
It enjoys a warm Mediterranean climate with many vineyards and orchards in the vicinity.

The term "Great Yalta" is used to designate a part of the Crimean southern coast spanning from Foros in the west to Gurzuf in the east and including the city of Yalta and multiple adjacent urban settlements.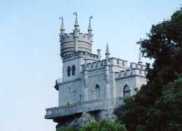 Swallow's Nest, a symbol of Crimea, one of the best-known, romantic castles near Yalta.
Built in 1912 in the Neo-Gothic style by the order of German baron Stengel; design by Russian architect A.Sherwood.


The existence of Yalta was first recorded in the 12th century by an Arab geographer, who described it as a Byzantine port and fishing settlement.
It became part of a network of Genoese trading colonies on the Crimean coast in the 14th century, when it was known as Etalita or Galita.
Yalta and the rest of Crimea was captured by the Ottoman Empire in 1475, which made it a semi-independent subject territory under the rule of the Crimean Khanate.
Yalta was annexed by the Russian Empire in 1783, along with the rest of Crimea, sparking the Russo-Turkish War, 1787-1792.

In the 19th century, the town became a fashionable resort for the Russian aristocracy and gentry. The writers Leo Tolstoy and Anton Chekhov spent their summers there; Yalta is the setting for Chekhov's short story The Lady With the Pet Dog. The town was also closely associated with royalty. In 1889 Tsar Alexander III built the Massandra Palace a short distance to the north of Yalta and Nicholas II built the Livadia Palace south-west of the town in 1911.

During the 20th century Yalta was the principal holiday resort of the Soviet Union.
In 1920, Lenin issued a decree "On the Use of Crimea for the Medical Treatment of the Working People" which endorsed the region's transformation from a fairly exclusive resort area into a recreation facility for tired proletarians.
Numerous workers' sanatoria were constructed in and around Yalta. There were, in fact, few other places that Soviet citizens could come for a seaside holiday, as foreign travel was forbidden to all but a handful.
The Soviet elite also came to Yalta; the Soviet dictator Stalin used the Massandra Palace as his summer residence.

The town came to worldwide attention in 1945 when the Yalta Conference between the "Big Three" powers; the Soviet Union, the United States and the United Kingdom - was held at the Livadia Palace.

| | | |
| --- | --- | --- |
| | | |
| Livadia Palace | Signature Room | The 3 "Big" |
Following the collapse of the Soviet Union in 1991, Yalta has struggled economically. Many of the nouveaux riche started going to other European holiday resorts, now that they had the freedom and money to travel; conversely, the impoverishment of many ex-Soviet citizens meant that they could no longer afford to go to Yalta. The town's transport links have been significantly reduced with the end of almost all passenger traffic by sea.
In recent years, Yalta has staged a recovery, as economic conditions have improved and tourists have returned.
It is still almost entirely frequented by Russian and Ukrainian tourists, with relatively few visitors from western Europe.

Today, Yalta has a beautiful embankment along the Black Sea. People can be seen strolling there all seasons of the year, and it also serves as a place to gather and talk. There are several beaches along the embankment where people relax and go swimming. Some hardy souls even do this in the Winter. This embankment is also the site of several hotels, sanitoria, and amusement-park-like rides. In addition, the city has several movie theaters, and many restaurants and cafes, as well as a large open-air market.

Population: 80,552 (2005)
Postal codes: 98600 - 98639
Phone prefix: +380-654
Time zone: EET: UTC+2
Previous name: Yalita (until 15th cent.)



For a more information about Yalta see Wikipedia, the free encyclopedia

This page was retrieved and condensed from (http://en.wikipedia.org/wiki/Yalta) February 2007.
All text is available under the terms of the GNU Free Documentation License (see Copyrights for details).
About Wikipedia
Disclaimers

This information was correct in February 2007. E. & O.E.




Some time ago I've seen a picture of the Swallow's Nest in Yalta, well, I have seen many castles and other beautiful or/and unusual buildings, so I decided if I'll ever get the opportunity I'll have a closer, 3 dimensional, 'live' look at it.

While travelling around in the Ukraine with Hui Chin in 2006, we took time out to do just that.

We were in Yalta and we didn't know the language and I couldn't even remember the name of the little castle.

We asked and we asked, no one could help us, no one could understand "castle".

In utter desperation I had a spark of a idea, to buy a post card of it.

You think that would be a simple enough thing to accomplish in a tourist resort like Yalta.

After running around from giftshop to giftshop, bookshop to bookshop, newspaper stand to newspaper stand, souvenirshop to souvenirshop, we couldn't find any postcard of the 'little castle'.
You probably find this hard to believe, but on top of this we had language problem and memory lapse of the name.

After a long search, we met a brighter souvenir stall owner, (His looks and attire reminded me of the 1970s Hippies from San Francisco), who managed to understand us and our query, and told us that our query is called the 'Swallow's Nest' and we have to catch a bus from the bus station, because it is more than 15 kilometres from Yalta.

On the bus we had another problem of not knowing where we could see the castle from the bus or where to get off if we couldn't see it or miss to see it.

Again one of the young ladies, after many queries told us, that we have to get off one stop after she get off and told us the name of the stop too, which bears the name of the hotel nearby, which we forgot instantly anyway.

We did get to the 'castle' and walked to it too.

Although you could see it quite well from the bus stop, it is a good 2-3 kilometres walk from it, but it is worth is.

The 'castle' and the general view all around it and the way leading to it is just awesome.

Yalta has many different and famous sights and attractions.

There many beautiful and very imposing castles all around here.

One very distinguished one is our query, the 'Swallow's Nest'.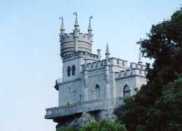 Swallow's Nest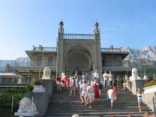 Alupka Castle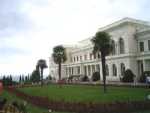 Livadia Palace

Site of the Yalta Conference & Stalin's Dacha, (Summer Palace)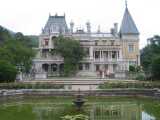 Massandra Palace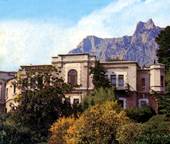 Usupov Palace

A few of the magnificent castles and palaces around and about Yalta.

There was something else very surprising for me around Yalta.

We like to travel by train or bus and of course by trolleybus as well.

We already knew by now that Yalta was about 80 kilometres down or up the road more likely from Simferopol.
Went to the massive train station one day to buy a ticket to Yalta, no trains to Yalta, we were told, but no one told us that they have a trolleybus service running every ten or so minutes from the heart of Simferopol to the heart of Yalta all 80 or so kilometres.

We were told at our hotel, that we can get a bus from the Bus Station to Yalta for about 20 Ukrainian hryvnia (UAH)
With some amazement or bewilderment I watch from the little Minibus the trolley wires and buses as well going all the way from Simferopol to Yalta and back of course.
Great stuff, we must catch one of those back to Simferopol once we done with Yalta and the beautiful surrounds.
Black Sea and all.

Thoroughly awesome experience.

The trolley ride took us about 2 hours with the many stops, much like a dog, stopped nearly every lamppost.
Great experience, over 80 km by trolleybus.

While in Yalta there were many, many very kind and patient people that came to our help and went out of their way to help us with directions and many other things.
Thank you very much you kind and nice people.
God bless you and your family and I hope you all will read this, thank you.
Remember the elderly European man with the petit Chinese lady, with many questions?
Yeah! Thank you!

You can click on these photos for an enlargement.

2006
| | | | |
| --- | --- | --- | --- |
| | | | |
| Yalta | Yalta | Yalta | Yalta |
| | | | |
| Yalta | Yalta | Yalta | Yalta |
| | | | |
| Yalta | Yalta | Yalta | Yalta |
| | | | |
| Yalta | Yalta | Yalta | Yalta |
| | | | |
| Yalta | Yalta | Yalta | Yalta |
| | | | |
| Yalta | Yalta | Yalta | Yalta |
| | | | |
| Yalta | Yalta | Yalta | Yalta |
| | | | |
| Yalta | Yalta | Yalta | Yalta |
| | | | |
| Yalta | Yalta | Yalta | Yalta |
| | | | |
| Yalta | Yalta | Yalta | Yalta |
| | | | |
| Yalta | Yalta | Yalta | Yalta |
| | | | |
| Yalta | Yalta | Yalta | Yalta |
| | | | |
| Yalta | Yalta | Yalta | Yalta |
| | | | |
| Yalta | Yalta | Yalta | Yalta |
| | | | |
| Yalta | Yalta | Yalta | Yalta |
| | | | |
| Yalta | Yalta | Yalta | Yalta |
| | | | |
| Yalta | Yalta | Yalta | Yalta |
| | | | |
| Yalta | Yalta | Yalta | Yalta |
| | | | |
| Yalta | Yalta | Yalta | Yalta |
| | | | |
| Yalta | Yalta | Yalta | Yalta |
| | | | |
| Yalta | Yalta | Yalta | Yalta |
| | | | |
| --- | --- | --- | --- |
| | | | |
| Swallow' s Nest | Swallow' s Nest | Swallow' s Nest | Swallow' s Nest |
| | | | |
| Swallow' s Nest | Swallow' s Nest | Swallow' s Nest | Swallow' s Nest |
| | | | |
| Swallow' s Nest | Swallow' s Nest | Swallow' s Nest | Swallow' s Nest |
| | | | |
| Swallow' s Nest | Swallow' s Nest | Swallow' s Nest | Swallow' s Nest |
| | | | |
| Swallow' s Nest | Swallow' s Nest | Swallow' s Nest | Swallow' s Nest |
| | | | |
| Swallow' s Nest | Swallow' s Nest | Swallow' s Nest | Swallow' s Nest |
| | | | |
| Swallow' s Nest | Swallow' s Nest | Swallow' s Nest | Swallow' s Nest |
| | | | |
| --- | --- | --- | --- |
| | | | |
| Yalta Bus | Yalta Bus | Yalta Bus | Yalta Bus |

Site Index Back to Top Photos Index
Thanks for coming, I hope you have enjoyed it, will recommend it to your friends, and will come back later to see my site developing and expanding.

I'm trying to make my pages enjoyable and trouble free for everyone, please let me know of any mistakes or trouble with links, so I can fix any problem as soon as possible.

These pages are best viewed with monitor resolution set at 640x480 and kept simple on purpose so everyone can enjoy them across all media and platforms.

Thank you.

You can e-mail me at Webmaster