Sardinia facts and history in brief
Excerpted from Wikipedia, the free encyclopaedia.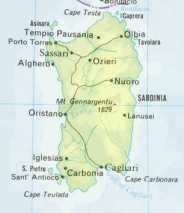 Map of Sardinia
(Click for an enlargement)
Sardinia is the second largest island in the Mediterranean Sea, between Italy, France and Tunisia, south of Corsica.
Sardinia has an area of 24,090 km2 and a population of 1.65 million.
It was called "Ichnusa" by the Phoenicians and "Sandalyon" by the Greeks because of its shape, like a footprint.

Sardinia is an autonomous region of Italy.

The regional capital is Cagliari.

Sardinia is divided into four provinces: Cagliari, Sassari, Nuoro and Oristano; another four provinces have been proposed: Olbia-Tempio, Ogliastra, Carbonia-Iglesias and Medio Campidano, to take effect in 2005.

The climate is mainly Mediterranean, with a warm spring and fall, hot summer, and mild winter.

The official language of Sardinia is Italian but Sardinian, a Romance language with Phoenician, Etruscan, and Near Eastern roots also widely spoken.
Many other dialects, like Gallura and Sassari, a variety of Corsican-Italian, Ligurian, and Catalan also spoken on the Sardinia and the neighbouring islands.

The Sardinian economy is today focused on tourism, industry, commerce, services and information technology; an increasing income is coming from its famous wines and gastronomy.

Hui Chin and I visited Sardinia during our trip in 2004.
We sailed on a fast ferry from Bonifacio in Corsica, to Santa Teresa on the northern coast of Sardinia.
Santa Teresa is a very colourful, quaint little town.
Most of the towns houses are painted in many different pastel colours, not unlike southern, rural Spain.
After taking time out to explore Santa Teresa and the surrounding area with went by bus to Olbia, where we, - after a good look around - caught a train to Calgiari, the Capital of Sardinia at the southern end of Sardinia.
Calgiari is a very beautiful large city, with some hills and fortresses around.
There was some "Veteran's Reunion" at the time, which made the town that much more colourful and exciting and hotels hard to find.

Some of my photos taken of the Sardinia buses (Click for an enlargement)
| | | | |
| --- | --- | --- | --- |
| | | | |
| Sardinia bus | Sardinia bus | Sardinia bus | Sardinia bus |
| | | | |
| Sardinia bus | Sardinia bus | Sardinia bus | Sardinia bus |
| | | | |
| Sardinia bus | Sardinia bus | Sardinia bus | Sardinia bus |
| | | | |
| Sardinia bus | Sardinia bus | Sardinia bus | Sardinia bus |
| | | | |
| Sardinia bus | Sardinia bus | Sardinia bus | Sardinia bus |
| | | | |
| Sardinia bus | Sardinia bus | Sardinia bus | Instruments |

Site Index Back to Top Photos Index
Thanks for coming, I hope you have enjoyed it, will recommend it to your friends, and will come back later to see my site developing and expanding.

I'm trying to make my pages enjoyable and trouble free for everyone, please let me know of any mistakes or trouble with links, so I can fix any problem as soon as possible.

These pages are best viewed with monitor resolution set at 640x480 and kept simple on purpose so everyone can enjoy them across all media and platforms.

Thank you.

You can e-mail me at Webmaster