Poland facts and history in brief
Pope John Paul II

Excerpted from Wikipedia, the free encyclopedia
Name: Karol Józef Wojtyla
Papacy began: October 16, 1978
Papacy ended: April 2, 2005
Predecessor: John Paul I
Successor: Benedict XVI
Born: May 18, 1920
Place of birth: Wadowice, Poland
Died: April 2, 2005
Place of death: Apostolic Palace, Vatican City
John Paul II

Excerpted from Wikipedia, the free encyclopedia
The Servant of God Pope John Paul II (Latin: Ioannes Paulus PP. II), born Karol Józef Wojtyla (May 18, 1920 – April 2, 2005), reigned as pope of the Roman Catholic Church and sovereign of Vatican City and of the Holy See for almost 27 years, from 16 October 1978 until his death in 2005. He is often referred to as Pope John Paul the Great. On 13 May 2005 Pope Benedict XVI, John Paul II's successor, waived the five year waiting period for a cause for beatification to be opened. The official process for beatification began in the Diocese of Rome on June 28, 2005.

The first non-Italian to serve in office since the Dutch-German Pope Adrian VI died in 1523, John Paul II's reign was the third-longest in the history of the Papacy, after those of Saint Peter (approximately 35 years) and Blessed Pius IX (31 years). This is in a distinctive contrast with that of his predecessor Pope John Paul I, who died suddenly after only 33 days in office, and in whose memory John Paul II named himself.

Pope John Paul II's reign was marked by a continuing decline of Catholicism in developed countries but expansion in the Third World. In addition, John Paul II advocated conservative values in the Roman Catholic Church, opposing gay marriage and abortion, among a host of other issues; however, the Pontiff voiced support for the theory of evolution. During his reign, the pope travelled extensively, visiting over 100 countries and all continents except Antarctica. His health deteriorated in the late 1990s, as he was diagnosed with Parkinson's Disease. On 2 April 2005, two months after receiving a tracheotomy, Pope John Paul II passed away.

Overview
The man from Poland will be remembered as the "people's Pope." He is respected around the world by both Christians and non-Christians. There is a John Paul II Foundation which has many offices around the world. The headquarters is located in Rome in the Polish House.

His papacy is remembered by his tireless ecumenical approach to accommodate other Christian sects as well as to forge a better understanding with the Islamic world. At his funeral, many non-Christian faiths were represented, including representatives from Islam and Buddhism.

John Paul II emphasized what he called the "universal call to holiness" and attempted to define the Catholic Church's role in the modern world. He spoke out against ideologies and politics of communism, feminism, imperialism, relativism, materialism, fascism (including nazism), racism and unrestrained capitalism. In many ways, he fought against oppression, secularism and poverty. Although he was on friendly terms with many Western heads of state and leading citizens, he reserved a special opprobrium for what he believed to be the corrosive spiritual effects of modern Western consumerism and the concomitant widespread secular and hedonistic orientation of Western populations.

John Paul II affirmed traditional Catholic teachings by opposing abortion, contraception, capital punishment, embryonic stem cell research, human cloning, euthanasia, war, but accepting evolution. He also defended traditional teachings on marriage and gender roles by opposing divorce, same-sex marriage and the ordination of women. His conservative views were sometimes criticized as regressive. John Paul II called upon Catholics to vote according to their beliefs, even if they were based on their religion, and suggested that politicians who strayed be denied the Eucharist.

John Paul II became known as the "Pilgrim Pope" for traveling greater distances than had all his predecessors combined. According to John Paul II, the trips symbolized bridge-building efforts (in keeping with his title as Pontifex Maximus, literally Master Bridge-Builder) between nations and religions, attempting to remove divisions created through history.

He beatified 1,340 people, more people than any previous pope. The Vatican asserts he canonized more people than the combined tally of his predecessors during the last five centuries, and from a far greater variety of cultures. Whether he had canonized more saints than all previous popes put together, as is sometimes also claimed, is difficult to prove, as the records of many early canonizations are incomplete, missing, or inaccurate. However, it is known that his abolition of the office of Promotor Fidei ("Promoter of the Faith" and the origin of the term Devil's Advocate) streamlined the process.

Pope John Paul II died on 2 April 2005 after a long fight against Parkinson's disease and other illnesses. Immediately after his death, many of his followers demanded that he be elevated to sainthood as soon as possible, shouting "Santo Subito". Both L'Osservatore Romano and Pope Benedict XVI, Pope John Paul II's successor, referred to John Paul II as "Great".

John Paul II was succeeded by the Dean of the College of Cardinals, Cardinal Joseph Ratzinger of Germany, the former head of the Congregation for the Doctrine of the Faith who had led the funeral mass for John Paul II.

Biography of Pope John Paul II




Karol Wojtyla at 12 years old

Karol Józef Wojtyla was born on 18 May 1920 in Wadowice in southern Poland.
His mother died in 1929, and his father supported him so that he could study.
His youth was marked by intensive contacts with the then thriving Jewish community of Wadowice.
Early life
Karol enrolled at the Jagiellonian University in Kraków. He worked as a volunteer librarian and did compulsory military training in the Academic Legion. In his youth he was an athlete, actor and playwright and he learned as many as eleven languages.

During the Second World War academics of the Jagiellonian University were arrested and the university suppressed. All able-bodied males had to have a job. He variously worked as a messenger for a restaurant and a manual laborer in a limestone quarry.

Church career
| | |
| --- | --- |
| Pope Paul VI greets Karol Cardinal Wojtyla. | Pope John Paul I greets Karol Cardinal Wojtyla. |
In 1942 he entered the underground seminary run by the Archbishop of Kraków, Cardinal Sapieha.
Karol Wojtyla was ordained a priest on 1 November 1946.

On 4 July 1958 Pope Pius XII named him titular bishop of Ombi and auxiliary to Archbishop Baziak, apostolic administrator of the Archdiocese of Kraków. Karol Wojtyla found himself at 38 the youngest bishop in Poland.

In 1962 Bishop Wojtyla took part in the Second Vatican Council, and in December 1963 Pope Paul VI appointed him Archbishop of Kraków. Paul VI elevated him to cardinal in 1967.

A Pope from Poland
In August 1978 following Paul's death, he voted in the Papal Conclave that elected Pope John Paul I, who at 65 was considered young by papal standards. However John Paul I was in poor health and he died after only 33 days as pope, thereby precipitating another conclave.

Voting in the second conclave was divided between two particularly strong candidates: Giuseppe Cardinal Siri, the Archbishop of Genoa; and Giovanni Cardinal Benelli, the Archbishop of Florence and a close associate of Pope John Paul I. In early ballots, Benelli came within nine votes of victory. However Wojtyla secured election as a compromise candidate, in part through the support of Franz Cardinal König and others who had previously supported Cardinal Siri.

He became the 264th Pope according to the Vatican (265th according to sources that count Pope Stephen II). At only 58 years of age, he was the youngest pope elected since Pope Pius IX in 1846. Like his immediate predecessor, Pope John Paul II dispensed with the traditional Papal coronation and instead received ecclesiastical investiture with the simplified Papal inauguration.

Assassination attempts
On 13 May 1981 John Paul II was shot and critically wounded by Mehmet Ali Agca, a Turkish gunman, as he entered St. Peter's Square to address an audience.
Agca was eventually sentenced to life imprisonment.
Two days after Christmas 1983, John Paul II visited the prison where his would-be assassin was being held.
The two spoke privately for some time. John Paul II said, "What we talked about will have to remain a secret between him and me. I spoke to him as a brother whom I have pardoned and who has my complete trust."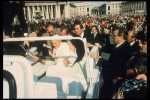 Pope John Paul II after being shot.
Another assassination attempt took place on 12 May 1982 in Fatima, Portugal when a man tried to stab John Paul II with a bayonet, but was stopped by security guards.
The assailant, an ultraconservative Spanish priest named Juan María Fernández y Krohn, reportedly opposed the reforms of the Second Vatican Council and called the pope an agent of Moscow. He served a six-year sentence, and was expelled from Portugal afterwards.

Health of Pope John Paul II
When he first entered the papacy in 1978, John Paul II was an avid sportsman, enjoying hiking and swimming. In addition, John Paul II travelled extensively after becoming pope; at the time, the 58-year old was extremely healthy and active.

In 1981, though, John Paul II's health suffered a major blow after a failed assassination attempt. The bullet-wound caused severe bleeding, and the Pope's blood pressure dropped. In addition, a colostomy was also performed.

In the late 1990s, John Paul II began to suffer from slurred speech and difficulty in hearing. In addition, the Pope rarely walked in public. Though not officially confirmed by the Vatican until 2003, most experts agreed that the frail pontiff suffered from Parkinson's Disease.

In February 2005 John Paul II was taken to the hospital with an inflammation of the larynx, the result of influenza. Though later released from the hospital, he was taken back later that month after difficulty breathing. A tracheotomy was performed, limiting the pope's speaking abilities.

In March of 2005, speculation was high that the Pope was near-death; this was confirmed by the Vatican days before John Paul II passed away.

Death
On 31 March 2005 the Pope developed a very high fever, but was neither rushed to the hospital, nor offered life support, apparently in accordance with his wishes to die in the Vatican. Later that day Vatican sources announced that John Paul II had been given the Anointing of the Sick by his friend and secretary Archbishop Stanislaw Dziwisz. During the final days of the Pope's life, the lights were kept burning through the night where he lay in the Papal apartment on the top floor of the Apostolic Palace.

Thousands of people rushed to the Vatican, filling St Peter's Square and beyond, and held vigil for two days. He died in his private apartments, at 21:37 CEST (19:37 UTC) on 2 April, 46 days short of his 85th birthday.

A crowd of over two million within Vatican City, over one billion Catholics world-wide, and many non-Catholics mourned John Paul II. The Poles were particularly devastated by his death. The public viewing of his body in St. Peter's Basilica drew over four million people to Vatican City and was one of the largest pilgrimages in the history of Christianity. Many world leaders expressed their condolences and ordered flags in their countries lowered to half-mast. Numerous countries with a Catholic majority, and even some with only a small Catholic population, declared mourning for John Paul II.

Funeral
The death of Pope John Paul II set into motion rituals and traditions dating back to medieval times. The Rite of Visitation took place from 4 April through 22:00 CET (20:00 UTC) on 7 April at St. Peter's Basilica. On 8 April the Mass of Requiem was conducted by the Dean of the College of Cardinals, Joseph Ratzinger, who would become the next pope. It has been estimated to have been the largest attended funeral of all time.

John Paul II was interred in the grottoes under the basilica, the Tomb of the Popes. He was lowered into the tomb that had been occupied by the remains of Blessed Pope John XXIII, but which had been empty since his remains had been moved into the main body of the basilica after his beatification by John Paul II in 2003.

Two million people reportedly viewed Pope John Paul II's body lying in state.

John Paul "The Great"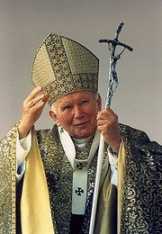 Pope John Paul II
Since the death of John Paul II, a number of clergy at the Vatican have been referring to the late pontiff as "John Paul the Great"—only the fourth pope to be so acclaimed, and the first since the first millennium. His successor, Pope Benedict XVI, referred to him as "the great Pope John Paul II" in his first address from the loggia of St Peter's Church. The Italian newspaper Corriere della Sera even called him "the Greatest".

Scholars of canon law say that there is no official process for declaring a pope "Great"; the title establishes itself through popular, and continued, usage. The three popes who today commonly are known as "Great" are Leo I, who reigned from 440–461 and persuaded Attila the Hun to withdraw from Rome; Gregory I, 590–604, after whom the Gregorian Chant is named; and Nicholas I, 858–867, who also withstood a siege of Rome (in this case from Carolingian Christians, over a dispute regarding marriage annulment).

Historically, the title "the Great" has been reserved to the first pope (or sovereign) in a line bearing a name. John Paul II would, by this criterion, be unlikely to be dubbed "the Great." Within a few weeks of the papal funeral, and with the election of Benedict XVI, popular and media interest in the extention of this title to John Paul II had all but disappeared.

Beatification
On 13 May 2005 Benedict XVI made his first promulgation of the beatification process choosing to honour his predecessor, John Paul II. Normally five years pass before the beatification process begins for a person after his or her death but due to the popularity of John Paul II—devotees chanted "Santo subito!" ("Saint now!") during the late pontiff's funeral—Benedict XVI waived the custom and officially styled the late pope with the title given to all those being scrutinized in the beatification process, Servant of God.

Pope Benedict XVI begins process for sainthood of Pope John Paul II.
Upon the confirmation after scrutiny that the late pontiff's life is found morally clean and manifest heroic virtues, a decree will be proclaimed and John Paul II will be declared Venerable on the road to beatification. Before changes in canon law in 1917, the title Venerable was given at the same time a person was declared Servant of God. Today, the titles are separate. Upon the confirmation of miracles attributed to the honoree, John Paul II would then be declared Blessed. A person is strictly prohibited from being officially celebrated in Mass until he or she achieves the title of Blessed.

Life's work - Teachings of Pope John Paul II
As pope, John Paul II's most important role was to teach people about Roman Catholic Christianity. He wrote a number of important documents that many observers believe will have long-lasting influence on the Church.

A notable achievement of John Paul II was the publication of the Catechism of the Catholic Church, which became an international bestseller. Its purpose, according to the Pope's Apostolic Constitution Fidei Depositum was to be "a statement of the Church's faith and of Catholic doctrine, attested to or illumined by Sacred Scripture, the Apostolic Tradition and the Church's Magisterium." His first encyclical letters focused on the Triune God; the very first was on Jesus the Redeemer ("Redemptor Hominis").


Coat of Arms of Pope John Paul II
The letter M is for Mary, Jesus' mother.



In his Apostolic Letter At the beginning of the third millennium (Novo Millennio Ineunte), a " program for all times" he emphasized the importance of "starting afresh from Christ": "No, we shall not be saved by a formula but by a Person."

In The Splendor of the Truth (Veritatis Splendor) he emphasized the dependence of man on God and his law ("Without the Creator, the creature disappears") and the "dependence of freedom on the truth". He warned that man "giving himself over to relativism and skepticism, goes off in search of an illusory freedom apart from truth itself".

John Paul II also wrote extensively about workers and the social doctrine of the Church, which he discussed in three encyclicals. Through his encyclicals, John Paul also talked about the dignity of women and the importance of the family for the future of mankind.

Other important documents include The Gospel of Life (Evangelium Vitae), Faith and Reason (Fides et Ratio), and Orientale Lumen (Light of the East).

John Paul II was also considered by some to have halted the progressive efforts of Vatican II, becoming a standard-bearer for the conservative side of the Catholic Church. He continued his staunch opposition to contraceptive methods, abortion and homosexuality.

John Paul II, as a writer of philosophical and theological thought, was characterised by his explorations in phenomenology. He is also known for his development of the theology of the body.

Pastoral trips of Pope John Paul II
During his pontificate, Pope John Paul II made over 100 foreign trips, more than all previous popes put together. In total he logged more than 1.1 million km (725,000 miles). He consistently attracted large crowds on his travels, some amongst the largest ever assembled in human history. While some of his trips (such as to the United States and the Holy Land) were to places previously visited by Pope Paul VI (the first pope to travel widely), many others were to places that no pope had ever visited before. All these travels were paid by the money of the countries he visited and not by the Vatican.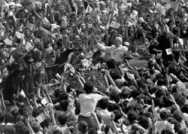 Millions cheer Pope John Paul II during his first visit to Poland as pontiff in 1979
One of John Paul II's earliest official visits was to Poland, in June 1979. In 1982 he became the first reigning pope to travel to the United Kingdom, where he met Queen Elizabeth II, the Supreme Governor of the Church of England.

Throughout his trips, he stressed his devotion to the Blessed Virgin Mary through visits to various shrines to the Virgin Mary, notably Knock in Ireland, Fátima in Portugal, Guadalupe in Mexico and Lourdes in France.

In 1984 John Paul II became the first Pope to visit Puerto Rico.
On 15 January 1995 he offered mass to an estimated crowd of 4.5 million in Luneta Park, Manila, Philippines, the largest papal crowd ever. On 22 March 1998 he paid a second visit to Nigeria. Also in 1999 John Paul II made another of his multiple trips to the United States.
In 2000 he became the first modern Catholic pope to visit Egypt, where he met with the Coptic pope and the Greek Orthodox Patriarch of Alexandria. In May 2001 the Pontiff took a pilgrimage that would trace the steps of his co-namesake, Saint Paul, across the Mediterranean, from Greece to Syria to Malta.

He was the first Roman Catholic Pope to visit and pray in an Islamic mosque, in Damascus, Syria. He visited Umayyad Mosque, where John the Baptist is believed to be interred.

In September 2001 amid post-September 11 concerns, he traveled to Kazakhstan, with an audience of largely Muslims, as well as Armenia, to participate in the celebration of the 1700 years of Christianity in that nation.

Relations with other religions
Pope John Paul II traveled extensively and came into contact with many divergent faiths. With these he ceaselessly attempted to find common ground, whether it be doctrinal or dogmatic. He made history with his establishment of contacts with Israel, Pope John Paul II traveled extensively and came into contact with many divergent faiths. With these he ceaselessly attempted to find common ground, whether it be doctrinal or dogmatic. He made history with his establishment of contacts with Israel, praying at the Western Wall in Jerusalem. Tenzin Gyatso, the 14th Dalai Lama and the spiritual leader of Tibetan Buddhism, visited Pope John Paul II eight times, more than any other single dignitary. The Pope and the Dalai Lama often shared similar views and understood similar plights, both coming from peoples who have suffered under communism.

In contrast, the Northern Irish Protestant leader Ian Paisley repeatedly accused John Paul II of being the Antichrist.
| | |
| --- | --- |
| This picture, often mistakenly regarded as showing the late Pontiff kissing the Qur'an, in fact shows John Paul II reverencing a Book of the Gospels. | John Paul II meets Tenzin Gyatso, 14th Dalai Lama at the Vatican in 1999. |
| | |
| --- | --- |
| Pope John Paul II becomes the first pope ever to preach in a Lutheran church; Rome, December 1983 | John Paul II prays and expresses sorrow for past Catholic mistreatment of Jews at the Western Wall |
| | |
| --- | --- |
| Pope John Paul II visiting The Great Synagogue of Rome in April 1986 | Pope John Paul II and Archbishop Christodoulos issue a "common declaration". |

Relations with the Jewish people
Relations between Catholicism and Judaism improved during the pontificate of John Paul II. He spoke frequently about the Church's relationship with Jews. In 1979 he became the first Pope to visit Auschwitz concentration camp in Poland, where many of his countrymen (mostly Polish Jews) had perished under Nazi rule. Shortly afterward, he became the first modern Pope to visit a synagogue when he visited the Synagogue of Rome on 13 April 1986.

In March 2000, John Paul II visited Yad Vashem, (the Israeli national Holocaust memorial) in Israel and later touched the holiest site in Judaism, the Western Wall in Jerusalem. In October 2003 the Anti-Defamation League (ADL) issued a statement congratulating John Paul II on entering the 25th year of his papacy.

Immediately after the pope's death, the ADL issued a statement that Pope John Paul II had revolutionized Catholic-Jewish relations, saying that "more change for the better took place in his 27 year Papacy than in the nearly 2,000 years before." (Pope John Paul II: An Appreciation: A Visionary Remembered).

A number of points of dispute still exist between the Catholic Church and the Jewish community, including World War II-related issues and issues of doctrine. Nonetheless, the number of issues that divide Jewish groups and the Vatican has dropped significantly during the last 40 years.

Pope John Paul II's relations with the Eastern Orthodox Church
In May 1999, John Paul II visited Romania on the invitation from Patriarch Teoctist of the Romanian Orthodox Church. This was the first time a pope had visited a predominantly Eastern Orthodox country since the Great Schism in 1054. On his arrival, the Patriarch and the President of Romania, Emil Constantinescu, greeted the Pope. The Patriarch stated, "The second millennium of Christian history began with a painful wounding of the unity of the Church; the end of this millennium has seen a real commitment to restoring Christian unity."

John Paul II visited other heavily Orthodox areas such as Ukraine, despite lack of welcome at times, and he said that an end to the Schism was one of his fondest wishes.

Pope John Paul II could not escape the controversy of the involvement of Croatian Catholic clergy with the Ustasa regime of World War II in his relations with the Serb Orthodox Church. He beatified Aloysius Stepinac in 1998, the Croatian war-time Archbishop of Zagreb, a move seen negatively by those who believe that he was an active collaborator with the Ustaše fascist regime. On 22 June 2003 he visited Banja Luka in Bosnia and Herzegovina.

The Pope had been also saying during his entire pontificate that one of his greatest dreams was to visit Russia, but this never occurred. He had made several attempts to solve the problems which arose over a period of centuries between the Roman Catholic and Russian Orthodox churches, like giving back the Kazan Icon of the Mother of God in August 2004. However, the Orthodox side was not that enthusiastic, making statements like: "The question of the visit of the Pope in Russia is not connected by the journalists with the problems between the Churches, which are now unreal to solve, but with giving back one of many sacred things, which were illegally stolen from Russia." (Vsevolod Chaplin).

The Pope for youth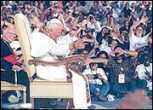 Pope John Paul II met a quarter of a million young people in Toronto in 2002.
Pope John Paul II met a quarter of a million young people in Toronto in 2002John Paul II had a special relationship also with Catholic youth and is known by some as The Pope for Youth. He was a hero to many of them.

He established World Youth Day in 1984 with the intention of bringing young Catholics from all parts of the world together to celebrate their faith. These weeklong meetings of youth occur every two or three years, attracting hundreds of thousands of young people, who go there to sing, party, have a good time and deepen their faith. His most faithful youths gathered themselves in two organizations: "papaboys" and "papagirls."

Apologies
Over the later parts of his reign, John Paul II made several apologies to various peoples that had been wronged by the Catholic Church through the years. He publicly made apologies for over 100 of these mistakes, including:

The persecution of the Italian scientist and philosopher Galileo Galilei in the trial by the Roman Catholic Church in 1633 (31 October 1992).

Catholic involvement with the African slave trade (9 August 1993).

The Church's role in burnings at the stake and the religious wars that followed the Protestant Reformation (May 1995, in the Czech Republic).

The injustices committed against women in the name of Christ, the violation of women's rights and for the historical denigration of women (10 July 1995, in a letter to "every woman").

Inactivity and silence of Roman Catholics during the Holocaust (16 March 1998).

For the execution of Jan Hus in 1415 (18 December 1999).

For the sins of Catholics throughout the ages for violating "the rights of ethnic groups and peoples, and [for showing] contempt for their cultures and religious traditions". (12 March 2000, during a public Mass of Pardons).

For the sins of the Crusader attack on Constantinople in 1204. (4 May 2001, to the Patriarch of Constantinople).

For missionary abuses in the past against indigenous peoples of the South Pacific (22 November 2001, via the Internet).

For the massacre of Aztecs and other Mesoamericans by the Spanish in the name of the Church.

Social and political stances


John Paul at the
Holocaust memorial of Yad Vashem.


Pope John Paul II
John Paul II was a conservative on doctrine and issues relating to reproduction and the ordination of women.

A series of 129 lectures given by John Paul during his Wednesday audiences in Rome between September 1979 and November 1984 were later compiled and published as a single work entitled "Theology of the Body," an extended meditation on the nature of human sexuality and masculinity in human life. He also extended it to condemnation of abortion, euthanasia and virtually all uses of capital punishment, calling them all a part of the "culture of death" that is pervasive in the modern world. His stands on warfare, capital punishment, world debt forgiveness, and poverty issues were considered politically liberal, showing that "conservative" and "liberal" political labels are not easily assigned to religious leaders.


Lech Walesa, leader of Solidarnosc,
received by Pope John Paul II in the
Vatican in January 1981.
The pope, who began his papacy when the Soviets controlled his native country of Poland, as well as the rest of Eastern Europe, was a harsh critic of communism and offered support to those fighting for change, like the Polish Solidarity movement. Soviet leader Mikhail Gorbachev once said the collapse of the Iron Curtain would have been impossible without John Paul II.
This view is shared by many people of the post-Soviet states, who view him, as well as Ronald Reagan, as the heroes responsible for bringing an end to the communist tyranny. In later years, John Paul II also criticized some of the more extreme versions of corporate capitalism.

In 2000 he publicly endorsed the Jubilee 2000 campaign on African debt relief fronted by Irish rock stars Bob Geldof and Bono. It was reported that during this period, U2's recording sessions were repeatedly interrupted by phone calls from the pope, wanting to discuss the campaign with Bono.

In 2003 John Paul II also became a prominent critic of the 2003 US-led invasion of Iraq. He sent former Apostolic Pro-Nuncio to the United States Pío Cardinal Laghi to talk with American President George W. Bush to express opposition to the war. John Paul II said that it was up to the United Nations to solve the international conflict through diplomacy and that a unilateral aggression is a crime against peace and a violation of international law.

In European Union negotiations for a new European Constitution in 2003 and 2004, the Vatican's representatives failed to secure any mention of Europe's "Christian heritage"—one of the pope's cherished goals.

The pope was also a leading critic of same-sex marriage. In his last book, Memory and Identity, he referred to the "pressures" on the European Parliament to permit same-sex marriage. Reuters quotes the pope as writing, "It is legitimate and necessary to ask oneself if this is not perhaps part of a new ideology of evil, perhaps more insidious and hidden, which attempts to pit human rights against the family and against man."

The Pope also criticized transsexual and transgender people, as the Congregation for the Doctrine of the Faith, which he supervised, banned them from serving in church positions, as well as considering them to have "mental pathologies".

Criticism of Pope John Paul II


Pope John Paul II with Chilean military President Augusto Pinochet.
One charge sometimes leveled at John Paul II was that his opposition of Communism led him to support anti-Marxist right-wing dictators. John Paul II occasionally met with dictators such as Augusto Pinochet of Chile. John Paul II invited Pinochet to restore democracy, but, critics claim, not in as firm terms as the ones he used against communist countries. When the Cold War ended some conservatives in turn argued that the Pope moved too far left on foreign policy, and had pacifist views that were too extreme. His opposition to the 2003 Iraq War was criticized for this reason.

John Paul II was also criticized for his support of the Opus Dei prelature and the canonization of its founder, Josemaría Escrivá, whose opponents call him an admirer of Spanish dictator Francisco Franco.

John Paul II's beliefs about gender roles and sexuality also came under attack. Some feminists criticized his positions on the role of women, and gay-rights activists disagreed with criticism of homosexuality and same-sex marriage.

His opposition to artificial contraception was particularly controversial. Claims were made that John Paul II's papacy spread an unproven belief that condoms do not block the spread of HIV; between these two claims, many critics have blamed him for contributing to AIDS epidemics in Africa and elsewhere in which millions have died. His supporters disagree and stress the importance of sexual abstinence in preventing the spread of AIDS. Critics have also claimed that the large families caused by lack of contraception have exacerbated Third World poverty and problems such as street children in South America.

John Paul II was also criticized for the way he administered the Church; in particular, critics charged that he failed to respond quickly enough to the Roman Catholic Church sex abuse scandal. He was also criticized for recentralizing power back to the Vatican following the earlier decentralization of Pope John XXIII. As such he was regarded by some as a strict authoritarian.

Besides all the criticism from those demanding modernization, Traditional Catholics were at times equally vehement in denouncing him from the right, demanding a return to the Tridentine Mass and repudiation of the reforms instituted after the Second Vatican Council, such as the use of the venacular language in Mass.

Other


Pope John Paul II appears on the Vatican's €1 coin.
John Paul II's apostolic motto was Totus Tuus ("all yours"); he borrowed the motto from the Marian consecrating prayer of Saint Louis Marie Grignion de Montfort.

According to a New York Post article of 19 February 2002, John Paul II personally performed three exorcisms during his tenure as pope.
The first exorcism was performed on a woman in 1982.
His second was in September 2000 when he performed the rite on a nineteen-year-old woman who had become enraged in St Peter's Square.
A year later, in September 2001, he performed an exorcism on a twenty-year-old woman.

The John Paul II International Airport (IATA: KRK), in Balice, Poland, near Kraków where he served as Archbishop before being elected Pope, was named in his honour.

In 2004 he received an extraordinary Charlemagne Award of the city of Aachen, Germany.

The Harlem Globetrotters visited Pope John Paul II at the Vatican in November of 2000 and named the Pontiff an Honorary Harlem Globetrotter.

On 23 March 1999, John Paul II released his debut CD "Abbà Pater".

John Paul II has been featured on at least seven popular albums in his native Poland. Most notably singer/songwriter Stanislaw Sojka's 2003 album, "Jan Pawel II -- Tryptyk Rzymski", a ten-track collection of the Pope's poems set to music, reached No. 1.

In 2003, his death was incorrectly announced by CNN when his pre-written obituary (along with those of several other famous figures) was inadvertently published on CNN's web site due to a lapse in password protection.

Books by John Paul II
In chronological order:
Meditations and philosophy

Memory and Identity - Conversations at the Dawn of a Millennium, published by Rizzoli (22 March 2005) ISBN 0847827615 - conversational presentation of John Paul II's views on many secular topics, such as evil, freedom, contemporary Europe, nationalism, and democracy. Included in the book is also a transcript of the Pope's discussion on his assassination attempt in 1981.


Rise, Let Us Be On Our Way, Warner Books (28 September 2004),ISBN 0446577812 - mostly addressed to his bishops, however a rich source of inspiration for everyone having knowledge of Christianity.


Pope John Paul II - In My Own Words, Gramercy (6 August 2002) ISBN 0517220849 - best-seller, a compilation book of carefully selected words and prayers of John Paul II, compiled by Anthony F. Chiffolo.


Gift and Mystery - On the Fiftieth Anniversary of My Priestly Ordination, Image (20 April 1999) ISBN 0385493711 - about being a priest.


Crossing the Threshold of Hope, Knopf (19 September 1995), ISBN 0679765611 - edited by Vittorio Messori. John Paul II makes many of his teachings and ideas more accessible.


The Way to Christ - Spiritual Exercises, HarperSanFrancisco (7 October 1994) ISBN 0060642165 - conversational presentation of two retreats Karol Woytla gave 10 years apart before becoming pope. In that time he served in Kraków as bishop and cardinal. A direct and touching book.


Person and Act, by Karol Wojtyla; before his papacy, (28 February 1979) ISBN 9027709858. In depth phenomenological work tied to Thomistic Ethics, apparently there is a bad translation entitled "the Acting Person".


Love and Responsibility, by Karol Woytla before his papacy, Ignatius Press; Rev. edition (1 April 1993) ISBN 0898704456 - in depth philosophical analysis of human love and sexuality.
Plays by John Paul II
Our God's Brother, Ave Maria Press (September 1995) ISBN 0877938709 - this play was written by Karol Wojtyla in Poland during World War II when the Nazis were suppressing Polish arts (1944).


The Jeweller's Shop: A Meditation on the Sacrament of Matrimony, Passing on Occasion into a Drama, Arrow, (17 March 1980) ISBN 009140861X.


Both of these plays were filmed:


Our God's brother (in Polish: Brat naszego Boga), 123 min, 1997, colour, directed by Krzysztof Zanussi. IMDb entry.


La Bottega dell'orefice (English: The Jeweller's Shop), 88 min (Canada)/95 min (USA), 1988, colour, directed by Michael Joseph Anderson. IMDb entry.
Poetry by John Paul II
The Poetry of Pope John Paul II, USCCB (1 September 2003) ISBN 1574555561 - poems written in the summer of 2002.


The Place Within: The Poetry of Pope John Paul II, Random House; 1st edition (25 October 1994) ISBN 0679760644 - lyrical poetry
Biographies of Pope John Paul II
Witness to Hope, George Weigel, HarperCollins (1999, 2001) ISBN 006018793X.


Man of the Century: The Life and Times of Pope John Paul II, Jonathan Kwitny, Henry Holt and Company, 1997.


His Holiness: John Paul II and the History of Our Time, Carl Bernstein and Marco Politi, Doubleday, 1996.


Pope John Paul II: The Biography, Tad Szulc, Scribner, 1995.
Films about Pope John Paul II
Pope John Paul II: The Movie, directed by Herbert Wise, starring Albert Finney, Nigel Hawthorne, Alfred Burke, John McEnery, Patrick Stewart.


Pope John Paul's Third Pilgrimage to His Homeland, a documentary on John Paul's June 1987 visit to Poland.


From a Far Country (1981), directed by Krzysztof Zanussi.


The Millennial Pope: John Paul II (1999) (TV), a documentary directed by Helen Whitney.


Storia di Carlo, polish title: Karol. Czlowiek, który zostal papiezem, 2005, a documentary, directed by Giacomo Batiatto, based upon a book by Gian Franco Svidercoschi.
Some other works by or about Pope John Paul II
List of Encyclicals of Pope John Paul II

List of pastoral visits of Pope John Paul II outside Italy

List of Roman Catholic bishops of Kraków

Papal election, 2005

Papabili

Personalism

Popemobile

Sedevacantist antipopes

The Incredible Popeman
External links

This page was retrieved and condensed from (http://en.wikipedia.org/wiki/Pope_John_Paul_II) in July, 2005
All text is available under the terms of the GNU Free Documentation License.

Hui Chin and I were in Poland the day after Pope John Paul II died.
Here are some of my photos showing the great adoration and loss the Polish people felt about their 'Papa'.
You can click on these photos for an enlargement
| | | | |
| --- | --- | --- | --- |
| | | | |
| Czestochowa | Czestochowa | Czestochowa | Czestochowa |
| | | | |
| Czestochowa | Czestochowa | Czestochowa | Czestochowa |
| | | | |
| Czestochowa | Gdansk | Gdansk | Gdansk |
| | | | |
| Krakow | Krakow | Krakow | Krakow |
| | | | |
| Krakow | Krakow | Krakow | Krakow |
| | | | |
| Oswicim (Austwitz) | Poznan | Poznan | Warsaw |
| | | | |
| Warsaw | Warsaw | Warsaw | Warsaw |

Site Index Back to Top Photos Index
Thanks for coming, I hope you have enjoyed it, will recommend it to your friends, and will come back later to see my site developing and expanding.

I'm trying to make my pages enjoyable and trouble free for everyone, please let me know of any mistakes or trouble with links, so I can fix any problem as soon as possible.

These pages are best viewed with monitor resolution set at 640x480 and kept simple on purpose so everyone can enjoy them across all media and platforms.

Thank you.

You can e-mail me at Webmaster