Lithuania - Europe



Lithuania facts and history in brief


Vilnius
Excerpted from Wikipedia, the free encyclopedia.
Vilnius
— City municipality —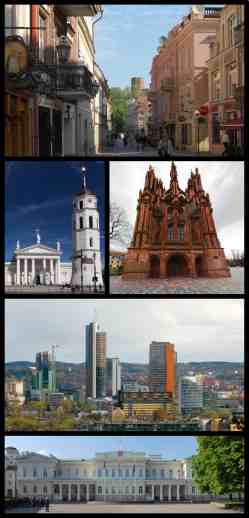 Top: Vilnius' Old Town
Middle left: Vilnius Cathedral
Middle right: St. Anne's Church
The 3rd row: Šnipiškės
The 4th row: Presidential Palace.

Coat of arms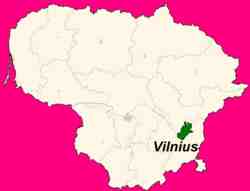 Location of Vilnius

Coordinates:

54°41'N 25°17'E

Country:

Lithuania

Ethnographic region:

Dainava

County:

Vilnius County

Municipality:

Vilnius city municipality

Capital of Lithuania

Vilnius County

Vilnius city municipality

Vilnius district municipality

First mentioned 1323

Granted city rights 1387

Elderships List

Antakalnis, Fabijoniškės, Grigiškės, Justiniškės, Karoliniškės, Lazdynai, Naujamiestis, Naujininkai, Naujoji Vilnia, Paneriai, Pašilaičiai, Pilaitė, Rasos, Šeškinė, Šnipiškės, Verkiai, Vilkpėdė, Senamiestis (Old Town), Viršuliškės, Žirmūnai, Žvėrynas

Area:

- Total 401 km² (154.8 sq mi)

Population (2008)

- Total 544 206

- Density 1,357.1/km² (3,514.9/sq mi)

Time zone EET (UTC+2)

- Summer (DST) EEST (UTC+3)

Vilnius, also known by several other names, is the largest city and the capital of Lithuania, with a population of 555,613 (847,954 together with Vilnius County) as of 2008.
It is the seat of the Vilnius city municipality and of the Vilnius district municipality.
It is also the capital of Vilnius County.
Currently Vilnius is the European Capital of Culture of 2009 together with Linz, Austria.

Etymology and other names
The name of the city originated from the Vilnia River.
The city has also been known by many derivate spellings in various languages throughout its history.
The most notable non-Lithuanian names for the city include: Polish: Wilno, Belarusian: Вiльня (Vilnia), German: Wilna, Latin: Vilna, Latvian: Viļņa, Russian: Вильнюс, Yiddish: ווילנע (Vilne).
An older Russian name is Вильна / Вильно (Vilna/Vilno),
although Вильнюс (Vil'njus) is now used.
The names Wilno and Vilna have also been used in older English and French language publications.
The name Vilna is still used in Finnish, Portuguese, Spanish, Italian, Hebrew, and Yiddish.

The city elderates have also names in other languages.

History
Early history
Historian Romas Batūra identifies the city with Voruta, one of the castles of Mindaugas, crowned in 1253 as King of Lithuania.
The city was first mentioned in written sources in 1323, when the Letters of Grand Duke Gediminas were sent to German cities inviting Germans and members of the Jewish community to settle in the capital city, as well as to Pope John XXII.
These letters contain the first unambiguous reference to Vilnius as the capital; Old Trakai Castle had been the earlier base for the Grand Duchy of Lithuania.
According to legend, Gediminas dreamt of an iron wolf howling on a hilltop and consulted a pagan priest for its interpretation.
He was told: "What is destined for the ruler and the State of Lithuania, is thus: the Iron Wolf represents a castle and a city which will be established by you on this site.
This city will be the capital of the Lithuanian lands and the dwelling of their rulers, and the glory of their deeds shall echo throughout the world".
The location offered practical advantages: it lay within the Lithuanian heartland at the confluence of two navigable rivers, surrounded by forests and wetlands that were difficult to penetrate.
The duchy had been subject to intrusions by the Teutonic Knights.

Independence
On March 11, 1990, the Supreme Council of the Lithuanian SSR announced its secession from the Soviet Union and intention to restore an independent Republic of Lithuania.
As a result of these declarations, on January 9, 1991, the Soviet Union sent in troops.
This culminated in the January 13 attack on the State Radio and Television Building and the Vilnius TV Tower, killing at least fourteen civilians and seriously injuring 700 more.
The Soviet Union finally recognised Lithuanian independence in August 1991.
The current Constitution, as did the earlier Lithuanian Constitution of 1922, mentions that ..."the capital of the State of Lithuania shall be the city of Vilnius, the long-standing historical capital of Lithuania".

Today
Vilnius has been rapidly transformed, and the town has emerged as a modern European city.
Many of its older buildings have been renovated, and a business and commercial area is being developed into the New City Centre, expected to become the city's main administrative and business district on the north side of the Neris river.
This area includes modern residential and retail space, with the municipality building and the 129-metre (423') Europa Tower as its most prominent buildings.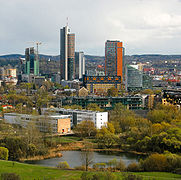 Downtown Vilnius

Vilnius was selected as a 2009 European Capital of Culture, along with Linz, the capital of Upper Austria.
Its 2009 New Year's Eve celebration, marking the event, featured a light show said to be "visible from outer space".
In preparation, the historical centre of the city was restored, and its main monuments were renewed.
Besides the many official programs for the Cultural Capital year, there have been efforts to promote subcultural venues, such as the Kultflux and Vilnus Triennale program, showing young arts from all over Lithuania and Europe to a general public, both in public spaces, such as on the river shore of Neris river, and in several vacant buildings within the city centre.

Geography
Vilnius is situated in southeastern Lithuania at the confluence of the Vilnia and Neris Rivers.
It is believed that Vilnius, like many other cities, was named after a crossing river, Vilnia.

Lying close to Vilnius is a site some claim to be the Geographical Centre of Europe.

Vilnius' non-central location can be attributed to the changing shape of the nation's borders through the centuries; Vilnius was once not only culturally but also geographically at the centre of the Grand Duchy of Lithuania.

Vilnius lies 312 kilometres (194 mi) from the Baltic Sea and Klaipėda, the chief Lithuanian seaport.
Vilnius is connected by highways to other major Lithuanian cities, such as Kaunas (102 km/63 mi away), Šiauliai (214 km/133 mi away) and Panevėžys (135 km/84 mi away).



Buildings occupy 29.1% of the city; green spaces occupy 68.8%; and waters occupy 2.1%.

Climate
The climate of Vilnius is considered Humid Continental or Hemiboreal by the Köppen climate classification.
Temperature records have been kept since 1777.
The average annual temperature is +6.1 °C (43 °F); in January the average temperature is -4.9 °C (23 °F), in July it is +17.0 °C (62.6 °F).
The average precipitation is about 661 millimetres (26.0 in) per year.

Summers can be hot, with temperatures above thirty degrees Celsius throughout the day.
Night-life in Vilnius is in full swing at this time of year, and outdoor bars, restaurants and cafés become very popular during the daytime.

Winters can be very cold, with temperatures rarely reaching above freezing — temperatures below negative 25 degrees Celsius (-13 °F) are not unheard-of in January and February.
Vilnius' rivers freeze over in particularly cold winters, and the lakes surrounding the city are almost always permanently frozen during this time of year.
A popular pastime is ice-fishing, whereby fishermen drill holes in the ice and fish with baited hooks.



Photos courtesy: Wikipedia, the free encyclopedia - Many thanks - Editor - Click for an enlargement.
| | | | |
| --- | --- | --- | --- |
| | | | |
| French Army in Vilnius, 1812 | Downtown Vilnius | Subačius gate | Gediminas Tower |
| | | | |
| Europa Tower | Mikalojus Church | Wilno Katedra | Orthodox Church |
| | | | |
| Saint Ann's Church | Wniebowziecia-franc | Downtown in spring | Solaris Trolleybus |
v v v
For more information about Vilnius see Wikipedia, the free encyclopedia
v v v
This page was retrieved and condensed from (http://en.wikipedia.org/wiki/Vilnius) November 2009.
All text is available under the terms of the GNU Free Documentation License (see Copyrights for details).
About Wikipedia
Disclaimers

This information was correct in November 2009. E. & O.E.




This was a virtual tour for us!!!!!!






Vilnius - capital of Lithuania.




Vilnius In Your Pocket - Vilnius City Tour




Vilnius at night






Site Index Back to Top Photos Index
Thanks for coming, I hope you have enjoyed it, will recommend it to your friends, and will come back later to see my site developing and expanding.

I'm trying to make my pages enjoyable and trouble free for everyone, please let me know of any mistakes or trouble with links, so I can fix any problem as soon as possible.

These pages are best viewed with monitor resolution set at 640x480 and kept simple on purpose so everyone can enjoy them across all media and platforms.

Thank you.

You can e-mail me at Webmaster