Iceland facts and history in brief


Reykjavik


Iceland
Excerpted from Wikipedia, the free encyclopedia.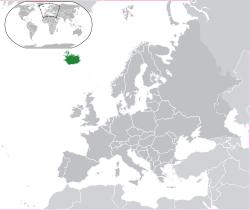 Location of Iceland.

The Republic of Iceland is a European island country located in the North Atlantic Ocean.
It has a population of about 320,000 and a total area of 103,000 km&sup2.
Its capital and largest city is Reykjavík, whose surrounding area is home to some two-thirds of the national population.
Located on the Mid-Atlantic Ridge, Iceland is volcanically and geologically active on a large scale; this defines the landscape.
The interior mainly consists of a plateau characterised by sand fields, mountains and glaciers, while many big glacial rivers flow to the sea through the lowlands.
Warmed by the Gulf Stream, Iceland has a temperate climate relative to its latitude and provides a habitable environment and nature.

According to Landnámabók, the settlement of Iceland began in AD 874 when the Norwegian chieftain Ingólfur Arnarson became the first permanent Norwegian settler on the island.
Others had visited the island earlier and stayed over winter.
Over the next centuries, people of Nordic and Celtic origin settled in Iceland.
Until the 20th century, the Icelandic population relied largely on fisheries and agriculture, and was from 1262 to 1918 a part of the Norwegian, and later the Danish monarchies.
In the 20th century, Iceland's economy and welfare system developed quickly, and in recent decades the nation has implemented free trade in the European Economic Area, diversifying from fishing to new economic fields in services, finance and various industries.
Iceland is a free market economy with low taxes compared with other OECD countries.
The country maintains a Nordic welfare system providing universal health care and post-secondary education for its citizens.

Icelandic culture is based on the nation's Norse heritage and its status as a developed and technologically advanced society.
The country's cultural heritage includes traditional Icelandic cuisine, the nation's poetry, and the medieval Icelandic Sagas.
In recent years, Iceland has been one of the wealthiest and most developed nations in the world.
In 2007, it was ranked as the most developed country in the world by the United Nations' Human Development Index and the fourth most productive country per capita.
In 2008, however, the nation's banking system systematically failed, causing significant economic contraction and political unrest that lead to early parliamentary elections making Jóhanna Sigurðardóttir the country's Prime Minister.

Republic of Iceland
Lýðveldið Ísland





Flag Coat of arms
Anthem: Lofsöngur
Capital: (and largest city) Reykjavík (64°08'N 21D°56'W
Ethnic groups: 93% Icelandic, 7.0%
Demonym: Icelander, Icelandic
Government: Parliamentary republic
Independence: from Denmark
- Home rule 1 February, 1904
- Sovereignty 1 December, 1918
- Republic 17 June, 1944
Area: - Total 103,001 km²(107th) 39,770 sq mi - Water (%) 2.7
Population: - 1 December, 2008 estimate 319,7561 (172nd) - Density 3.1/km² (230th) 7.5/sq mi
GDP (PPP): 2008 estimate - Total $12.805 billion (134th) - Per capita $40,471 (10th)
GDP: (nominal) 2008 estimate - Total $16.788 billion (101st) - Per capita $53,058 (8th)
Gini: (2005) 25.0 2 (low) (4th)
HDI: (2007) ? 0.969 (very high) (3rd)
Currency: Icelandic króna (ISK)
Time zone: GMT (UTC+0)
Drives: on the right
Internet TLD: .is
Calling code: 354



2009

Photos courtesy, Wkipedia, the free encyclopedia. You can click for an enlargement.
The erupting Great Geysir
in Haukadalur valley,
the oldest known geyser
in the world
Dettifoss, located in
northeast Iceland.
It is the largest
waterfall in Europe in
terms of volume discharge,
with an average water flow
of 200 m3/second
Eyjafjallajökull glacier,
one of the smallest glaciers
of Iceland
An Icelandic horse
An Icelandic sheep
Ingólfr Arnarson,
the first permanent Norse
settler in Iceland
British and Icelandic
vessels clash in the
Atlantic Ocean during
the Cod Wars
Akureyri is the largest
town in Iceland outside
of the greater Reykjavík.
Most rural towns are based
on the fishing industry,
which provides
40% of Iceland's exports.
v v v
For more information about Iceland see Wikipedia, the free encyclopedia
v v v
This page was retrieved and condensed from (http://en.wikipedia.org/wiki/Iceland) November 2009.
All text is available under the terms of the GNU Free Documentation License (see Copyrights for details).
About Wikipedia
Disclaimers

This information was correct in November 2009. E. & O.E.




This was a virtual tour for us!!!!!!






Iceland




Geothermal Energy in Iceland




Visit Iceland 2008




Reykjavik




Site Index Back to Top Photos Index
Thanks for coming, I hope you have enjoyed it, will recommend it to your friends, and will come back later to see my site developing and expanding.

I'm trying to make my pages enjoyable and trouble free for everyone, please let me know of any mistakes or trouble with links, so I can fix any problem as soon as possible.

These pages are best viewed with monitor resolution set at 640x480 and kept simple on purpose so everyone can enjoy them across all media and platforms.

Thank you.

You can e-mail me at Webmaster