Finland - Europe




Finland facts and history in brief


Helsinki
Excerpted from Wikipedia, the free encyclopedia.
Helsinki
Helsinki – Helsingfors
— City —
Helsingin kaupunki
Helsingfors stad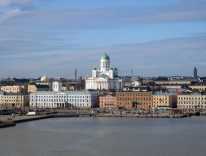 Port of Helsinki and the Helsinki Cathedral.

Helsinki, Swedish: Helsingfors, is the capital and largest city in Finland.
It is in the southern part of Finland, on the shore of the Gulf of Finland, by the Baltic Sea.
The population of the city of Helsinki is 579,016 (30 June 2009), making it the most populous municipality in Finland by a wide margin.
The foreign-born population stands at around 10%.

Helsinki, along with the neighbouring cities of Vantaa (Vanda), Espoo (Esbo), and Kauniainen (Grankulla), constitutes what is known as the capital region, with over 1,000,000 inhabitants.
The Greater Helsinki area contains 12 municipalities and has a population of over 1,300,000.

Helsinki is Finland's capital for business, education, research, culture, and government.
Greater Helsinki has eight universities and six technology parks.
Some 70% of foreign companies operating in Finland have settled in the Helsinki region.

The city is bilingual, with majority being Finnish and minority Swedish speakers.

Since early 2009, Helsinki has started contemplating a possible merger with Vantaa.
On 30 March 2009, the city council of Vantaa agreed to do a review of Helsinki's proposal of a possible merger.
The city council emphasises that the review is not about a possible discontinuation of the city of Vantaa.

Helsinki



Coat of arms
Nickname(s): Stadi, Hesa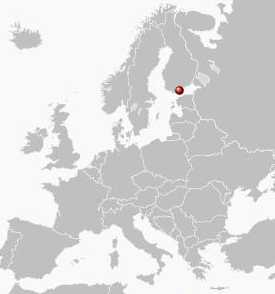 Location of Helsinki
Coordinates: 60°10'15?N 024°56'15?E
Country: Finland
Province: Southern Finland
Region: Uusimaa
Sub-region: Helsinki
Charter: 1550
Capital city: 1812
Government: - Mayor Jussi Pajunen (November 2009)
Area: (2009-01-01)
- City 715.55 km² (276.3 sq mi)
- Land 213 km² (82.2 sq mi)
- Water 502.55 km² (194 sq mi)
- Urban 769.48 km² (297.1 sq mi)
- Metro 2,969.54 km² (1,146.5 sq mi)
Area rank: 167th largest in Finland
Population: (2009-06-30)
- City 579,016
- Density 2,718.38/km² (7,040.6/sq mi)
- Urban 1,027,635
- Urban Density 1,335.49/km² (3,458.9/sq mi)
- Metro 1,303,126
- Metro Density 438.83/km² (1,136.6/sq mi)
Population rank: Largest in Finland
Demonym: helsinkiläinen (Finnish), helsingforsare (Swedish)
Population by native language
- Finnish 84.3% (official)
- Swedish 6.1% (official)
- Others 9.6%
Population by age
- 0 to 14 13.7%
- 15 to 64 72%
- 65 or older 14.3%
Time zone: EET (UTC+2)
- Summer (DST) EEST (UTC+3)
Municipal tax rate: 17.5%
Website: www.www.hel.fi



Photos courtesy: Wikipedia, the free encyclopedia - Many thanks - Editor - Click for an enlargement.



The Helsinki Cathedral
is probably the most
prominent building and
symbol of the city.
Helsinki Central
railway station
Haaga-Helia University of
Applied Sciences is the
largest business
polytechnic in Finland.
Main building of
the University of Helsinki.
Central Helsinki in
1820 before rebuilding.
Drawing by Carl Ludvig Engel.
The view across summertime
Kaisaniemenlahti.
Kamppi Center, a shopping
and transportation complex in
the Kamppi district in the
centre of Helsinki.
Parliament of Finland
on the right, and new
supplemental offices
on the left.
For a more information about Helsinki see Wikipedia, the free encyclopedia

This page was retrieved and condensed from (http://en.wikipedia.org/wiki/Helsinki) November 2005
All text is available under the terms of the GNU Free Documentation License (see Copyrights for details).
About Wikipedia
Disclaimers




Helsinki - Do You Wanna Go Away?




European Capitals: Helsinki




Helsinki



Site Index Back to Top Photos Index
Thanks for coming, I hope you have enjoyed it, will recommend it to your friends, and will come back later to see my site developing and expanding.

I'm trying to make my pages enjoyable and trouble free for everyone, please let me know of any mistakes or trouble with links, so I can fix any problem as soon as possible.

These pages are best viewed with monitor resolution set at 640x480 and kept simple on purpose so everyone can enjoy them across all media and platforms.

Thank you.

You can e-mail me at Webmaster