Denmark



Denmark facts and history in brief.


Copenhagen

Excerpted from Wikipedia, the free encyclopedia.
Copenhagen
København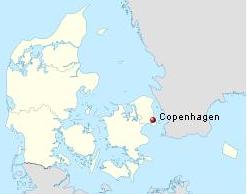 Location of Copenhagen.

Copenhagen, is the capital and largest city of Denmark, with an urban population of 1,167,569 (2009) and a metropolitan population of 1,875,179 (2009).
Copenhagen is situated on the islands of Zealand and Amager.

First documented in the 11th century, Copenhagen became the capital of Denmark in the beginning of the 15th century and during the 17th century under the reign of Christian IV it became an important regional centre.
With the completion of the transnational Oresund Bridge in 2000, Copenhagen has become the centre of the increasingly integrating Øresund Region.
Within this region, Copenhagen and Malmö are in the process of growing into one common metropolitan area.
With around 2.7 million inhabitants within a 50 km radius, Copenhagen is one of the most densely populated areas in Northern Europe.
Copenhagen is the most visited city of the Nordic countries with 1.3 million international tourists in 2007.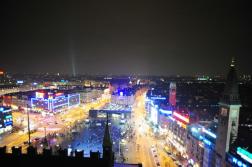 Copenhagen at night.

Copenhagen is a major regional centre of culture, business, media, and science.
Life science, information technology and shipping are important sectors and research & development plays a major role in the city's economy.
Its strategic location and excellent infrastructure with the largest airport in Scandinavia located 14 minutes by train from the city centre, has made it a regional hub and a popular location for regional headquarters as well as conventions.
As a result, Copenhagen ranks 3rd in Western Europe and 1st in the Nordic countries for attracting head offices.

Since the turn of the millennium Copenhagen has seen a strong urban and cultural development and has been described as a boom town.
This is partly due to massive investments in cultural facilities as well as infrastructure and a new wave of successful designers, chefs and architects.

Copenhagen
København



Coat of Arms
Country: Denmark
Region: Hovedstaden
First mention: 11th century
City Status: 13th century
Government: - Mayor Ritt Bjerregaard (S) (November 2009)
Area: - Urban 455.61 km² (175.9 sq mi)
Population: (2009) - City 526,918 (10-01-2,009)
- Density 5,971/km² (15,464.8/sq mi)
- Urban 1,167,569 (01-01-2,009)
- Metro 1,892,233 ((10-01-2,009) 34 closest municipalities)
Time zone: CET (UTC+1) - Summer (DST) CEST (UTC+2)
Website: www.kk.dk/english

Places of note in or near Copenhagen
Tivoli Gardens
Christiania
Ny Carlsberg Glyptotek
Kronborg
Christiansborg
Amalienborg Palace
National Museum
Copenhagen Zoo
Rosenborg
Kongens Have
Louisiana Modern Art Museum
Strøget
The Little Mermaid
Nyhavn
The Deer Park
Frederiksberg Castle.

People of note connected with Copenhagen
Ludvig Holberg
Hans Christian Andersen
Tycho Brahe
Niels Bohr
Søren Kierkegaard


External Links

For a more information about Copenhagen see Wikipedia, the free encyclopedia

This page was retrieved and condensed from (http://en.wikipedia.org/wiki/Copenhagen) November 2009
All text is available under the terms of the GNU Free Documentation License (see Copyrights for details).
About Wikipedia
Disclaimers

This information was correct in November 2009. E. & O.E.



Photos courtesy: Wikipedia, the free encyclopedia - Many thanks - Editor - Click for an enlargement.
Copenhagen c. 1895
Kongens Nytorv
Rosenborg Castle in
central Copenhagen
The Marble Church
Amalienborg seen from
Marmorkirken.
Østre Anlæg
Copenhagen City Hall
University of Copenhagen
Botanical Garden
BÝrsen - the Stock
Exchange building
Christianshavns Canal
The Royal Danish Theatre
Copenhagen Opera House
Gefion fountain
Gråbrødretorv in
the city centre
Christiansborg Palace -
home of the Danish
Parliament Folketinget,
the Supreme Court,
Office of the Prime
Minister and official
reception area of
Queen Margrethe II
The Danish National Bank.
Designed by Arne Jacobsen.
Nyhavn
The Lakes (Danish:
Søerne) in Copenhagen
The Tivoli Gardens,
photographed from Eduard
Spelterini's balloon
on June 22, 1922
Bicycle rush hour in
Copenhagen, where 37% of the
population ride their
bikes each day

Site Index Back to Top Photos Index
Thanks for coming, I hope you have enjoyed it, will recommend it to your friends, and will come back later to see my site developing and expanding.

I'm trying to make my pages enjoyable and trouble free for everyone, please let me know of any mistakes or trouble with links, so I can fix any problem as soon as possible.

These pages are best viewed with monitor resolution set at 640x480 and kept simple on purpose so everyone can enjoy them across all media and platforms.

Thank you.

You can e-mail me at Webmaster