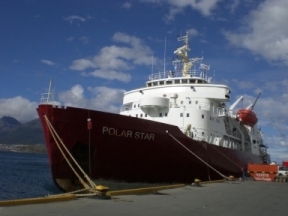 Contact:
www.polarstarexpeditions.com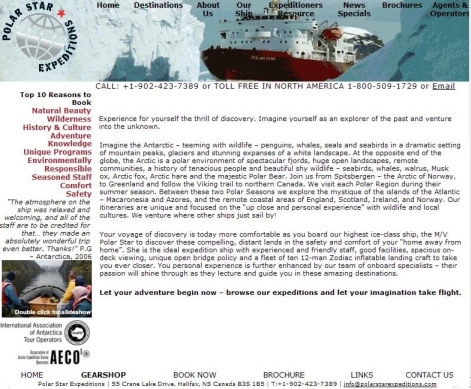 The MV Polar Star Home Page.



"Experience for yourself the thrill of discovery. Imagine yourself as an explorer of the past and venture into the unknown.

Imagine the Antarctic - teeming with wildlife - penguins, whales, seals and seabirds in a dramatic setting of mountain peaks, glaciers and stunning expanses of a white landscape. At the opposite end of the globe, the Arctic is a polar environment of spectacular fjords, huge open landscapes, remote communities, a history of tenacious people and beautiful shy wildlife - seabirds, whales, walrus, Musk ox, Arctic fox, Arctic hare and the majestic Polar Bear. Join us from Spitsbergen - the Arctic of Norway, to Greenland and follow the Viking trail to northern Canada. We visit each Polar Region during their summer season. Between these two Polar Seasons we explore the mystique of the islands of the Atlantic - Macronesia and Azores, and the remote coastal areas of England, Scotland, Ireland, and Norway. Our itineraries are unique and focused on the "up close and personal experience" with wildlife and local cultures. We venture where other ships just sail by!

Your voyage of discovery is today more comfortable as you board our highest ice-class ship, the M/V Polar Star to discover these compelling, distant lands in the safety and comfort of your "home away from home". She is the ideal expedition ship with experienced and friendly staff, good facilities, spacious on-deck viewing, unique open bridge policy and a fleet of ten 12-man Zodiac inflatable landing craft to take you ever closer. You personal experience is further enhanced by our team of onboard specialists - their passion will shine through as they lecture and guide you in these amazing destinations.

Let your adventure begin now - browse our expeditions and let your imagination take flight."

One of the comments on the same page says:

"The atmosphere on the ship was relaxed and welcoming, and all of the staff are to be credited for that. they made an absolutely wonderful trip even better. Thanks!" P.G - Antarctica, 2006".

and I, Erwin Bernhardt, an passenger with my wife Hui Chin on the 24th February to 14th March 2009 trip of the MV Polar Star are very happy to endorse that claim, furthermore, the food, - the selection, quality, variety and quantity was something to behold.

The Team's, Staff and Crews dedication to help, and serve was also incredible.

Our grateful thanks to the Management, Staff, Expedition Team and Crew of MV Polar Star.
My special thanks go to Hanna, the Team leader, Doctor Suzy, the onboard doctor, the captain, Captain Leszek Slawski, and Hotel Manager Florin Blaj. Thanks fellas for a wonderful time.



2009

You can click on these photos for an enlargement.

Site Index Back to Top Photos Index
Thanks for coming, I hope you have enjoyed it, will recommend it to your friends, and will come back later to see my site developing and expanding.

I'm trying to make my pages enjoyable and trouble free for everyone, please let me know of any mistakes or trouble with links, so I can fix any problem as soon as possible.

These pages are best viewed with monitor resolution set at 800x600 and kept simple on purpose so everyone can enjoy them across all media and platforms.

Thank you.

Webmaster